After three set matches in each of the semis, Novak Djokovic and Roger Federer will fight it out for the ATP World Tour Finals.
All week the ATP World Tour Finals had been waiting to ignite and provide a match that was truly memorable. The wait was totally rewarded by the semifinal between Roger Federer and Stan Wawrinka which was a ride that had you on the edge of your seat throughout. Not always was the tennis of a spectacular nature, and even Federer said that, but for sheer entertainment, tension, drama and a brilliant atmosphere, this was it.
It was a shame that one player had to lose, and again as Federer admitted, if Wawrinka had served a bit better at certain times that match would have been his. Wawrinka went on the attack from the word go and had Federer a double break down in the first set. Wawrinka got the set on his belt but Federer was not standing by. He got through the second by breaking serve in the 12th game to level the match only to see Wawrinka break at the start of the third.
The No.2 Swiss served for the match at 5-4 and had three match points but stunningly dropped his serve. They moved into the tiebreak. Federer had mini-breaks only to see them evaporate; then at 6-5 Wawrinka had a fourth match point which Federer saved with a drop volley.
A point later and it was Federer with match point, his first, he made no mistake, playing another deft drop volley to seal victory 4-6, 7-5, 7-6 after about two and three quarter hours. Waiting for him in the final is Novak Djokovic who had accounted for Kei Nishikori who had a couple of touchy moments in that match although the 6-1, 3-6, 6-0 score line doesn't really show it.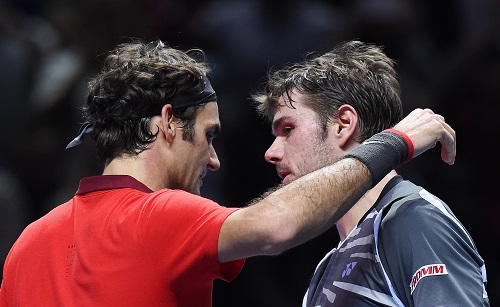 "Well, it's the last match of the season," said Djokovic. "Honestly, today I found it a little bit difficult mentally to stay concentrated throughout the whole match. After emotional three matches I had, especially when I achieved the goal to finish as No. 1 of the world, knowing that, I felt a little bit, I would say, flat emotionally. I needed a little bit more time to kind of give myself a boost.
"I was fortunate because in the beginning of the third set, he had breakpoints. If he broke me, the match could have gone either way. I managed to find that little bit of strength and get a win today. So, as I said, it is now the last match of the season. Of course, it's one of the biggest tournaments in the world, aside of the Grand Slams. This is already the biggest possible motivation. I will try to give everything I have."
Djokovic is not concerned about bouncing back. He, like Federer, has been in such situations plenty of times in his career and he knows what he has to do to recover and get in the right shape. Certainly, mentally, "the truth is that I'm exhausted".
Going into the final Federer leads their series 19-17. The last time they played was at the Shanghai Rolex Masters last month and Federer won in the semifinals and this year Federer has got the better of Djokovic more often.
"I'm going to have to deliver my best game because that is what is needed when you play against Roger at this stage of one of the most important tournaments of the year," said Djokovic. "We all know how good he is in finals. I know what to expect from him. Hopefully I can deliver what I imagine."
Federer too is counting down the days to when he gets vacation time. He has a bit longer than Djokovic to wait because he will team up with Wawrinka in a week for the final of the Davis Cup by BNP Paribas.

"It's cool. I can handle it. The season's been long for all of us, there's no doubt. But I think Stan and myself left everything out on the court today," said Federer
Because the final is not till the evening Federer feels he will have enough time to recharge batteries by sleeping late into the morning and come back out to tackle Djokovic who is trying to be the first man since Ivan Lendl in 1985, '86 and '87 to win this title three straight years. He hopes the omen that he was also born in 1987 will have some bearing.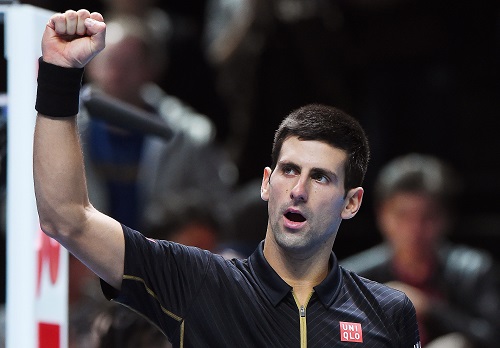 "I think it's going to be different to Shanghai," said Federer. "Conditions are definitely different here. Balls are different. Surface is a bit, I don't know, maybe slower. I'm not sure. It just plays different. Feels different. I think the balls have the most to do with it. I think we might see a bit different rallies, not so easy just to go big. But obviously I got to be confident moving forward. I got to be there to challenge him and make him hit one good shot after another.
"I hope I can maybe play a little better than I played (in the semis) potentially because I did feel the heat from Stan. It was tough for me to get really free flowing because he had the lead early, so I was running after the lead the whole time, which was tough for me. But I'm looking forward to the match. I hope it's going to be a good one."
So who is going to win? Tough question but maybe the person who could have the answer is Wawrinka because during the week he played both men – Djokovic in the round robin and Federer in the semis and lost to both
"Good question. I don't know. We'll see how physically Roger will be for sure, because Novak is really strong. Didn't spend so much energy," he said. "I think (the semi) was tough match physically and mentally for me, and Roger also. So we'll see how he's going to be.
"If you look just like that, you will put a little bit more Djokovic the favorite. But it's going to be interesting. We'll see."