At 17 Belinda Bencic has made her big breakthrough with her run at the US Open.
Belinda Bencic may only be 17 but there has been talk about her for some time and now this new Swiss Miss is truly showing what she is capable of. She is already starting to create records and be the first to do this since that player or this player.
She is the youngest player in the top 100. She is the leading woman player from Switzerland. By reaching the quarters of the US Open she is the youngest to make the quarters at any of the majors since Tamira Paszek in 2007. She is the youngest at the US Open since Martina Hingis won the title in 1997.
And speaking of Hingis, Bencic is coached by Martina's mother Melanie Molitor and the teenager is constantly turning to Hingis for advice and chats. And there is the similarity that like Molitor, the Bencic family immigrated to Switzerland from then Czechoslovakia. It is no surprise that the two people she admires the most are Hingis and Roger Federer.
"I'm so proud of it all," said Bencic. "The last twelve months were really great to me. I improved my ranking always, slowly, step by step so I think that was very good. I started believing in myself - the run in Charleston (made the semis) but also before in Australia, then also in Madrid, Rome, where I qualified. I always beat the players I had to beat. Then I lost against someone better. It was a lot of confidence for me that I really am consistent in every tournament."
There has been restriction on Bencic on how many events she can play under the age eligibility rule but from next year things will open up a whole lot more for her once she is 18. The rule was brought in to protect the very young players from burning out. Hingis believes that Bencic is ready and says "it's a shame that there is rules like this". That's something Hingis is not correct about.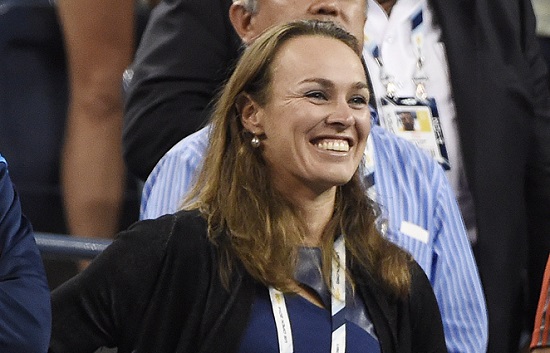 "I think there is huge potential for her; I definitely think she can be top five and she's on her way to get there," said Hingis. "How far is up to her. Nobody can play matches for her and win matches, win the tournaments. She has showed that she can win a big match when she has to. Hopefully there will be more opportunities in the near future. Maybe here (US Open)."
When she beat Angelique Kerber at the Open the crowd was with the teenager which didn't help Kerber's cause because she has a tendency to get the jitters. She said: "I'm really happy. The atmosphere is great." The Kerber result was followed up with an upset of Jelena Jankovic
Bencic shows plenty of confidence which she says comes from the years in juniors. She entered the Kerber match believing that she would beat the German. She knew she could play with her.
Serena Williams says it is great for the women's game to have a teenager with prominence and like Hingis she too feels that Bencic "can go all the way".
"It's really good to see her doing well," said Serena. "She's an amazingly nice, beautiful person both inside and out. I really like her. I just think it's good for tennis. She's extremely exciting to watch. I love watching her play."
There is such an innocence about her and here is no element of being jaded and that transfers to her situation in matches where she is so calm. Hopefully that stays for a long time.
Asked if she could decide where she was able to play the most important match of her life, her response had no hesitation: "Wimbledon on grass."
You get the feeling her name will one day appear on the Venus Rosewater trophy as well as trophies from the other majors.