Petra Kvitova is the Wimbledon champion for the second time. This time she defeated Eugenie Bouchard who was playing her first Grand Slam final and this title goes alongside her victory from 2011 at the All England Lawn Tennis Club.
"It's mean everything, definitely. I mean, it's Wimbledon. Tennis here is tennis history. The Centre Court is always great to play on. I feel really like at home. My team believed in me as well. We did good job and I'm just glad I have it for a second time." With that, the smile beamed across the face of Petra Kvitova. Her name is on the Honour Board of Champions in the Clubhouse at the All England Lawn Tennis Club to go along with her first victory in 2011.
In a brilliant, aggressive and spell-binding performance Kvitova won Wimbledon from Eugenie Bouchard and stopped the Canadian's history making run in 55 minutes 6-3, 6-0. This was the shortest final since 1992 when Steffi Graf defeated Monica Seles 6-2, 6-1.
From the very first game of the final, with Bouchard serving, there was a hint that this was going to be a tough day for the 20 year old in her first Grand Slam final. Kvitova's aggressive stance with her shots had Bouchard looking concerned. Adding to the way things were looking was the Czech's serve; on the first point in her first service game she powered down an ace.
Kvitova broke Bouchard's serve in the third game and it really looked like trouble was descending on Bouchard. In the next game they were engaged in a thrilling rally that had Kvitova flicking back returns, Bouchard was not being able to put anything away and then suddenly Kvitova produced a backhand crosscourt winner that was better than breath-taking. It was the point of the tournament and gave her a 3-1 lead.
"I mean, few shots was really incredible and I really couldn't believe that I made it actually," she said. "I made it and I did good job from the position still, so it was really incredible. Really for the first time I said, 'Oh, my God, this is good! I can really run and put everything back'."
Kvitova later said that was the point that made her believe the title was going to be hers. You could see she was now in a zone.
"Probably, definitely. I love to play finals. I love to play on the big stadium," said Kvitova. "This is something really special. I mean, it's not feeling as a tournament for me. It's something more, more, more.
"Definitely I was in the zone, but I was still thinking it is the final and I knew the emotion. I can say it's a little bit like a Fed Cup when I'm playing in the Czech and I feel the crowd. My stomach is a little bit funny. It just goose bumps. Yeah, when I won the first set, I said, Okay, I still have to do the same work, but I was a little bit worry if I can really do it for all match. But I did it, yeah."
Bouchard was never given any openings in the match and she was looking a bit like a lost soul on the most famous tennis court in the world and one which can be intimidating. This after all, was her first Grand Slam final, something unlike any other experience … and at Wimbledon to boot.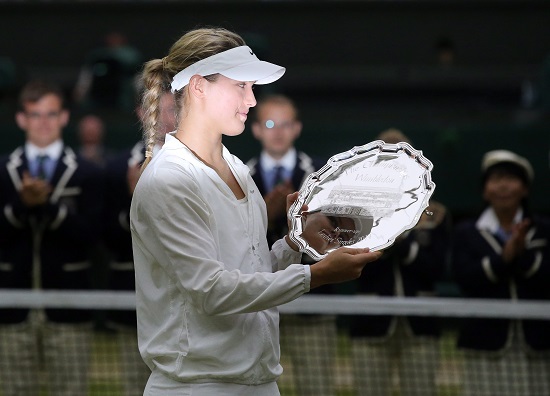 "For sure she was on. She has weapons. We know that when she's on, she's very tough to beat. Especially on this surface. She's been in the final before, all these things. I just have to give her credit. You know, she deserved to win," said Bouchard.
"Of course I'm disappointed with a loss today, but I will, you know, realize how far I've come this year already and appreciate the hard work I've put in and really believe that I can be at the top level of the game. That will give me motivation. So, you know, I think I'll look back and I'll be okay.
"It was pretty disappointing. I'm never satisfied to lose. I always expect myself to do well. But, you know, if I try my best, you know, try to make things work, even if my game is not feeling great on court, that's all I can do. My opponent played better than me."
The aggression in Kvitova's game was amazing and that is what was so big in throwing out Bouchard's mental prowess. The Czech had made her think about what to do and Bouchard was out of her comfort zone in that she had to play defensive tennis.
Bouchard had only one glimmer of hope and that was in the eighth game of the first set when Kvitova was serving for the set and was broken but Kvitova bounced right back and broke to win the set with a backhand crosscourt that Bouchard could not handle.
Again in her first service game of the second set Kvitova started off with an ace on the first point. Game after game was just falling her way. Watching women's tennis played in the manner Kvitova was playing was pure magic.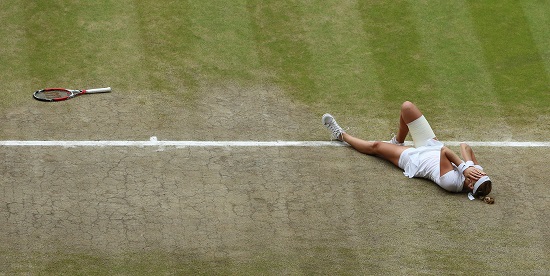 Bouchard served to stay in the Wimbledon final with Kvitova leading 5-0. While she was not going to give in at all, it was also very evident this final was not going to turn around; Bouchard knew it, Kvitova knew it, in fact Kvitova said she was not worried because she "had a few more chances".
"I just tried to play every point. I knew that I can again break her. Then suddenly I did a winner from the backhand. I was so happy. I didn't really know what's going to be there. I just had the tears in my eyes. I was so, so happy. When I saw my box after that, it was much more special for me," said the 2014 Wimbledon Ladies Champion.
Kvitova will see her ranking move up to four while Bouchard moves to seven in her first entry into the world's top 10.