Maria Sharapova woke up the morning after the French Open final to grey skies, a stark contrast to the hot, sunny conditions of the day before, possibly wondering if what she had been through was a bit of a dream. Late in the afternoon on Saturday 7 June, she was holding, more so hugging, the Coupe Suzanne Lenglen on Court Philippe Chatrier.
But it was certainly not a dream. For the first time in her glittering career she had won the same Grand Slam championship more than once taking her tally of majors to five.
Two weeks before she had started the French Open on antibiotics for a bit of a virus and was just hoping that it was not going to affect the way she would play. She had to come through some very tough matches and in each of the three rounds previous to the final she was forced to come back from a set down to secure wins.
With the sun beating down and the mercury up around 30 degrees Celsius, making the conditions on the red clay just a bit quicker, she defeated an outstanding challenge from first time Grand Slam finalist Simona Halep, in yet another three setter, 6-4, 6-7, 6-4 in three hours two minutes which was just shy of the longest women's final at Roland Garros.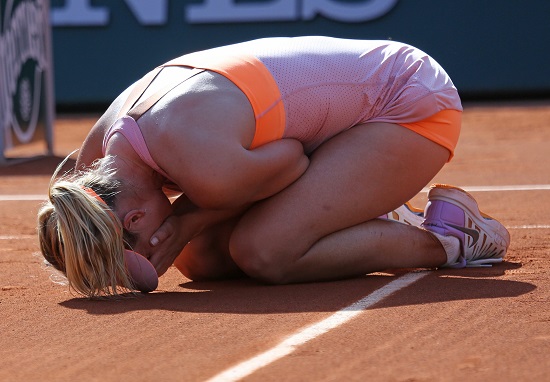 It took Sharapova's win-loss record at Roland Garros to 41-1 in matches where she had won the first set. That one exception was to Dinara Safina in the last 16 back in 2008.
"It was the toughest Grand Slam final I have ever played," she said soon after the match which ended when she drilled an inside out forehand wide that Halep chased down and picked up. However, the power of the return made it difficult for the Romanian to be effective. Halep got the ball back up high but it landed wide.
On match point Sharapova was right under the Halep return and as she saw it land in the tramlines she dropped her racquet, dropped to her knees and buried her face in her hands.
"It's the most emotional victory for me," said Sharapova who was playing her third straight Roland Garros final having won the title in 2012 and was runner-up to Serena Williams last year. "The toughest one physically that I've come across in a final, especially a Grand Slam. There is not too many finals that you get past three hours.
"With all that said, to look back seven or eight years and to think that I would be in that position, I would come through against an opponent that makes you play and hit and run and hits so many shots and recover in conditions that start from cold to being warm today.
"So much adversity is thrown at you, and I'm just proud I came through and I adjusted in all different situations and I end up with this."
Courtside Halep had covered her head with a towel and was crying not only because she was sad at losing her first ever final at a major, but because it was all over, the emotional stress was being let out. All the built up pressure and tension was being let out but soon enough she realized what she had achieved was something she needed to be celebrating.
"I was crying at that moment for a few minutes, and then I was smiling because I said that it was my first Grand Slam final, and I have to be happy, to smile, because I did everything on court," said Halep, the first Romanian woman to reach the French final since her manager and agent Virginia Ruzici in 1980 and who won the title in 1978.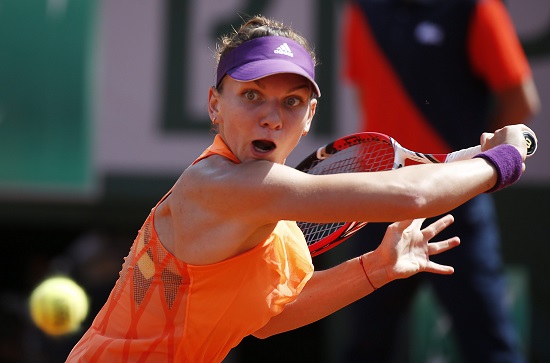 "I played very good tennis, very good level. So I'm really proud about these two weeks. They were incredible weeks here and incredible tournament. I'm really happy, and it was an amazing feeling on court."
She was truly amazing and the effort she put in takes her to No.3 in the world rankings. The 22 year old was remarkable in how she fought on court, how she scrambled and never gave in. That is all you can ask of yourself and this "coming out" for Halep is bound to make known around the world.
The tennis played for the most part was wonderful, maybe not always great, but this was a final that was enthralling and vivid and kept you glued waiting to see what happened next. It had some stupendous shots played including the rally of the tournament in the mid-stages of the second set.
This was a memorable French Open final.