Rafa Nadal and Novak Djokovic will come face to face yet again when they square off in the final of the French Open. It will be the 42nd meeting which is the most prolific rivalry in the history of men's tennis. Going into the final Nadal's advantage has been cut back to just three matches – it is 22-19 with Djokovic having won the last four matches they have played, the most recent in the final of Rome last month.
Djokovic was first into the final when he stopped the amazing run of Ernests Gulbis 6-3, 6-3, 3-6, 6-3 and then Nadal accounted for Andy Murray with a very simple score line of 6-3, 6-2, 6-1.
"First two sets went well," said Djokovic. "I thought I played well, very solid, putting a lot of returns back in the court, serving at the high percentage. Then suddenly midway through the third set started to feel physically fatigued a little bit, and you could feel that. You could see that both me and him, we struggled on the court.
"It happens, you know. It happens in the tournament, and important thing for me is that I realize what's going on. It's nothing serious. I'm going to have now two days of recovery and get ready for the final. I'm not going to talk about. That's it I'm glad I won in four sets, because if it went to a fifth, God knows in which direction the match could go."
Nadal played a tremendous match and he outplayed Murray who was struggling to get a grip on the defending champion's returns.

"Well, I didn't see the statistics, obviously," said Nadal. "Is difficult to talk about statistics for me. I talk about my feelings. Is true that I lost a few matches, but playing the way that I played today probably I will not.
"But another thing that is true is every week on the clay court season I was doing something better. So if I was able to start a little bit before with that improve not talking about the level of today, but if I was able to play a little bit like I did in Rome few weeks before, probably we will be here talking about a great clay court season.
"For me, still a very good clay court season. Important thing is that I played at very high level today. I finished well the match the other day. I played again probably my best match in the clay court season today. So happy for that. Very happy for that. Seriously. Very, very happy to be in the final of Roland Garros again. That's something very special for me, and I'm happy that I am."
The very first time Nadal and Djokovic played one another it was at Roland Garros in 2006 and after two sets Djokovic quite the match. Since then they have played another four times at the French open, the most recent being last year in the semis which Nadal won 9-7 in the fifth. It was a classic match.
Well, there is not going to be a significant difference in my tactics against Nadal comparing to other prior matches that are played, especially the one in Rome," said Djokovic. "I'm going to try to be aggressive, because that is the only way I can win against him. I know that of course this is the court he's most dominant on. He has only lost one time in his career. This is where he plays his best.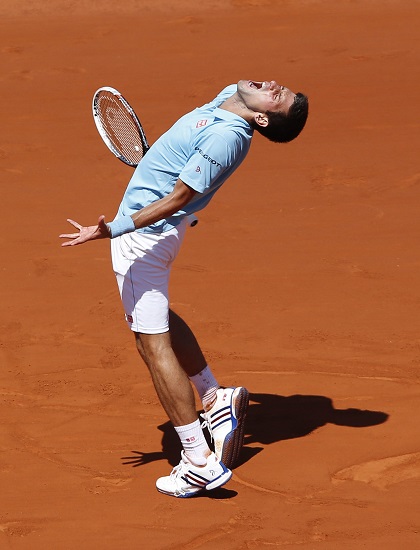 "We played some really close and good matches, good quality matches the last two years here, especially the one last year serving at 4 3 in the fifth set to go 5 3. It was a very close one. And knowing that I was that close to win against him the past two years gives me that reason to believe that I can make it this time. Of course I'm going to go out on the court trying to win, trying to do my best. I know what I need to do in order to win.
"It's easier said than done, of course, because we all know how good he is on this court. But he's not unbeatable. You know, winning against him last couple of matches in the finals, big events, definitely gives me confidence that I can do it again."
While Nadal may have won all the matches they have played at Roland Garros, and it remains the place where Nadal has lost only one match, Djokovic can boast that he has beaten Nadal the last four times they have met.
"I'm going to try my best. I need to play aggressive. I need to find my best level, and I gonna try," said Nadal. "Talking about confident or less confident because he beat me four times but he never beat me here, is true that I prefer to be in a position that I beat the opponent that I gonna play four times than in another position, than in the other position.
"So probably he will come to the match mentally a little bit better than me because he beat me the last four. But at the same time, my feeling is I am doing the things better and I am playing better again, so that's a positive feeling for me. I gonna try. I don't know."