Does what happened at the Internazionali BNL d'Italia in Rome have an effect on favouritism for the French Open which starts at Roland Garros on Sunday?
Novak Djokovic won his third title in the Eternal City by coming back from a set down to beat Rafa Nadal 4-6, 6-3, 6-3 while Serena Williams crushed any national hopes when she beat, rather demolished Sara Errani 6-3, 6-0 for the women's title.
The likely overall opinion on the women's side of the game is that Serena will remain the odds on favourite to win Paris for the second year in a row. Her clay court record since the clay season of 2012 is now 53-2.
However there could be a bit of wavering for the men's title. Certainly Nadal remains the favourite but you gotta figure that Djokovic has closed the gap considerably with his 19th ATP Masters 1000 trophy and has now won five of the past seven titles at the level. Djokovic, who turns 27 year old this week (22 May) is tied at No. 13 with Thomas Muster in the Open Era titles leader list, with 44 crowns.
Interestingly, for the first time in 10 years, seven-time Rome champion Nadal will enter Roland Garros with only one European clay court title (Madrid) as the Serb also closes in on getting back the world No.1 ranking.
Asked if he is ready to steal Nadal's Paris crown and win the title there for the first time to complete a person "Grand Slam", Djokovic was understated and said: "It's been a great week, considering how I was few weeks ago with the injure at my wrist and didn't know how the wrist is going to react this week.
"Luckily for me I played with no pain, increasing the level of my tennis as the week went on. I had some tough matches: 4 out of 5 were three setter and had to come back from one set down yesterday with Raonic and today giving me a lot of confidence. Winning a final of a great tournament with Rafa on clay is definitely is a confidence booster and an ultimate challenge.
"I am very happy with my game and I hope I can carry it to the Roland Garros. I do not underestimate any opponent and especially Rafa who is the best player ever in the history on this surface, we all know his record. I didn't feel I had the match in my hands, but I do have the belief in myself and my abilities that in the end….mental strength, experience would have helped me to stay calm and play the right shots at the right times."
Certainly there would be others in the mix for Paris and you can throw in the likes of David Ferrer, last year's finalist and of course new father Roger Federer and obviously the French guys with the local support behind them but nothing is going to sway away from the top contesting the final.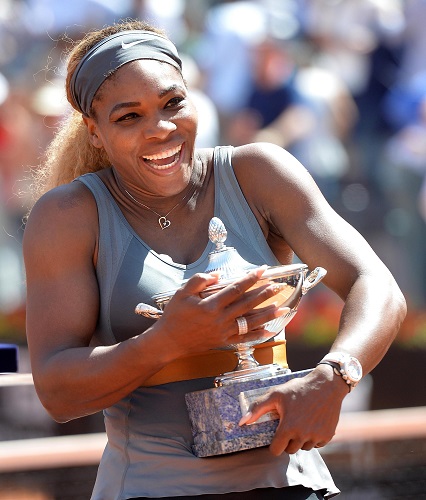 As for Serena, we have seen her be disastrous on clay eg: losing first round to Virginia Razzano but really that is not likely to happen this time in Paris.
This was her 60th WTA title, three of them coming in Rome and she is one of seven players in the Open Era with 60 or more crown. This was her eleventh clay court title and she breaks a tie with Anabel Medina Garrigues for most among active players. Serena is also the first player with three WTA titles this season and improves to 23-3 on the season.
Need anymore be said?