When Emma Raducanu won the US Open people thought she would starting winning everything she played but that is not reality; things have been up and down for her but as Craig Gabriel writes, maybe Emma has turned a corner.
Emma Raducanu loves driving in the United States even if she has not totally got the hang of driving on the wrong side of the road; sorry, the right hand side of the road compared to Britain. She says it feels open despite trying to adapt to a left-hand drive car and is not "drifting" across lanes as much.
"I'm getting used to it more, now," Emma said.
Her driving in America could be likened in a way to her tennis career since winning the 2021 US Open, a win that took the sport by incredible surprise.
Overnight the then teenager became one of the most well-known players in tennis. Her win at the US Open rocketed her into stardom and it made her a wealthy woman with all the sponsorships and endorsements she was able to secure. And good luck to her.
But at the same time there has been criticism levelled at her. 
The results have been sporadic and from someone ranked in the top ten, her place in the world dropped into the 70's. Reasons were multiple – illness, injury, then another from wrist to ankle issues, illness, and this and that.
"Sometimes you wonder, like how is this possible?" Raducanu said. "But then very quickly you create your own luck. It works both ways. I won the US open as well. And I think I also have to take the bad luck sometimes, because also, like, good fortune has also come upon me. I think that I wouldn't trade that title for the world. I'm prepared to take whatever it takes, knowing that I have  that in the bank."
Many on the outside said she was too involved in building up a portfolio of sponsors and it was distracting from her tennis. But why shouldn't she take advantage? Who wouldn't? When the opportunity is there, you grab it with both hands. Raducanu has made it clear that her training and her tennis is not compromised by all her endorsements or attending any glam events.
It is very easy to criticise and any suggestions that the 20-year-old is a one-hit wonder are very off the mark.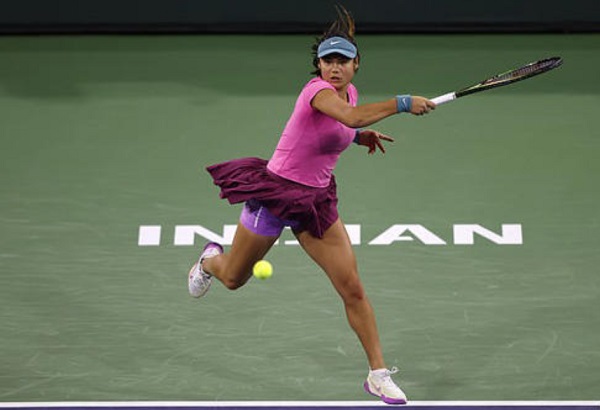 What she achieved in New York on that Saturday September evening was truly remarkable. To come to terms with such an accomplishment is so difficult especially when you have not experienced anything remotely similar before. On top of that dealing with the negativity that she was exposed to would have taken quite a toll. Even the most hardened pro would have felt the pressures she was under.
Spare a thought for her having to deal with the various injuries and illnesses, when all she wants to do is play tennis and reproduce the type of tennis she played at that US Open. Her results were almost a little bit like not understanding some of the road rules while driving.
At the BNP Paribas Open, Emma Raducanu began to show glimpses of what is expected when she reached the last 16 before losing to Iga Swiatek. She had previously beaten Danka Kovinic, Magda Linette and Beatrice Haddad Maia, the latter two both seeded. It was her best effort since the US Open.

"It gives me confidence; I think, especially because of where I was before this tournament, didn't think I would even play, to be honest," Raducanu said. She withdrew from the Austin Open with a severe case of tonsilitis.

"To have played and then won three rounds and beaten two amazing opponents, yeah, I'm proud of myself.

"Now it's just about consistent work to physically get to where I want to be. Yeah, I saw a taste of the level where No.1 id physically and how she (Swiatek) is at the corners, repetitive, relentless. Yeah, I just couldn't take that."
Raducanu feels she is only 35% of the player she wants to be. The physical training is what is going to build herself up. Physicality, she believes, is going to be the backbone of her game.
"I think that I am going to be one of the best athletes on the tour, and that's going to be a big part of my game," she said. "I would say there is a very long way to go, but I am definitely starting the right work now."