There is a solid bond between Carlos Alcaraz and Juan Carlos Ferrero writes Craig Gabriel
Tennis has known for quite some time that Carlos Alcaraz is a special player, but no player can get to the top on their own. There is a team to guide them and for Alcaraz that team is led by Juan Carlos Ferrero. He has been through it all and was highly successful as a player winning a major and also being ranked world No.1.
There is a special bond between the two of them and that was so very evident during the Miami Open this year. Juan Carlos was in Spain for his father's funeral, and it appeared he would not make it to Miami for the closing stages of the tournament.
Late one morning Carlos was in the lobby of his hotel with the rest of the team. Ferrero had not told his charge that he managed to get a flight straight after the funeral. When then 18-year-old saw his coach and mentor walking towards them he jumped up and raced to Juan Carlos with the most heart-warming excitement and could not stop hugging him.
Their bond is so wonderful to witness. And it was in Miami that Alcaraz said he first began to realise that he could do what he so incredibly did at the US Open. He became only the second teenage male, the other being legendary Pete Sampras in 1990, to win the US Open.
His run to the final was quite remarkable, winning three five set matches in a row, the one against Frances Tiafoe also becoming the latest (2.50am) finishing match in US Open history. When asked how he was feeling he said he was not tired he was young and added "there is no time to be tired in finals".
While many were a bit sceptical about how he would perform in the ultimate match, Juan Carlos Ferrero always knew he would do it.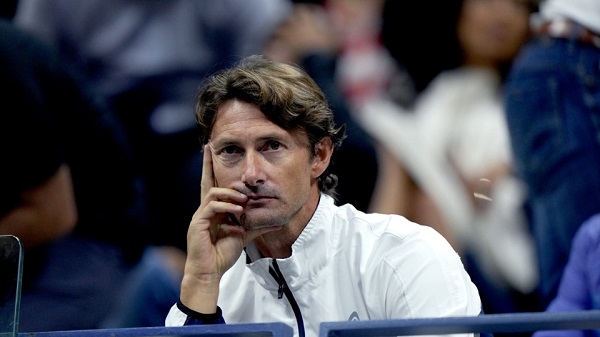 Alcaraz came to Ferrero's academy in Valencia as a 15-year-old and straight away saw the explosiveness of his game, but he also saw the amount of work that had to be undertaken. He was "like a spaghetti, thin", but Ferrero saw that he had very fast hands and very fast legs. He also saw there were no muscles at all, not in the back, not in the legs. There was a lot of work to do but JCF obviously saw how incredibly special he was.
It was like sculpting a piece of art from raw materials.
"I know his level. Of course, it comes very fast, let's say. It's a surprise for everybody except maybe to me because I trained with him every day and I know what he's able to play on the court," Ferrero said. "I was pretty sure that maybe it wasn't this year, could be next one. So, at the end it was that one. Very happy about it. It was fast, but now definitely we want to continue."
Like coach like player, both are so humble and down to earth that you can't imagine there being a different association, yet Ferrero can't really express in words why Alcaraz is so amazing.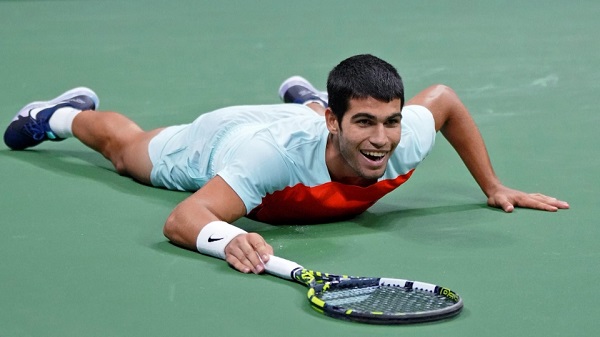 "It's very tough to say all these things in words," Ferrero said, "but Carlos, I think he born to play this kind of tournament, born to play these kinds of matches. Since the moment that I started with him, I saw some things that were different than the other guys at his age.

"I am still seeing it on the court. In important moments, he always try to go. This was one of the more difficult things in tennis, even on his first Grand Slam final. He's a great competitor. He's there. He's trying all the time.

"We could see it the last matches, even against (Marin) Cilic, (Jannik) Sinner, or (Frances) Tiafoe, that he never gave up. He always wanted to push and try to stay on the match."
As a player Ferrero was quite stoic, he kept his emotions to himself but as a coach there have often been tears of pride as he's watched the teenager achieve milestones and achievements and reach them the way he does. Incredibly they both attained the No.1 ranking at the same tournament and they are part of a small group where both player and coach have been No.1 in the world.
Ferrero believes that Alcaraz is only 60% developed and there is so much to improve. The world is at his feet, and he has one outstanding person guiding him. That all makes for an exciting future. Men's tennis is very much in safe hands.

More information about
Players
Tennis Legends
Tournaments