Simona Halep has always been a delight with a terrific smile and laugh and she has a new nickname "Halepeno". Craig Gabriel caught up with her when she joined him and former player Jill Craybas in the tournament radio booth at the BNP Paribas Open.
Q: Simona, when you play a fellow Romanian, I would figure it's not easy to play a compatriot and a friend, so what's it like when you're in court?
SH: It's always great to face a Romanian in a super big tournament (like the BNP Paribas Open) and I believe our generation is the best we've seen in Romanian tennis, so I think for our country it's super good to have so many players at the highest level in tennis. It's never easy to play against a Romanian but I did a pretty good job up to now let's see for the future.
Q: You are an inspiration for other Romanian players coming through into the tennis world what does that inspiration mean for you?
SH: It's very special; I can inspire the little kids in Romania, and I've had so many kids coming to me and say they want to be like me, which is super, super nice. I'm honoured. It's always a responsibility because you feel the pressure, you want to give your best every time you play. It's never easy but I did it well these years and I am glad I can be an inspiration for the kids.
Q: Simo, do you look at stats before or after a match?
SH: Never (laughing). I never check I just cannot; it's too much information and I just want to be peaceful when I go on court just focusing on myself because I know if I play my best tennis, I have a chance to win.
Q: You are a great competitor but last year you had the injury so how hard was it for you to stay away from the sport and how hard was it to come back and compete again?
SH: Well indefinitely it was the toughest year in my life with that injury which came from nowhere and I didn't actually know how to manage it. I been down mentally. I lost the confidence that I could be a good player. I suffered of course but I had great people around me and they just kept telling me I'm still good to come back and to have some good results. Then, after the U.S. Open I felt the confidence was coming back, and I had such a good match with Elena Rybakina and then in the off-season I worked super hard. I think every time you are down or struggle with everything you have to put in hard work and not think about results and what is coming; focus on the hard work. It was a good thing, and I started the year very good in Australia. Slowly I'm getting there. I'm happy.
Q: You made it clear, and I can understand the disappointment you were feeling not being able to defend your Wimbledon title. What I'm trying to get out is how do you turn that mindset around from how down you were with the injury. It has to come from within, doesn't it?
SH: Yeah, it's coming from inside. I just sat down and asked myself if I want to do it again and if I am able mentally to do it. At this level it's most important part, the mental part. I talked to myself, and I felt I am loving the sport and I'm still looking forward even if I'm over 30 and I can give it another try. And without people you cannot turn it when you are super down. And about Wimbledon (laughing) I was not really upset I couldn't defend the title; I was really upset I couldn't start the tournament. That was the disaster for me. I was waiting for that.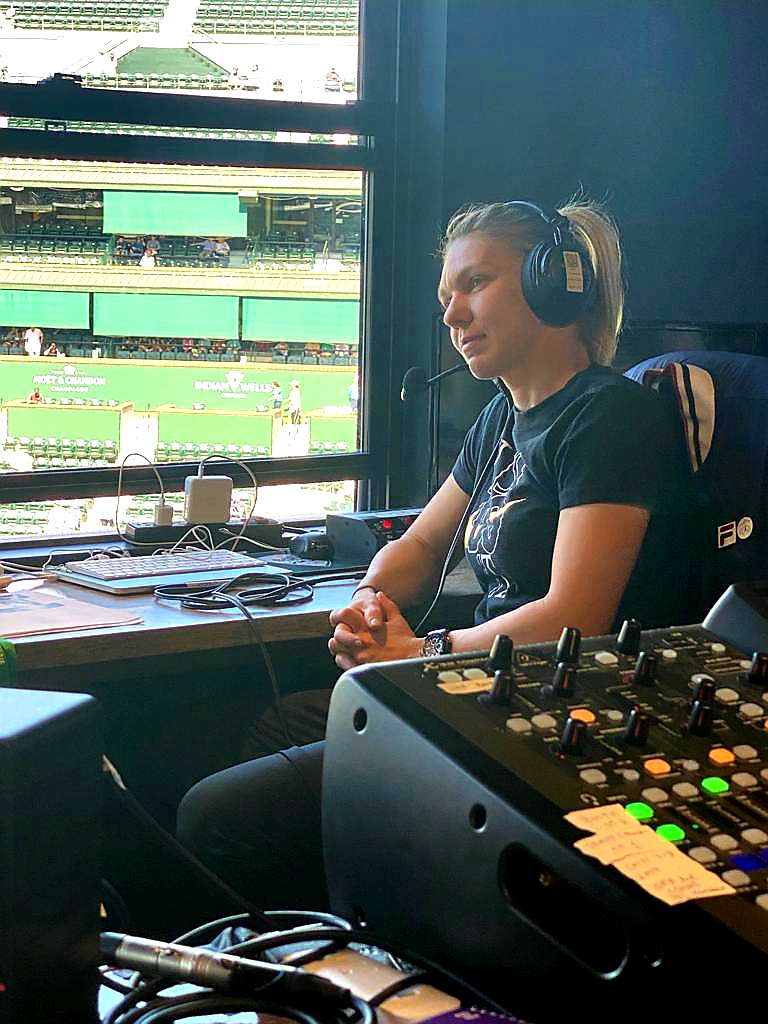 Q: As a player you don't get to spend much time at home, but you had to with the injury. What did you do all the time?
SH: I was home for three months in the summer, so it was a big change, I enjoyed it a lot. I think this help me to stay healthy mentally. I had my family and friends around me I got married so personal life was great, only professional life was tough to handle but in combination I had the boost to look forward to a good time.
Q: Has marriage changed your perspective?
SH: No and it's still my priority to play tennis. My husband is supporting me to do that. I want to play a few more years if my body holds and I enjoy it. With the married life nothing changed so it's only good. 
Q: Does he travel?
SH: Yes, he does but not everywhere.
Q: He did most of the preparation for the wedding didn't he?
SH: Everything. I just picked my dress. He said I should trust him as he is good in this, so I said okay take care of everything and I just come to the party. I had super much fun. This year at the end of the year I will have the big wedding with the tradition and that will be a story.
Q: Does your husband get involved in anything you do tennis wise, and do you get involved in what he does?
SH: No! We talked at the beginning, and I said I don't like the boyfriends and husbands to get involved in my tennis so he don't do it. He gives the emotional support, and I also don't get involved in what he's doing.
Q: What sort of things you do when both of you are at home? Is it like a regular husband-and-wife situation, do you cook, do go to the movies?
SH: I don't cook (laughing). He's not skinny he doesn't need food so I'm lucky. He's like that and I don't have to cook much at all. We go to the cinema, have a good time together, we spend a lot of time together. We go for walks; we go to restaurants.
Q: What food do you like?
SH: Italian food. Pasta, pizza sometimes and light meat. I'm not cooking. I just eat to feel good and because I need food. I don't eat because I like food. We have a pretty good and easy life.
Q: Simo you were saying you want to play for a few more years and I'm not trying to retire you I promise, but what do you think will be the aspect that will make you decide that it's time to stop playing … and do you want to have a big family?
SH: Yes. I'm thinking already about kids I love kids and I really want a big family, but I feel I'm not done with tennis. Now I'm feeling good but probably the body will tell me when it's time to stop but if my body is still good in a few years then the kids will stop me. I really want to have kids.