Rafa Nadal has captured his 13th French Open and 20th major by defeating Novak Djokovic.
In 2005 a 19-year-old arrived in Paris to play the French Open, tall, long hair, looked like so many kids around. His English was not great, after all why would you need much English if you are from and live in Manacor, the second city on Mallorca. After two weeks the lefty kid carved his way through the French Open draw and became the Roland Garros champion for the first time. The tennis world was captivated by Rafa Nadal.
Now, 15 years later he is the proud owner of twelve more French Opens. Thirteen Coupe des Musketeers trophies are displayed. For his thirteenth trophy he carved up the world No.1 in two hours 41 minutes 6-0, 6-2, 7-5 and it was the most one-sided men's final since Rafa defeated Stan Wawrinka in 2017. For two and a half sets it looked like it would be the most one-sided final since 2007 when he despatched Roger Federer.
An ace, Nadal's fourth, on championship point caught the corner of the service box and there was no way the Djokovic racquet would make contact. Rafa fell to his knees and raised both arms to the sky … well the new retractable roof anyway, which was closed for the final. His face was beaming.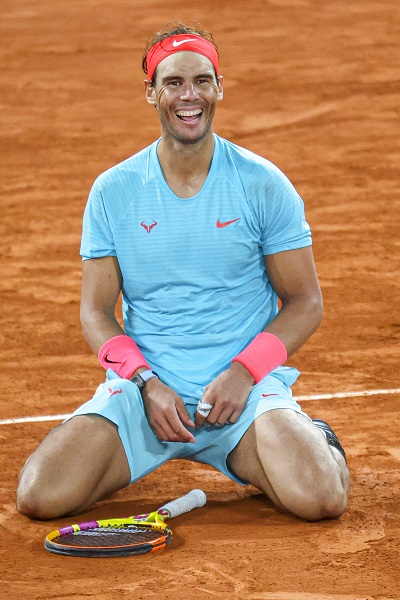 This was an incredible performance. The unanimous view is that for at least two and a half sets near perfect tennis was being witnessed. Even Rafa, who never really pats himself on the back had to admit it.
"Yeah, well, of course I played at an amazing level of tennis," Nadal said. "For two sets and a half I played great. I can't say another thing. Is impossible to have this score against him without playing great. Yeah, played a very good final. I played at my highest level when I needed to play at my highest level, so something I am very proud.
"The personal satisfaction is big because under the circumstances that we played this Roland Garros, even if I played an amazing match this afternoon, the conditions are a little bit not the conditions that I will choose, never, to play an event like this. I was able to adapt well. I just tried to work every day with the right determination, looking for my goals. Yeah, I think is one of the Roland Garros that have a better personal value for myself."
What Nadal achieved wit this result is remarkable. He became the first player, man or woman, to win 13 times at a single event, win his 100th match at Roland Garros and his 999th career tour level match from 1,200 and equal his friend and rival Roger Federer with 20 majors.
Soon after the last ball Federer was on social media congratulating the Spaniard.
"I have always had the utmost respect for my friend Rafa as a person and as a champion," Federer said. "As my greatest rival over many years, I believe we have pushed each other to become better players. Therefore, it is a true honour for me to congratulate him in his 20th Grand Slam victory. It is especially amazing that he now won Roland Garros an incredible 13 times which is one of the greatest achievements in sport.
"I also congratulate his team because nobody can do this alone. I hope 20 is just another step in the continuing journey for both of us. Well done Rafa. You deserve it."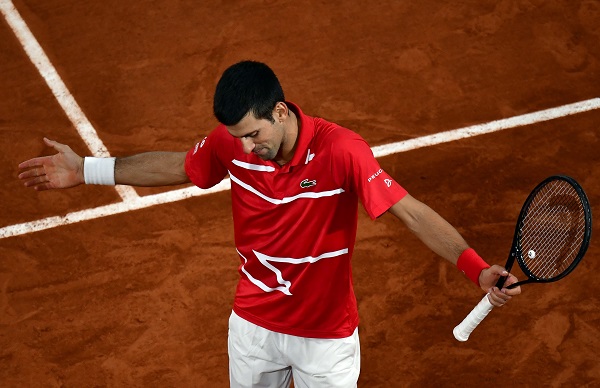 Djokovic was hoping to get close to Federer and Nadal in the majors' stakes, but he stays on 17. The only bright spot for him was midway through the third set when he broke Nadal for the only time to level the set at 3-3. He said there were chances but just could not convert.
"I don't have much to say but that I was completely overplayed by Rafa, by better player on the court. I mean, he was not missing at all and getting every ball back, just playing tactically great," Djokovic said. "I mean, I felt well throughout the entire tournament. I thought I was in a great form. Certainly, I could have played better, especially in the first two sets. But, you know, just he did surprise me with the way he was playing, the quality of tennis he was producing, the level.
"I mean, he's phenomenal. He played a perfect match, especially in the first two sets. Yeah, I mean, the third set I managed to come back. I kind of found my groove on the court. Then, yeah, couple of close games. Had my chance, didn't use them. He closed out the match. That's it. He was the far better player on the court today and absolutely deserved to win."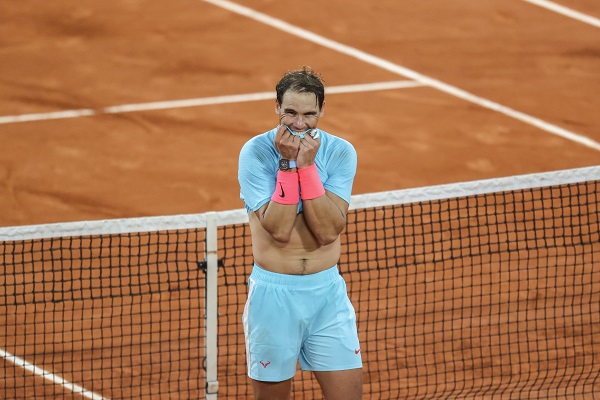 While Rafa would love to end his career with the most majors, he is not going to stress about such things. He is going to follow his own path. There is no element of jealousy.
"I have to do my way. I did my way during all my career. Worked well," he said. "I'm not going to be thinking all the time Novak have this one, Roger is winning the other one. You can't be always unhappy because your neighbour have a bigger house than you or a bigger boat or have a better phone. You have to live your personal life, no? Personally that's the things that I did during all my career, just try to follow my road, try my best every single day.
"In terms of these records, of course that I care. I am a big fan of the history of sport in general. I respect a lot that. For me means a lot to share this number with Roger, no? But let's see what's going on when we finish our careers. We keep playing.
"I don't know what can happen in the future. I am just excited and of course is something that means a lot to me. At the same time share this record between us, that we had an amazing rivalry for such a long time, is something in some way beautiful I really believe."