She is 23 and Nadia Podoroska has suddenly become a topic of conversation at her first French Open.
Argentine tennis has enjoyed a rich history. Players have captivated crowds around the world – Vilas, Gorgeous Gaby Sabatini, del Potro, Nalbandian, Paola Suarez, Clerc, Morea, Mercedes Paz, Chela, the list is extensive. These days it is Diego Schwartzman who has been the featured player and his run at Roland Garros has allowed him to reach his first semi-final at the majors and reach the top ten for the first time.
While he is the current Argentine stand out, another player has grabbed attention at this French Open. Nadia Podoroska is on cloud nine and she has become the first woman in French Open history to reach the semi-finals (at least) from the qualifying rounds.
When you look at numbers, it takes seven matches to win a major; up to the semis Miss Podoroska had won eight – three in qualifying and five more in the main draw.
She is the first Argentine woman to reach the semis at Roland Garros since Paola Suarez in 2004.
"No, I don't want to wake up," Miss Podoroska said laughing when she was asked if she is pinching herself. "For me it's like a dream. I always dream being here, playing these kind of tournament, and for being my first time here, I am very happy.
"For me it's very special because in all South America we don't have too many tournaments. It is very complicated for all the South American girls playing tennis. I think it is good that I'm having these results. Maybe it's going to help for all the young girls."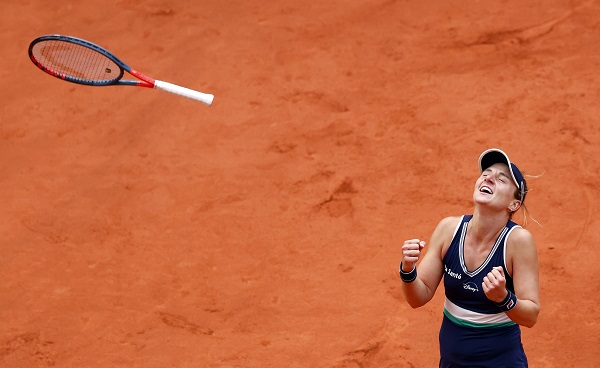 This year marks the first time an Argentine man and an Argentine have reached the semis of a major at the same time since that French Open in 2004 – besides Suarez, in the men's there was David Nalbandian, Guillermo Coria and Gaston Gaudio.
"I'm not sure if it was the first time that I saw Roland Garros, but I remember the final between Coria and Gaudio," she added. She would have been seven year of age. "It was a very special final for all the Argentinians. I remember that match."
She began her tennis when she was five years old. She started because she wanted to. No one in her family played before, but in Argentina tennis was a big sport, second only to football and in particular River Plate and Boca are football powerhouses.
Adding to her attention for tennis, many players from Argentina were ranked in the top 100. David Nalbandian had been in the Wimbledon final and "tennis was a very famous sport".
She told her mother she wanted to play tennis and that was it. Miss Podoroska's heritage is Ukrainian. Her grandparents moved to Argentina and the town she grew up in and still lives in is Rosario a place that was home to Messi and Di Maria.
This is only her second career major so to have experienced such a run is truly outstanding and she will skyrocket from 131 in the rankings to well inside the top 50. However, a couple of years ago she was considering giving it all away. Injuries, in particular her right wrist, were taking a toll and she was sidelined for eight months. Her ranking dropped and she was running out of money to keep going.
She broke off from her team after ten years and it was all quite tough. She was "a little bit, like, I didn't know what to do". Those doors closed but others then began to open. She set up a base in Alicante, Spain at the same club where Alex de Minaur trains, and began working with Juan Pablo Guzman and Emiliano Redondi and built up a new team. There is a sense of calmness about her now.
"She's ben working for a year or more than a year with a mental coach," Guzman explained. "She's been helping her in those situations. Usually when she entered the court, she just wanted to play and win, sometimes not using the correct way. She was kore like, trying to hit and trying to do more things than she had to do.
"With the mental coach, she's been working, trying to breathe, trying to visualize, trying to be more calm in that situations. It was something that after a year. This year she was playing really good, but there was some occasions she was playing with girls the same ranking as her, but when she was playing higher-ranking players, she was feeling the pressure and trying to do more things than she had to do.
"Like she did in this tournament, she did everything the same in every match. It was, like, a big change for her because she saw she can play like this and keep winning."
With that sort of approach maybe she will become the first Argentine woman to reach the French Open final. If she does, Gaby Sabatini will be first in line to congratulate her.