It was three years ago that Jelena Ostapenko became the toast of tennis but after a slide in fortunes she is on the way back.
Three years ago seems like a long time ago especially when you make a splash and then twelve months later things fall in a bit of a screaming heap and you don't know how to handle the situation. Everything had come in fast and it was as if it was going out just as quickly and probably with greater ferocity. It could almost be likened to a tsunami.
On 8th June 2017 Jelena Ostapenko could barely catch her breath. It was her 20th birthday and there she was on Court Philippe Chatrier, the greatest clay court in the world, holding the Coupe Suzanne Lenglen. She was the French Open champion and what a way she won the title beating Simona Halep from a set and 3-0 down.
Maybe it was fate. In 1997 on that very date Gustavo Kuerten had won the French Open for the first time. Now, those 20 years later the streets of Riga, Latvia, were in party mode. Never had the nation ever experienced sporting glory such as this.
But the personal glory did not last and by the time the following year rolled around Miss Ostapenko was starting to struggle with the expectations. Her Roland Garros title defence crashed in the first round and the same happened in 2019. There was a lack of belief and confidence and her ranking, which had been consistently in the top 10, had dipped to the 80's.
Let's not forget what happened in 2017 was out of the ordinary and trying to cope with the pressure and attention when you are not used to the situation is daunting.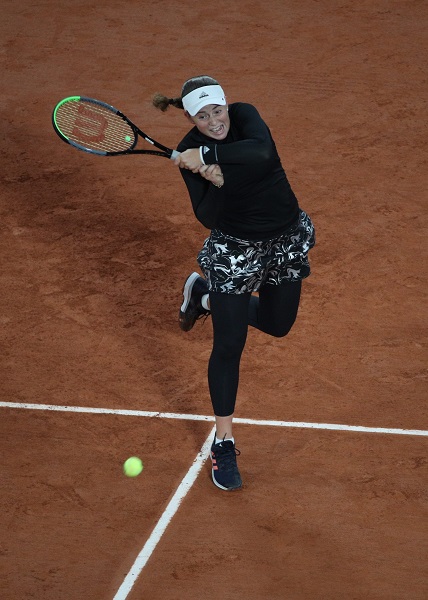 "After I won it was a tough time," she said. "I had to get used to the pressure but now it's all gone, and finally I won my first match after two years, like, not winning a match here. I'm really happy with that. Because first rounds are always tough, and it's like never easy, and you get tight sometimes and you have to deal with the pressure. But, yeah, I felt like really well today on court. Hopefully, I can keep it up."
At this year's unusual Roland Garros Miss Ostapenko was handed one of the toughest first rounds, the second seed Karolina Pliskova but playing the event this year was different in that there were no expectations. Jelena played like it was 2017 and scored a huge upset. She was playing hard and fast, not unlike the way she drives her Porsche.
"Obviously like playing I'm aggressive player," Miss Ostapenko said with a shy smile. "Driving-wise, I mean, I'm driving not super slow, not super-fast. I mean, it depends where and how. But sometimes, of course, I have a lot of energy so I'm aggressive like playing aggressive in tennis and I'm very, like, how you would say, energetic. Sometimes of course I can drive a little bit faster, but, I mean, it just depends where and who is around."
She knows that her victory in 2017 helped to inspire a few of the younger women. Naomi Osaka is one who has made that clear, but to be a sort of role model can also add to the pressure and she admitted it was not easy dealing with all that added attention. So what Jelena is trying to do is turn the tables now and use the same aspects to motivate herself. That mental approach could end up paying dividends for her at this French Open and beyond.
Apart from Simona Halep and Garbine Muguruza she is the only woman left who has the experience of winning a French Open and after her first two matches, she has leapt into title talk. Certainly, the past remains in her memory (by the way the trophy remains on display at the club she plays at in Riga) but she knows she has to look forward.
"The world doesn't stop with winning one Grand Slam. Of course, I want to achieve more, and I want to be back in the top five, top ten," Miss Ostapenko said. "Step by step. That's what I'm working on, my consistency. Still being aggressive player, I think it can bring me a lot of wins but consistency probably in my game is the key."
She believes she is in good form and has a rhythm with her game once more; she is low key and she doesn't really want to compare it to 2017.
"It was like three years ago, and I was much younger and also I was fearless," Miss Ostapenko said. "Nobody knew me. But now it's a little bit different. I'm just trying to get back and get my consistency. I think that is the key to bring me a good result."