Dominic Thiem has won his first major and it is the US Open in a five set thriller against Alexander Zverev.
The US Open with all the strangeness that surrounded it from no crowds to bubbles and bubbles in bubbles, ended on a high. History was made and the drama that unfolded made any television reality show look even more pathetic than they are.
Dominic Thiem and Alexander Zverev may not have produced the most amazing tennis possible even though there were some stunning winners and returns, but they gave the sport and the audience that had to sadly watch the final from afar an absolute thrill and most definitely something to talk about.
After four hours and two minutes of some punishing tennis that saw both players starting to cramp in the latter stages, the Austrian staged a remarkable comeback.
This was very definitely Thiem Time at the end as he rallied from two sets to love down, a break down in the third, his opponent serving for the match and then having a mini break in the final set tiebreaker to record the greatest victory of his life – 2-6, 4-6, 6-4, 6-3, 7-6 (6).
When Zverev sent his backhand wide on match point three, Thiem was laid out spreadeagled on the court. Exhaustion and relief were enveloping his body and he probably felt he was the only person in the world.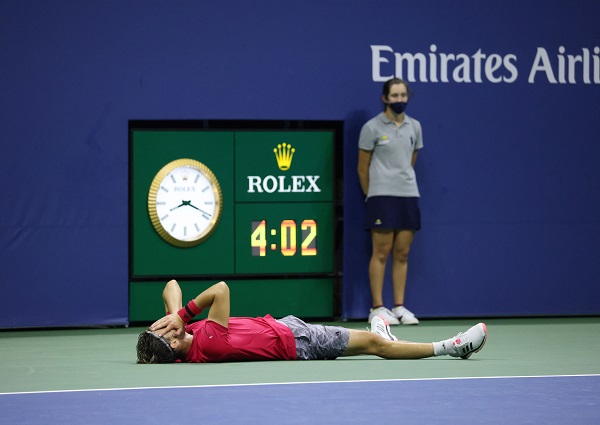 "It was such a big relief," Thiem said. "I mean, obviously it was huge pressure in the match, huge emotions. Physically it was super tough. Then also it was not easy four weeks in general. It was a lot coming through the mind, coming through the body.
"When I made that match point, when he missed that backhand, it was such a big relief. Like the BNP Paribas Open, Indian Wells title, for example, or like Vienna title, titles that mean so much to me, just a little bit stronger as this is a major title. It's just the highest thing what you can achieve in tennis."
History had been created. This was the first time since 1949 when Pancho Gonzalez came back to beat Ted Schroeder in the US final that the championship match at the event had been won from two sets to love down.; 71 years had passed. And on the 50th anniversary of the tiebreak being introduced at the US Open, it marked the first time ever that the US Open final had been decided by a fifth set tiebreaker.
"Definitely I achieved a life goal, a dream of myself, which I had for many, many years," Thiem said. "Of course, as a kid, as well, when I started to play tennis. But back then it's so far away. Then I got closer and closer to the top. At one point I realized that, 'Wow, maybe one day I can really win one of the four biggest titles in tennis'.
"I put a lot of work in. I mean, I dedicated basically my whole life until this point to win one of the four majors. Now I did it. That's also for myself a great accomplishment. I mean, it's by far not only myself, it's an accomplishment from all my team, from all my family. I guess also today is the day where I gave back huge amount of what they did for me."
Unlike the protocols of previous rounds when players tapped racquets at the end of a match, Thiem and Zverev embraced. Both finalists born in the 1990's was also a point for the record books which resulted in the first major winner from this period and in doing so stopping a run of 63 winners from the 1980's.
Zverev was devastated with the result and in his acceptance speech on court he could not control the tears and struggled to speak. The chances were there for him and he played with such composure.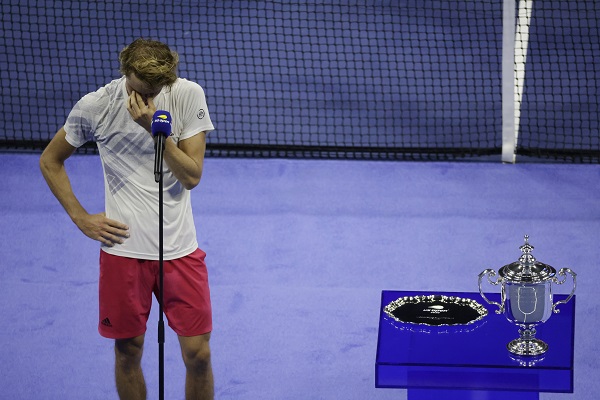 "I was super close to being a Grand Slam champion," Zverev said still struggling with his sadness. "I was a few games away, maybe a few points away. For me what upset me the most is not the third set or something like that, it's the fifth set. I had a lot of chances in the fifth set and didn't use them.
"Yeah, I mean, I'm 23 years old. I don't think it's my last chance. I do believe that I will be a Grand Slam champion at some point. At the speech, I mean, I got emotional. I couldn't put two words together. I don't actually remember what I said. Yeah, it was a difficult moment for me."
There is no doubt the Big 3 are going to still be around and their presence will continue to be felt in a huge way but now the challenge from the younger guns is going to be greater. Thiem will be the case in point.
"I achieved a big, big goal," Thiem said. "I expect that it's going to be easier for me now in the biggest tournaments because, of course, I had it in the back of my head that I had a great career so far, way better career than I could ever dreamt of, but until today there was still a big part, a big goal missing.
"With this goal achieved, I think, and I hope that I'm going to be a little bit more relaxed and play a little bit more freely at the biggest events."