Dominic Thiem and Alexander Zverev with play the US Open men's final and tennis will hail a brand new champion at the majors.
The first time is always special and that is the case for Dominic Thiem and Alexander Zverev as they come face to face for the tenth time overall and the first time at the US Open.
For the first time is what seems like decades there will be a new name on the honour board of the majors. No Big 3 and quite possible this could end up being, as in the final scene of the classic film "Casablanca", the start of a beautiful friendship, for tennis.
In two terrific semi-final matches Zverev and Thiem accounted for Pablo Carreno Busta 3-6, 2-6, 6-3, 6-4, 6-3 and Daniil Medvedev 6-2, 7-6, 7-6 respectively. It was the first time Zverev had won a match from two sets to love down and Thiem was grateful not to have been down two sets to one as the Russian served for the second and third sets and even has a set point in the third.
Zverev is the first German man to reach a major final since Rainer Schuettler at the 2003 Australian Open and the first German man to reach the US Open final since Michael Stich in 1994. The last German man to win in New York was Boris Becker in 1989.
As for Thiem, he is the first Austrian to reach the final.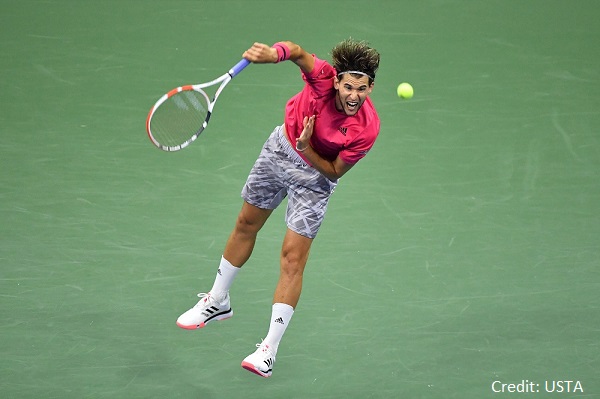 "Yeah, it's great and obviously happy to be in a final," Zverev said. "here's still one more step to go. For me, I think it's going to be extremely difficult. Dominic and I, we played an epic in Australia. No matter, its going to be a new Grand Slam champion, but it's going to be also a very difficult match I think.
"Sunday is going to be extremely difficult but I'm looking forward to it. Yeah, I'm in the final of a Grand Slam. The two best players in the world are going to be playing on court."
For Thiem this is his fourth trip to a major final and the second this year. He came so close in Australia so to do repeat at the very next available major is a very good effort. But if it is nit to be and he goes 0-4 in finals, he joked that he would discuss things with Andy Murray who lost his four major finals before winning the first one.
"That's not what I'm thinking about Sunday," he said. "I just going to go in fully focused, like in all the six previous matches. Well, the world continues no matter what's result is, so it's going to be fine.
"Of course, I'm super happy that I gave myself another chance to be in the finals, pretty quick after Australia. Going to be a great one against a very good friend and a great rival."
Thiem leads their head-to-head series 7-2 having won the last three including two at the majors. Their last match in the semis of the Australian was a four-set thriller.
"I won't change my mindset at all; I know what Sascha is capable of," Thiem said. "I will go in like in the previous six matches. From the moment Novak (Djokovic) was out of the tournament, it was clear that there's going to be a new Grand Slam champion. From that moment on, that was also out of my mind. I was just focusing on the remaining guys left in the draw.
"Now it's Sascha remaining, the last one, my opponent in the finals. I will fully focus on him and just go into that match like in the all other matches I was going in so far in this tournament.
"He's a hell of a player. One of the greatest ones in last years. Won all titles besides a major. He will also try everything what he's capable of doing to win the title. It's going to be a super difficult match.
"For me, it really doesn't matter whether it's him or one of the big three. I just try to go in there and give my best."