Victoria Azarenka staged a brilliant comeback to beat Serena Williams and reach the US Open final and puts on show the new Vika.
It has been seven years since Victoria Azarenka last reached the US Open final. That was the second time around for her having played the final the year before as well. Both times she lost to Serena Williams. Now she has the chance to make it third time lucky and win a first US Open; not only that but seven is her lucky number – it is even in her Twitter name.
Vika beat Williams is a courageous semi-final fight back, but even losing the first set 1-6, she never felt out it. There was the number seven again. She rallied to win 6-3, 6-3 making it the first time in the eleven matches they have now played at the majors that Azarenka has won.
She will take on Naomi Osaka the champion in 2018 and who played the best women's match at this year's US Open when she defeated rookie Jennifer Brady 7-6, 3-6, 6-3.
For Azarenka this is like having a second time around. She knows that and appreciates the second opportunity. She is a very different person to the one that paraded around the tour as if she owned it all and maybe even felt she was owed it all.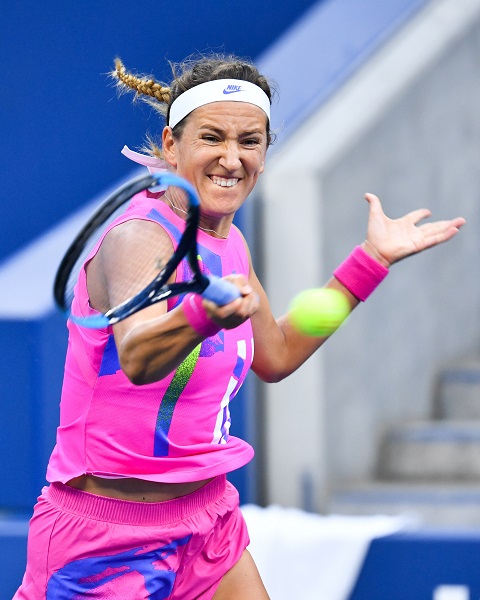 She says mentally she is in a different place compared to seven years ago. When she won her two Australian Opens and became world No.1 and consistently had good results, the general expectation was getting to finals of majors and winning big events like the BNP Paribas Open in Indian Wells or the Miami Open, was expected.
What she has done in New York this time was far from expected and there is a greater sense of satisfaction. She says it is "more fun this year, more fulfilling, more pleasant for me (and) it feels nice, nicer".
She left tennis in the middle of 2016 and in December that year gave birth to her son Leo. Azarenka made her way back to tennis about six months later but off court battles and troubles began. She parted ways with her son's father and a custody battle ensued which made it difficult for her to travel because she was forbidden to take Leo out of the USA. After a prolonged period, it was a happy ending for Vika when she was granted custody of the little boy she dotes on.
Those times and the ones that ensued allowed for reflection and what tennis is seeing now is someone who is happy and comfortable with herself. The previous Vika Azarenka was not easy to deal with.
The honesty about herself is special.
"I think when you're coming up from kind of nothing, then you become a No.1 player in the world, sometimes you can start to think you're invincible and that you're better than everybody, and it's not true. So, the ego starts to grow. It's very hurtful when it gets damaged," Azarenka said, frankly.
"Instead of getting the ego damaged, I tried to remove that and learn from my mistakes of that ego, and realizing, maturing, that being a tennis player doesn't make you better or worse than anybody else, that you're still human, and all you can do is try to be the best version of yourself and keep improving."
Losing a lot of matches was a big factor in her change of attitude and personality. The say you learn from your mistakes and losses.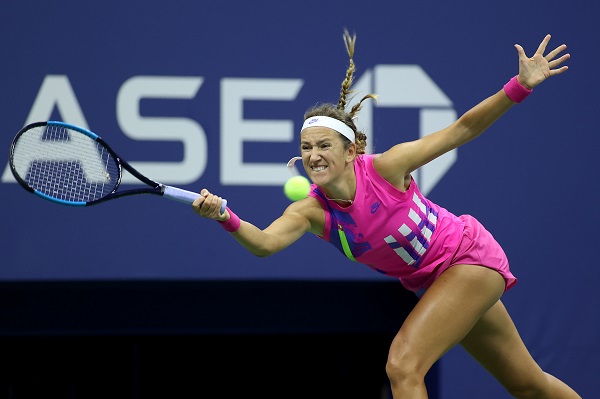 She explained that the "best tools" were the many matches she was losing. Azarenka said she could "continue to stay on my high horse" or she could learn from it and change her stance.
"I just feel I'm very proud of myself that I took that challenge up from losing and turn it around and become better," Azarenka said. "I'm not talking about a better tennis player. I'm talking about a better person for myself, for my son. That's what I'm most proud of.
"I wear my heart on my sleeve. At some point, when bad things are happening to you, challenging things are happening to you, you can be a victim and you can (stand up). Vulnerability is good. Having emotions is good.
"For me personally, feeling myself constantly as why things happen to me the way they happened was not beneficial. I stopped doing that. I started taking more responsibility for what I do, for what happens to me, and responsibility of how I'm going to react to situations. That helped me grow. That helped me become a better person, that I am today."
There is a calm about her as evidenced watching her during end changes in a match when she sometimes sits motionless with eyes closed. So much like the late great Arthur Ashe himself in the 1975 Wimbledon final against Jimmy Connors. It's almost like meditation.
Victoria Azarenka is in a better position and frame of mind to accept when something might not go quite right on court. A smile could develop across her face and it helps her shrug off any negativity allowing her to get on with things.