Nick Kyrgios announced he would not play the US Open due to COVID concerns and he was one of the first to do so. He talks about that and also expresses that he is happy with life.
Nick Kyrgios was one of the first high profile tennis players to withdraw from the US Open. It was a decision he said that was easy for him to make as he spoke on Australian breakfast television's Today program.
Kyrgios said besides the critical situation with coronavirus, he also considered the Black Lives Matter protest movement and an array of concerns going on in the USA.
"I just don't think it's the correct time to go ahead with sport, in my opinion," Kyrgios said. "Obviously with safety issues it wasn't too hard of a decision to stay home during this time. I'm continually training but also staying home with my family and friends making sure everyone is safe.
"I think the effort Australia has gone to, to originally have gone to zero restrictions, it's starting to inflate again but hopefully we can get it back on track and have no restrictions."
Not to play one of the four majors such as the US Open is a huge decision to make. It was not that he necessarily felt better once he'd confirmed the decision in his mind, but he is not surprised at being "the first hurdle to fall" with the withdrawal.
He was of the belief that a lot of players would take a similar stance. The announcement this week of Rafa Nadal, the US Open defending champion, is not surprising for him. It is an open secret that the Spaniard is eyeing the French Open where he is also the reigning champion and where he has more chance of winning a 20th major, tying Roger Federer's all-time men's record.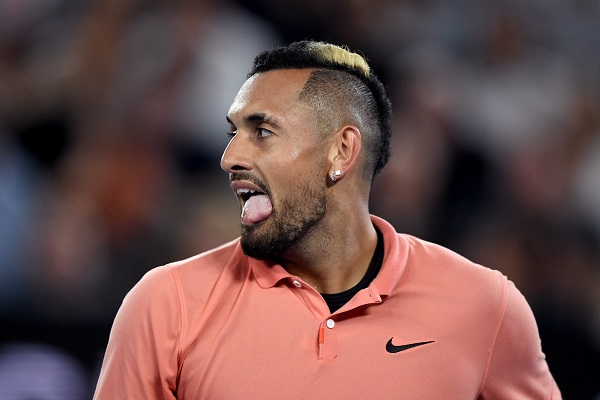 "If I was to play I would probably, definitely rather go to Europe this time of year for sure with everything going on," he said. "There's a very slim chance I will play in Europe, almost slim to none to be honest. I'm going to use this time to stay at home.
"I'm going to respect anyone that's really tried to do no wrong at this time; tried to isolate themselves, try to make sure no one else gets sick during this time. I'm just going to use this time to train, be with my family and friends and I'm just going to act responsibly and wait till there are better circumstances to play."
In recent weeks the outspoken Australian has certainly not pulled any punches criticising the behaviour of several men players during exhibition events that had been played in Europe; behaviour that resulted in several players and those around them testing positive for COVID-19.
"I'm not taking a shot at any of the players (doing things in the) right manner," Kyrgios said. "It's a risk sport so they're going to go there, and I hope they are going to follow all the safety rules and the US Open bubble is a success like we see the NBA going ahead with at the moment. If we see something like that then I've got no problem at all with it.
"Obviously, some of the previous players, their behaviour throughout this time hasn't been great at all, especially some of the leaders of the sport, they're supposed to set an example for the rest of the tour. And then coming back at me with behaviour I have done on court, just shows their intellect levels to be honest. Putting lives at risk, it's not really comparable to be honest."
The 25-year-old who is currently ranked 40, says he has put in a lot of time on the practice court and with his training. He says when the time is right to start playing again, he wants to be ready, fit and playing at the high level he had at the start of 2020 before everything went crazy.
He is concerned about the Australian Open considering what Melbourne is going through now with COVID-19 cases and he feels deeply about those in the city and in the state of Victoria as a whole. Nick might be criticised for a lot of things, but no one can deny the compassion he always shows to those who are disadvantaged.
Sporting yet another hairstyle, Nick Kyrgios looks relaxed and as he puts it "incredibly happy". He has often suffered with homesickness on the tour and he has spoken about that in the past so in one sense this time at home in Canberra with girlfriend Chiara Passari might just be the perfect tonic.
"It's been awesome just to spend time with family, I hadn't seen them in a while," Nick said. "My sister is back home as well. I just had a lot of things I had to change the last couple of months, it's all on track and I'm lucky enough to have met (Chiara) and she makes me incredibly happy. I'm pretty happy with things."