During these days of isolation it allows individuals to come up with thoughts, ideas and the like. The latest discussion point is whether the ATP and WTA Tour should merge.
Social media for tennis has gone a bit crazy following a Tweet from Roger Federer in which he wondered if he was the only one thinking that the two tennis tours, ATP for the men and WTA Tour for the women, should join up as a single body.
Federer wrote: "Am I the only one thinking that now is the time for men's and women's tennis to be united and come together as one? It probably should have happened a long time ago. But maybe now is really the time."
Rafael Nadal followed up soon after: "As you know per our discussions, I completely agree that it would be great to get out of this world crisis with the union of men's and women's tennis in one only organisation."
It was approximately two weeks ago here on the pages of wearetennis.com the question I raised on whether this was the time when tennis needed to start taking a hard look at itself. A combined office headed by a Commissioner was raised.
The Who Wants to be a Millionaire question is if the time had arrived for tennis to come together and project the sport as a whole and not something segmented like a peeled orange.
It is obviously a massive exercise to bring so many facets of the sport together and it would have to be an equal partnership. Could it be possible for a merger of equal parts? There are plenty of men players who have strong negative opinions - they do not want to be sharing what they have worked hard to build up. And while the women will say "you've come a long way baby" to quote their original slogan, many believe they could be overshadowed by the strength of men's tennis and feel being on their own gives them undivided attention.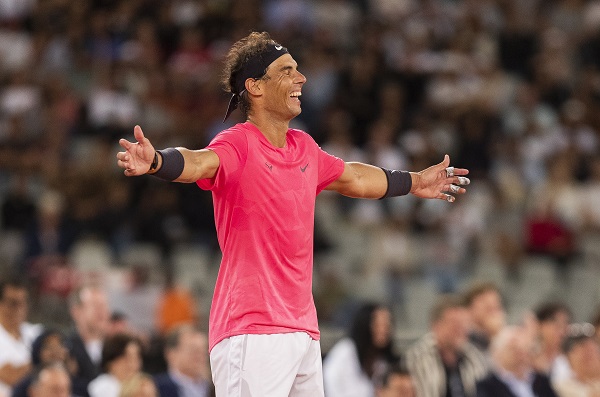 There is strong belief that the women's tour has benefitted on the coat tails of men's tennis. In fact, if it had not been for the late CEO of the ATP, Australian Brad Drewett, women's tennis would have likely been waiting a lot longer for equal prizemoney at Wimbledon, as an example. I knew Brad very well, we grew up together, in the same suburb, and had he still been with us, he would have made the perfect Commissioner.
Certainly, the whole premise of a combined association should only benefit the sport, but it will only work if things are fair to both sides. There are already frustrated moments at combined events about scheduling for example. Creating a daily order of play is the worst job, bar none, at any tournament and even now one side will object to the other going at a particular time, or court, etc.
Many prominent players, major winners like Simona Halep, Petra Kvitova and Garbine Muguruza have echoed their support and Billie Jean King who was a founder of the WTA, said on Twitter: "I agree, and have been saying so since the early 1970's. One voice, women and men together, has long been my vision for tennis.
"The WTA on its own was always Plan B. I'm glad we are on the same page. Let's make it happen."
The newly appointed Chairman of the ATP, former player Andrea Gaudenzi, has been of the view that something like this needs to be on the cards. However, up to the time of writing, the President of the ATP Player Council Novak Djokovic has not made any comment about the suggestion.
The logistics would be incredible to work out.
Right now, apart from the four majors, the Australian Open, French Open, Wimbledon and the US Open, there are not that many combined events – the highest profiled ones are the BNP Paribas Open in Indian Wells, Miami, Madrid, the Internazionali BNLd'Italia in Rome, Cincinnati and Beijing. Could a coming together mean that the year-end finals would be combined or that Davis Cup and Fed Cup would be combined? Such a move would definitely be spectacular.
Possibly a start would be to merge the television and promotion arms.
However, the big question is which present body is going to give and take? Which would relinquish aspects of power or adopt a different approach to a matter?
That is why in the earlier story here on wearetennis.com it was stressed that a Commissioner would be the right way to bring the two main bodies together but that the respective tours are still left to be service orientated organisations … #tennisvolleys