Tennis like all sports has been suffering through all the lock downs and the players are not used to it but now they are trying to make the most of it.
Ash Barty, Australia's world No.1 is playing golf, cooking and cleaning the house in-between cups of coffee, which she loves, and of course maintaining social distancing.
If things were as they should be and should have been, she would have just come off defending her Miami Open title and be starting her preparation for the defence of her French Open crown with the European clay court season.
All that is out the window and now the entire tennis tour is suspended till at least mid-July and with the cancellation of Wimbledon (the first occasion one of the four majors has been cancelled since 1945) this year will be the first time since 1986 that all four majors have not been played – that year there was no Australian Open due to a change of dates.
So, players have been working hard to pass the time not something these "gypsies" are used to doing. Normally they are concerned with matches, practice and training, rest and the hotel. That's their loose schedule. Adding to it all is the concept of social distancing and that must be strange when one considers the close proximity they are normally in.
"Social distancing" must be named the term of the year.
What can you do? It's part and parcel of life right now. Tennis players have accepted the situation more readily than many other athletes, while they find it frustrating not being on the courts, everyone has commented that it is the right decision and health and safety comes first.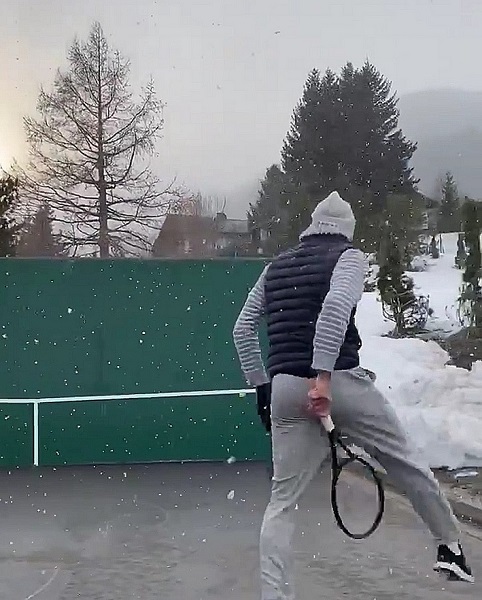 For quite a while the players withdrew, none were offering comments but now we are seeing via social media posts what they have been doing and what some continue to do. Certainly, they are all working on keeping up with their training which remains the highest priority.
Roger Federer has shown he hasn't lost his touch. A video of him playing trick shots against a backwall while wearing a beanie, sweatshirt and track pants with snow around him has attracted over 5.1million views and his video of volleys has been viewed over 1million times.
A number of players have taken up the volley challenge; among them Australian Open champion Sofie Kenin and Felix Auger Aliassime and the challenge has been thrown out to Novak Djokovic and Andy Roddick – the later excusing himself because he never had a volley.
Mr. Federer has taken things a step further and he is very amusingly doing on-line coaching. He has been receiving vids from fans demonstrating their abilities and the Fed has expressed messages and tips back to them. He has been very patient and articulate – with two sets of twins running around the house how could he not be?
But you gotta wonder if Roger has a crystal ball. This suspension of the tour has played out perfectly for him in one sense. He had surgery and was only going to play from the grass season, so it's been a perfect time to recover with no one else playing and getting the advantage.
The time away has been advantageous for any of the players nursing injuries. Simona Halep and Nick Kyrgios being two others. The reigning Wimbledon champion was able to take stock of what she has achieved and reflect on her favourite day – 13 July 2019.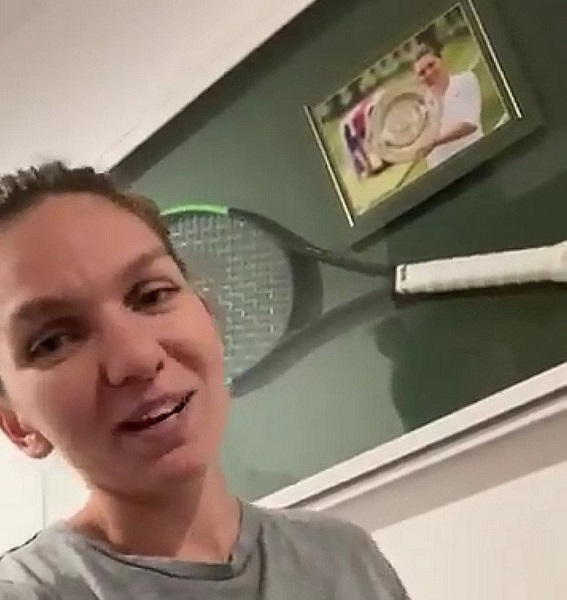 She has been honing her cooking skills and produced demonstrations on social media and she'd been watching Port Adelaide Football Club when the AFL was on. As she put it: "Great start to the year. Not sure I understand what's going on but I'm watching and supporting from Romania." Her vids show that she is developing her football skills as well … ahh but to the disappointment of her coach Darren Cahill, not AFL. However, the biggest contribution Simo has made was a very generous donation of medical equipment to her nation's health system.
Mr. Kyrgios has further highlighted the type of person he is by trying to help the disadvantaged and underprivileged. On social media he has put a call out to those in need to not feel embarrassed and shy but to ask for help: "If ANYONE is not working/not getting any income and runs out of food or times are just tough … don't be afraid to send me a private message. I'll be more than happy to share whatever I have … I will drop it off at your doorstep, no questions asked."
Serena Williams has her hands full with her two-year-old daughter Alexis Olympia, they along with husband Alexis Ohanian have been staying at home practicing social distancing to "make sure I'm doing my part during these uncertain times". It has been an opportunity for Serena to also concentrate on her fashion business.
Just as Roger Federer did, Novak Djokovic and Rafa Nadal have also been contributing vast sums of money via their foundations to necessary services, while Rafa who has taken the time to grow a beard, has also been staying in closer touch with all those connected with his tennis academies and supporting them.
On a lighter note Karen Khachanov has been giving his baby son extra cuddles but in a different manner – in very amusing and cute social media videos he has been using him as a prop in lunges and squats while young Aussie Alex de Minaur has been developing his golfing skills while in isolation in Alicante, Spain.
Demon's chipping and putting are really coming along but when social isolation ends, he may just have to get a search party together to look for the golf club that was sent over the back wall in frustration. Maybe Ash can give him a few lessons, after all she out did Tiger Woods a couple of months ago in Melbourne.