Coco Gauff is one of the most refreshing players to hit the tennis world in years.
You gotta love Coco Gauff. She has to be the most exciting American tennis player since Venus and Serena Williams came on the scene. This girl has the immeasurable talent and she has the personality to match and wherever she plays she has throngs of fans flocking to her match courts and practice courts. It does not matter where it is, Wimbledon, the US Open, Australian Open or even at the Miami Open.
Her actual first name is Cori but whether its Cori (her father is Corey) or Coco, she is a breath of fresh air and she will wow the fans at the Hard Rock Stadium.
Her rise has been nothing short of phenomenal. This time last year she was ranked in the 450's, now she is 52 (career high is 49 on 24 February) heading towards the Miami Open and incredibly she only turns 16 on 13 March.
Her run at the Australian Open just six weeks ago created a few firsts. When she dismissed Naomi Osaka the titleholder, she became the youngest player to beat a defending champion at the Australian Open in the Open era. She was the youngest to do that at the majors since the 1991 US Open when Jennifer Capriati beat Gaby Sabatini.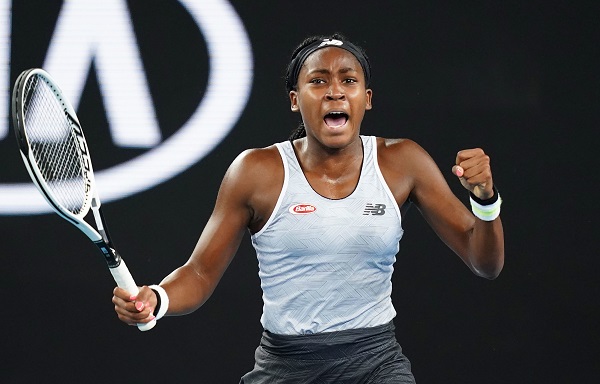 By reaching the last 16 at the Australian Open, she was the youngest to don that since Martina Hingis in 1996 and she became the first American woman in 30 years to reach the third round in each of her first three majors – not even Venus and Serena did that.
She was the third player in the last 30 years to ear at least eight match wins at the majors before her 16th birthday.
Her win over Miss Osaka in Melbourne was a complete 180 from when they played at the US Open and Miss Osaka romped through. When asked where she would rank the win, she explained that she doesn't really have a list but that it would be around the top.
Her composure and maturity on court is quite something to witness and along those lines, for a 15-year-old to have the grit and determination she shows, is more than amazing. Most 15 or 16-year-olds are quite happy hanging out at the shopping mall or swooning over the latest teen idol.
She is overwhelmed with the support she receives. She explained: "On the court I was definitely, 'what is my life?' All these people clapping for me. I guess you get used to it. I mean, I'm still new to this, but I'm sure I'm not used to it. I'm sure some of the players who have kind of already won a bunch of slams, I'm sure every time that pre-match walkout when you wave to the crowd … I'm sure they feel, like, unbelievable at that moment. That's definitely the mood for 'what is my life?'."
The US Open last year was what turned her around mentally. Sure, she did well at Wimbledon but to repeat at home with the added focus was very important. Plus having someone like Roger Federer in her corner is only a benefit – she is managed by Team8, the company owned by Mr. Federer and Tony Godsick.
"(Roger) is a nice person and not just to me with eh Team8 connection, but I see him with other players, as well," Miss Gauff said. "He's that type of guy. No mater how many times you speak to him, you're still kind of in awe of his whole presence and what he's done on the court and off the court."
She seems to be the type of person that could just follow in his footsteps.