Rafa Nadal wins in Acapulco while Novak Djokovic and Aryna Sabalenka sweep the Middle East titles this year.
NADAL WINS 3RD IN ACAPULCO
On one of the world's playgrounds for the rich and famous, Acapulco, Rafa Nadal has won his third title there, like Novak Djokovic the first at a venue since 2013, and it is his 85th career championship.
Nadal won his first title of the year when he dismissed Taylor Fritz 6-3, 6-2 to win the event on hardcourt for the first time, the previous two occasions he won, the tournament was on clay. He is now the third player after Thomas Muster and David Ferrer to win it three times.
Nadal was never really tested during the tournament winning every match in straight sets - the farthest he was taken was 7-5 in the second set against Miomir Kecmanovic in the second round.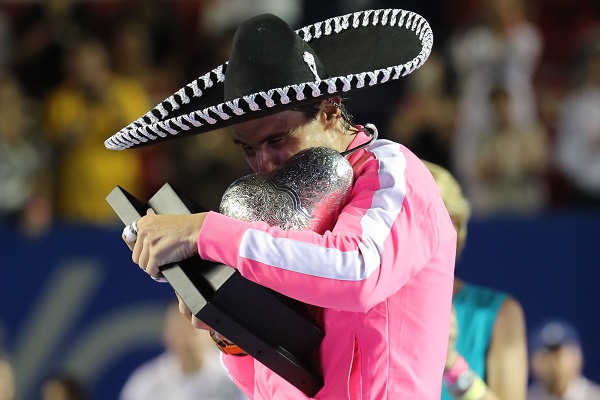 "I couldn't be happier," Nadal said after finishing the final with a service winner. "I played a great event from the beginning to the end. "Acapulco was the first big title that I won in my career, so to be able to stay here after 15 years is amazing. I can't thank enough the people who make me feel at home every single time.
"After not competing since Australia, it's an important week for me and an important moment. I played solid, with the right intensity and the right passion, and my forehand worked well.
"This title doesn't mean that I will have a great season. It means another good start of the season for me. It gives me confidence. At the end of the day, I'm still competing for these feelings that I am having right now. Regardless of the result, I am always happy after playing here. Now imagine how I am after getting the title."
Fritz became only the second American to reach the final – Sam Querrey won the event in 2017.
"He's one of the best players to ever play the game and he showed me why that is tonight," Fritz said. "This is one of my favourite tournaments to come to every year. I'm just glad that I could have a good week at one of my favourite events. I felt a lot of love all week.
"You always wish you could win, but I still have to take positives out of this week. It was an honour to step on the court with Rafa. I've played Roger and Novak, the other two people I watched when I was a kid. To play with Rafa, who I've watched since I was a kid, it's pretty crazy when you step back to think about it."
Defending champion Nick Kyrgios, who beat Nadal during the event last year, retired after the first set during his first round match against Ugo Humbert with a wrist injury.
DJOKOVIC WINS DUBAI FOR 5TH TIME
Novak Djokovic remains unbeaten so far in 2020. Having helped steer Serbia to the inaugural ATP Cup title, then winning his eighth Australian Open, he has now claimed the Dubai Championships for the fifth time and first since 2013. The only time he has lost a tour level final in the Emirate was in 2015, to Roger Federer.
The world No.1 accounted for Stefanos Tsitsipas 6-3, 6-4 after surviving three match points in a gripping semi-final against Gael Monfils. Djokovic played at a brilliant level in the final as he converted the three break points and finished things off with a backhand down the line winner. He has stretched his tour-level winning streak to 21 matches, and he has now won 43 of the 49 sets he has played in 2020.
"I'm trying to embrace the moment and appreciate where I am," he said. "I think this has been one of the best starts of all the seasons I've had in my career. I feel great on the court (and) I'm just grateful that I'm playing well, feeling well. I've won many matches now in a row. I'll try to keep that run going. "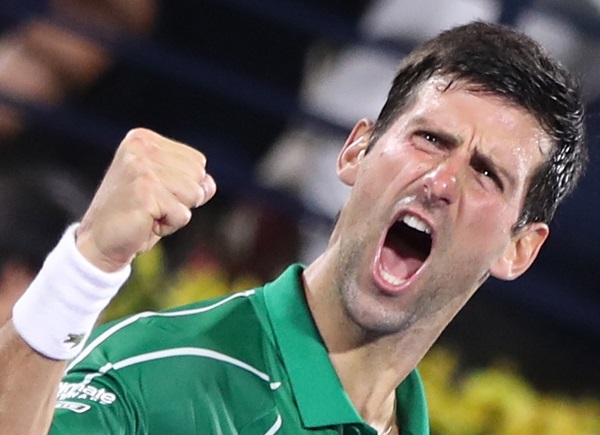 The greatest start he ever had to a season was in 2011 when he went undefeated till the semis of the French Open.
"I'm just grateful that I'm playing well, feeling well," Djokovic said. "It's just way too early to speak about how long that run might go, the calculations. I try not to think about predictions. I try to focus on what I need to do with myself and my team in order to thrive every day, in order to try to play as best as I can every single match. That's the main focus."
The Serb explained that mentally he began to gain more of an advantage on the court when he broke to go up 4-3 and the momentum was with him and he certainly was not going to let up on that momentum. Novak said he felt comfortable from the back of the court and he noticed Tsitsipas lose some intensity.
"I served out the match in a great fashion, won another trophy here and I'm just obviously very, very pleased," Novak said.
The Greek, who was playing the Dubai final for the second straight year, said: "It's disappointing trying so hard and not really getting the final result that you want. For sure, I would love to see myself holding that trophy. Of course, he gave more than me and he deserves it."
SABALENKA CLAIMS DOHA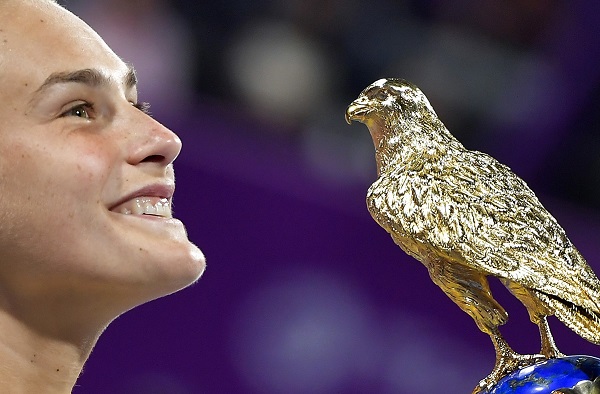 Not that far from Dubai, in Doha, it was victory to Aryna Sabalenka who swept past Petra Kvitova, who was coming off a big win over world No.1 Ash Barty in the semis, 6-3, 6-3, and in doing so she became the first Belarusian since Vika Azarenka in 2013, to win this event which was her sixth career title.
This was the 18th staging of the tournament in Doha and the 13th time a player outside the top ten has won it.
For Miss Sabalenka this is the biggest title she has won outside of China where she has enjoyed the most success of her still young career and this will move her to eleven in the world.
This was the first time Aryna was playing in Doha and she never thought, at the start of the event, that she would be holding the trophy. "I'm really happy, it feels so special for me," she said. "I was really focused on each point and played every point like the last point and like I'm actually losing.
"I respect (Kvitova), I knew she is a big fighter, I know she will bring everything she have on this final. I tried to focus on each point because I knew that she will try to come back in the game and she will try to beat me."
The ninth seed paid tribute to her father Sergiy who passed away last November.
"It was a long journey here and I put everything on tennis," Miss Sabalenka said. "I was actually only playing tennis and focusing on tennis and nothing else. And I think I gave everything for tennis. And I just lost my dad in the pre-season and he was my biggest motivation, and I'm doing it for him. "