Maria Sharapova has announced her retirement from tennis and the sport will definitely miss her.
Maria Sharapova does not need to go through the training, the early wake ups, the match preparations anymore. All her time is her own now. She no longer needs to abide by a strict training regimen. She can do what she wants, when she wants. Maria Sharapova announced her retirement from tennis.
She wrote in Vogue and Vanity Fair, two publications that would epitomise her persona. "How do you leave behind the only life you've ever know? How do you walk away from the courts you've trained on since you were a little girl, the game that you love – one which brought you untold tears and unspeakable joys – a sport where you found a family, along with fans who rallied behind you for more than 28 years.
"I'm new to this, so please forgive me. Tennis … I'm saying goodbye."
In the piece she said she was lingering over a morning cup of coffee, being silly with family, just getting up and going away for a weekend and maybe even pick up dance classes.
Maria Sharapova became a brand; she was one of the first tennis players to tap into that area and she created a life that went beyond tennis … she but an empire and time and again she was the highest paid female athlete in the world. Money is no issue for her. She is a genuine rags to riches story, coming from near refugee status from Nyagan in mid-western Russia, to one of the wealthiest athletes in sport.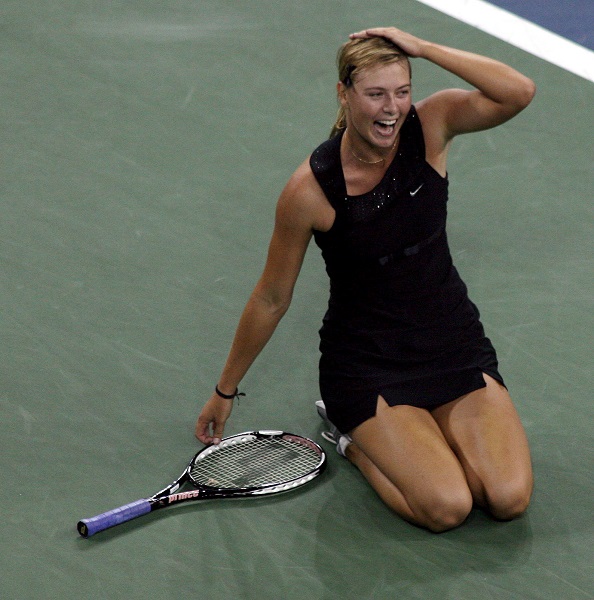 She won her first tour level title in Japan in 2003 but it was her 2004 Wimbledon victory, at the age of 17, over defending champion Serena Williams, that set her on the path to superstardom. And when she pulled out her mobile phone on the Centre Court after the win to call home and friends, future sponsorship deals became a matter of which company and from when. She became one of the most coveted names to have on a product.
She ended up winning five majors and with those was the career Grand Slam; she was the tenth woman to achieve that. She won 36 career titles among them two year-end championships, an Olympic silver medal, was world No.1 and earned close to $39million in official on-court prize money. But Maria Sharapova is worth probably ten times that.
The 32-year-old was a fierce competitor and ironically if it probably was not for Serena Williams (there was not much love lost between them), she could very well have won more.
She was good in a post-match media conference, win or lose, and on-court there was a style and grace about her, apart from the screeching when she hit the ball. There was never a moment when she did not look good on a tennis court and the "Breakfast At Tiffany's" dress she wore at the 2006 US Open has to be one of the most superb outfits worn on a tennis court.
But while she garnered and gained all the accolades and praise for her achievements and her style and presentation, exactly four years ago much of it came undone when she announced that she had tested positive for a banned substance at the 2016 Australian Open. She had been using meldonium and she was suspended for 15 months.
She never really recovered physically after that and she found it hard to accept the guilty verdict. When she did start to make her return the injuries were ever present, there were several surgeries on his right shoulder and there was continual time off. Her last title was in Tianjin in 2017 and maybe she thought that was going to be stepping stone, but it was not and the physical issues never stopped. Match losses were mounting up and not to big names, these were losses in the first and second rounds. Her ranking has plummeted to 373.
The decision to retire would have been easy and equally tough because while she can't put up with the injuries, she is not quite going out on her own terms, however now she can reflect and look forward.
She said in that story: "Tennis showed me the world, and it showed me what I was made of. It's how I tested myself and how I measured my growth. And so, in whatever I might choose for my next chapter, my next mountain, I'll still be pushing. I'll still be climbing. I'll still be growing."
Hopefully with no more pain.