Sofia Kenin has won her maiden major by dismissing Garbine Muguruza.
It was a surreal situation for Sofia Kenin as she held the gleaming silver trophy, the Daphne Akhurst Memorial Cup, as high as she could. All 1.70m of her height was stretched holding the heavy cup aloft as cameras kept flashing. Her face continued to beam and the smile never left.
There was an element of shock that had set in for the 21-year-old even though the fact she was the newest Australian Open champion. She had become the youngest since 2008 when another Russian born player, Maria Sharapova, won. She was the lowest ranked and seeded winner since 2007 when Serena Williams did it. She was now going to be ranked seven and the highest ranked American in the world, ahead of Serena Williams, one of her idols.
"Honestly, these past two weeks, there have been a lot of emotions," Miss Kenin said. "You guys could see after the match how much it all meant to me. This is such an honour. I'm so proud of myself, my dad, my team, everyone that has been around me. We've worked all hard. We've been through tough times. We did it. We fought. I'm just like on cloud nine."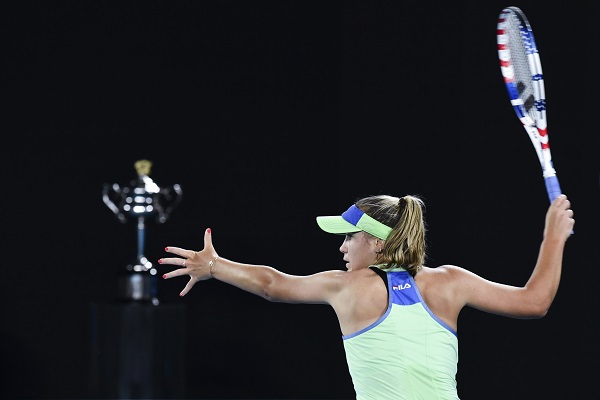 After two hours three minutes of play Miss Kenin defeated Garbine Muguruza 4-6, 6-2, 6-2. The grit, tenacity and the feistiness that the American has come to be regarded for were all on show. After losing the first set she became even more aggressive and levelled the final but one game in the entire match will stand out and Miss Kenin suggested that she would remember the game for a very long time, if not forever.
It was the fifth game of the final set. It was 2-2 and Miss Kenin was serving. She was 0/40, facing three break points. She produced five winners to hold serve. She epitomised that line: "No guts, no glory". It broke the spirit of Miss Muguruza and she lost serve the next game. The American was on the path to glory.
The Spaniard was serving to stay in the final and should have held serve but again Miss Kenin forged back; back to back double faults were hit. Then on championship point, the unthinkable, something that would make you sick in the stomach at such a crucial stage occurred. The pressure got to Miss Muguruza, she double faulted. There was a loud collective gasp. Miss Kenin hand went to her mouth in disbelief. Her celebration was understandably muted.
"I don't even know where to begin," she said "It just happened, I don't know how long ago. Yeah, it's just such an honour to have my name on that beautiful trophy. It's something I've dreamed about.
"Yeah, of course, it's an exciting moment for me and for my family. I get to share this. I mean, obviously things are going to change for me. But we're just going to move forward, get ready for next tournaments.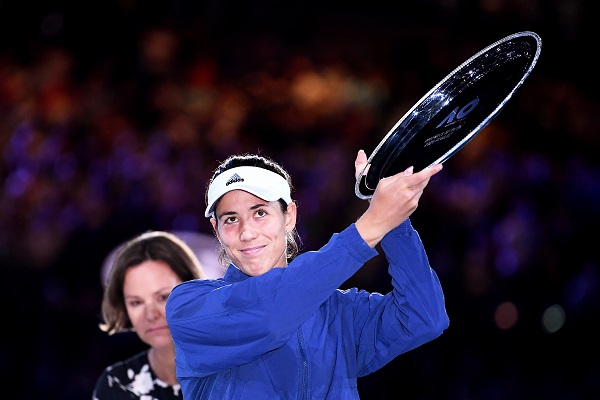 "No, it hasn't sunk in yet. Everything is just still a blur for me. I just can't believe what happened. Yeah, it's just great. I feel like I'm doing some great things for American tennis. It's such an honour."
It would be easy to overlook Miss Muguruza. She had such a great tournament, coming into the final she had not dropped a set but by her own admission she lost a big of energy.
"I'm not very happy about my performance," Miss Muguruza said. "I think I had to play better today because she came up with a great level. I think at the important moments I didn't find my shots. I think she found her shots, I didn't found my shots.
"I did fail a little bit lack of energy after so many matches. Physically was a tough battle out there. So, you know, it's just a tough moment. Right now, it's tough to be happy, although it has been an incredible tournament. You lose a final, but you got to make it to the final to be able to win or lose."
In the last couple of years Garbi has lost her smile for a variety of reason, maybe this will be the start of getting it back.
For the foreseeable future there is no risk of that happening to Sofia Kenin. A smile is a permanent fixture right now.