Dominic Thiem is in his third final at the majors and first at the Australian Open. He hopes it will be time for Thiem.
There has been a fair amount of talk about the talk about the push by the younger players to make an impact in men's tennis. The discussions have been going on for years. There was the group that included Grigor Dimitrov, Kei Nishikori, Milos Raonic and company which everyone thought could break the dominance of the Big 3. It never really happened.
Then there was a smattering of other players who many considered would make in-roads to challenge for the big titles but again it did not quite eventuate. Roger Federer, Novak Djokovic, Rafa Nadal still dominate. However, over the last twelve months and in particular the last six or so months there has started to be a shift and younger players are starting stamp a mark.
Dominic Thiem is one of those players and at 26 he is not quite in the specific demographic of Stefanos Tsitsipas or Alexander Zverev or Daniil Medvedev, he is still seen as a member of the younger brigade. He was a finalist at the last two French Opens and finalist to Tsitsipas at the ATP Finals in London, an event highlighted by the number of the young guns, and while he lost to Nadal both times at Roland Garros, you get the sense the walls are being chipped away and there are holes appearing.
There is still a way to go but the groundwork has been laid and now it's a matter of consistency.
Djokovic is in the Australian Open final for the eighth time and has never lost a final at Rod Laver Arena and is rightly favoured again the way he has been playing. But the wall that is Thiem will be challenging the Serb in a pretty strong manner. This is now three of the last four majors where a young gun has been in the final – Thiem in Paris and Melbourne and Medvedev in New York.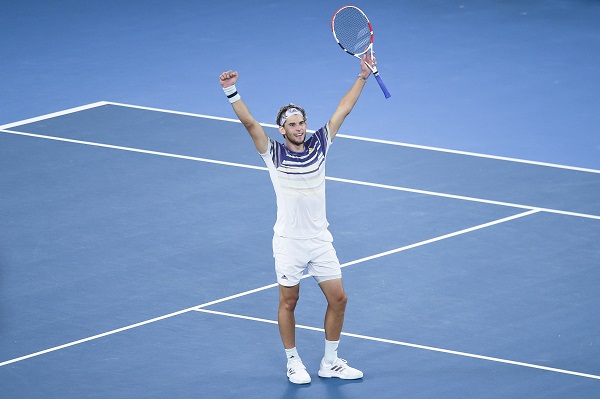 There was a time when Thiem really only fared well on a clay court. He would excel in the first half of the year and sort of fade in the second half; that has all changed. He is now adept on other surfaces especially hardcourt and that was noticeable form the BNP Paribas Open last March. He reached the final and beat Federer from two match points down.
"First of all, Indian Wells, that victory gave me so much relief and so much confidence because finally got my first Masters 1000 title on hard court," Thiem said. "I mean, there in Indian Wells in the desert, it's pretty similar to clay. It's perfect for my game, balls bouncing so high.
"Then I think last fall in Asia, then in the indoor season, I made this huge step forward. I really developed my game I think in the right direction. I got more aggressive on hard courts, started to serve smarter and to return better.
"That also gave me a lot of confidence for this new year and for Australia because I told myself if I can be in the finals in London, the ATP Finals, why not as well in a hard court slam? Since then I know that I'm also playing very well on the faster surfaces."
His win over Nadal in Melbourne was quite stunning. It was a match he referred to as "most intense". It was demanding physically and mentally and if this had been two years ago he might not have had the successful follow up that he had in Melbourne beating Zverev form a set down to reach the final.
Going into the Australian Open final Djokovic and Thiem have met four time and there is not that much to separate them, Djokovic leads 6-4, and in 2019 they met three times and it is Thiem who leads 2-1. Actually, he has won four of the last five against Nole.
"I think I have to keep a good balance," he said of playing Djokovic. "Of course, I have to risk a lot. I have to go for many shots. At the same time, of course, not too much. That's a very thin line. In the last match against him, hit that line perfectly in London.
"Of course, going to take a look at that match, how I played, and try to repeat it. But for sure he's the favourite. I mean, he won seven titles here, never lost a final, going for his eighth one. I'm feeling good on the court. I'm playing great tennis. So, try to be at my absolutely best on Sunday.
"I won I think more of the last encounters than he did. But I think it doesn't count so much. It's absolutely his comfort zone here. He always plays his best tennis in Australia since many, many years. So I'm expecting that as well in the finals.
"All I can do is doing my best again, playing great tennis again, and of course take a look at the last matches we had as well in Paris and also London, try to repeat the good stuff what I did there."
And I am putting it out there now, that I believe Thiem will win Roland Garros this year.