Roger Federer scored his first win over Novak Djokovic after five straight losses stretching back four years and as a legacy of the win gave his friend Rafa Nadal a helping hand.
It was always going to be the showpiece match of the round robin competition at the ATP finals, Novak Djokovic v Roger Federer. The scheduling could not have worked out any better – the last round robin match of Group Bjorn Borg and it came down to case of winner take all scenario for a place in the semis. It was meeting 49, Djokovic went in leading 26-22 and it was their first meeting since the epic Wimbledon final which Mr. Djokovic won after saving match point.
There was so much on the line in this match and it was a match where the crowd at the O2 Arena very possibly had a hand in the outcome as Mr. Federer scored his win 6-4, 6-3 and reached the semis for the 16th time. This was not a traditional crowd as you might expect at Wimbledon where even if one player is more favoured, there is respect to both sides of the court. At the O2 it was partisan, nothing visibly neutral like Switzerland is.
They wanted Federer and they were going to lift him at any cost. There was applause for errors by Mr. Djokovic, smatterings of the same on double faults and the like but yet, as much as he would have been churning inside, he maintained his external composure unlike in his first match which was a win against Matte Berrettini when he exploded for missing some points when in total command.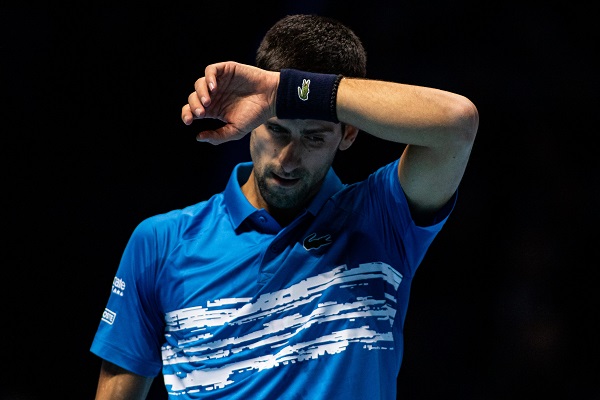 Mr. Djokovic did not express his real feelings when asked about the crowd. He said: "It was an important match, and I think every time I face Roger or Rafa anywhere in the world, it's a lot of excitement. So, it was a full stadium, which was nice to see. It was loud. It was electric. You know, it was a good atmosphere."
This was a big match as the Serb said. So much was riding on it. Mr. Federer was on the ball form the first game when he had break points. It immediately passed through my mind that this was going to be quite a performance from the Swiss. The way he was moving, the way he started, and continued to serve, there was almost a glint in his eye. He was not going to take prisoners.
"I felt from the get-go I had good rhythm off the baseline and on the serve and that I felt like he was living dangerously if he was not going to play great tennis," Mr. Federer said. "That was a good feeling to have, but then again, that doesn't mean much because Novak has done an unbelievable job in his career to find ways to either make you play bad or to just be better on you on the day or squeeze another victory out like the way he did at Wimbledon.
"So I knew the beginning wasn't key, but I knew it was important. I had a great run on the serve, as well, throughout I think that first set. Yeah, I think things just worked very well for me. Tonight, was one of those nights where I was clear in the game plan. I got what I kind of expected, and it was a great feeling at the very end. The reaction showed."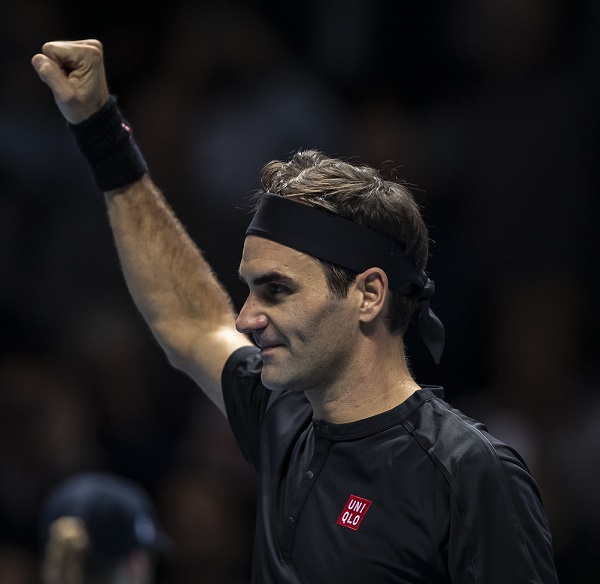 Mr. Federer knew the pressure of the year-end ranking was on the line. You wonder if he had a call for Rafa Nadal before the match. Mr. Djokovic was in a race with the Spaniard who carried the advantage because the Serb had to at least get to the final to be year-end No.1 and equal Pete Sampras' record of six times.
"It was on the line. Of course that was a big motivation also for the end of the season, but, yeah, I mean, every time you step on the court, you know there is something on the line, I mean, at least on the highest level in tennis," Mr. Djokovic said.
Roger, with a smile said he figured Rafa Nadal was there and was "sure he was watching", but for Mr. Federer it was more a case of playing a good match, good tournament. He was able to produce under pressure and reminding himself to play with less pressure that what the Serb was experiencing, and it worked. This was the first time since the ATP Finals in 2015 that the Swiss had beaten him. That has all the makings of a huge boost for him.
"It was a good day for tennis," he said. "I'm sure to some extent, not because I beat Novak, but the race of World No. 1 was riding on the match, as well, and the atmosphere in the building was very, very nice. I was able to produce under pressure, and I was trying to remind myself to play with less pressure than what Novak had throughout the game, and it worked. I'm very happy. I'm very pleased."