Ash Barty has won the WTA Finals and the biggest cheque in tennis in her debut at the event while Novak Djokovic claimed a 5th Paris Bercy title.
What a year this has been for Ash Barty and with it she is riding the crest of a huge wave. The incredibly popular and humble Australian has won the WTA Finals the year-end championships in its debut year in Shenzhen and for Miss Barty it has come in her own debut year at the year-end finals. She is only the fifth woman to achieve that.
The 23-year-old has beat defending champion Elina Svitolina 6-4, 6-3 and that marked the first time in six meetings that she has beaten the Ukrainian. She is also the first woman to be No.1 and win this title in the same year since Serena Williams in 2014.
So … how does it feel?
"Bizarre, if I'm being completely honest," she said with her usual humility. "It feels like it's been a year that just hasn't stopped. It's been a year of incredible ups and downs; I think more ups than downs. To cap it off with a very, very special night tonight in Shenzhen is really cool.
"To come through a week like this, you have to beat the best of the best. I think it kind of takes me back to some memories in Miami where I felt like I did that for the first time, beating back-to-back top-10 players, having that really consistent week.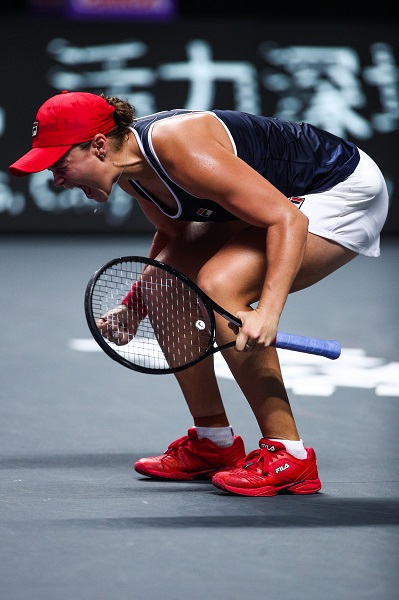 "I've grown and developed so much since that fortnight in Miami. I think, yeah, the week that we've had, to be able to bounce back after the disappointment after my match with Kiki (Bertens) was really important.
"I think now to be here, to be in a position where we finished off our season in the best way possible is just remarkable. I'm very lucky to be able to share that with Tyz (Craig Tyzzer her coach), my physio, kind of everyone that's here with me."
She is just the second Australian woman to win this title and the first since her mentor Evonne Goolagong in 1976.
And while she makes it clear she is not playing for the money, it is pretty special to know that being banked was a record cheque for tennis of $US4.42million.
For Ash this is her fourth title of the year to go with those she won in Miami, the French Open and Birmingham proving she can win on every surface – hard, clay, grass and indoor.
The Australian sealed the title emphatically with a love service game.
Miss Barty said she could never have imagined the type of year 2019 has been when she left tennis and then took up cricket, and while the Fed Cup final is the last event on her schedule next weekend as she tries to lead Australia to victory for the first time since 1974 when they play France, there will then be time for her dreams to run wild again as to what the next lot of goals will be
"I think give me half an hour to let it sink in first and foremost," she said with a laugh. "Give me a week at home with a few beers on the couch where I can kind of relive what has happened in 2019. It's just been a crazy year, it really has. At times it felt like a circus going around and around.
"Yeah, I think it's going to be really nice to be able to sit down, reflect and then refresh and re-gear and get ready to go for a massive 2020. For us Australians, we're extremely lucky to be able to start that month in Australia. It's going to be a really, really special time in my life."
DJOKOVIC WINS 5TH PARIS BERCY TITLE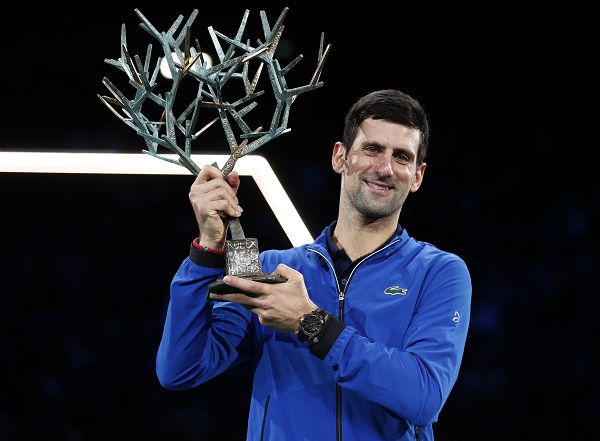 Novak Djokovic gave Denis Shapovalov, in his first ATP Masters 1000 final, little or no chance in the final of the Paris Masters by beating the Canadian 6-3, 6-4 to claim the title for the fifth time.
The displaced world No.1 opened up a 3-0 lead before the Canadian earned his first game but there was not much he could do to stem the Serb's dominance.
"I think I had the best serving match of the tournament, and that's why the match was pretty short, you know, just over an hour for two sets," Novak said. "For 6-3, 6-4, that's a result that doesn't separate the two players too much. I mean, it's only one break in each set. That was enough to win the match.
"But, I started off very well, very solid. And second set I was just waiting for him to drop his percentage of first serves in, a little bit, maybe give him a different look, position myself differently. It worked. I put him under pressure for the second serve and from the back of the court I was solid and not giving him too many opportunities.
"And just one of the best matches I have played, definitely, this week. And I feel like the second part of the week was terrific. It was improving day by day for me in terms of level of tennis.
"And I couldn't be happier with this win."
This is the 77th career title for Novak and that ties him with John McEnroe, and his 34th Masters 1000 title (from 50 such finals), one shy of Rafa Nadal.
Despite the victory the 32-year-old loses the No.1 ranking to Mr. Nadal who withdrew before his semi-final match against Denis Shapovalov, but the battle for the prestigious year-end No.1 ranking will be decided at the ATP Finals in London.
Novak is trying to equal Pete Sampras' record of six year-end No.1's while Rafa is chasing a fifth, same as Novak, Roger Federer and Jimmy Connors. By contrast on the rankings front, Mr. Shapovalov will rise to a career high of 15.