Ash Barty will be the year end world No.1 for the first time while Roger Federer and Dominic Thiem win at home.
Ash Barty was in the driver's seat to secure the year-end world No.1 ranking. Now, she is driving the vehicle.
The French Open champion has secured the prestigious year-end world No.1 ranking. By defeating Belinda Bencic from a set down in the first of her round robin matches at the WTA Finals, at its new location in Shenzhen, she has made sure she cannot be passed.
The Australian has created a bit of history with her achievement. She is the first Australian woman to be year-end world No.1 since the computer rankings began in 1975. Certainly, the likes of Margaret Court and Evonne Goolagong (the only other Australian to be ranked No.1 on the computer) were in that position for the end of the season, but no Australian woman has done it since the computer rankings came into being. In fact, Miss Barty is the first player outside the USA and Europe to achieve the year-end No.1.
So … a champagne to celebrate? "Nah, I'll have a beer," she said.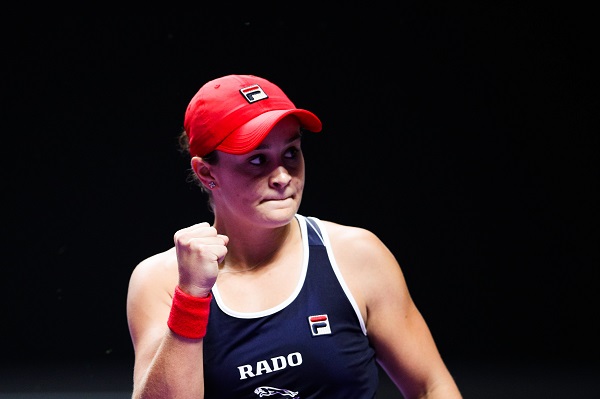 HOMETOWN HEROES
Roger Federer and Dominic Thiem have claimed hometown titles. Roger won his 24th consecutive match on the centre court in Basel as he claimed The Swiss Indoors defeating Alex de Minaur in their first ever meeting 6-2, 6-2 and Dominic won Vienna 3-6, 6-4, 6-3 over Diego Schwartzman.
Mr. Federer at 38 gave the Australian, in his fourth final of the year, 18 years in age and was emotional at the presentation ceremony. It is his fourth title of the year, the tenth time he has won in Basel (from 15 finals) and this was his 103rd career title, only Jimmy Connors is ahead of him for singles titles at 109. The Swiss was once a ball boy at the tournament.
"It was fast but very nice. I think I played a great match. It was a tough opener, in the beginning, the first five games, we had some great rallies. I never looked back," Mr. Federer said. "I was great on the offence, made very few unforced errors and came up with the big shots and served well when I had to.
"I thought Alex played a great tournament as well, and I think we both can be very happy. But what a moment for me to win my 10th here in my hometown of Basel."
Mr. Federer has also won Halle ten times.
While the Swiss claimed his fourth title of the year, Dominic Thiem leads the tour for titles won in 2019 with Vienna being his fifth. The Austrian is 9-0 win-loss with matches in his country this year having also won Kitzbuhel. He is the first Austrian to win Vienna since Jurgen Melzer in 2010.
"To share the court and final with a guy who became a very close friend in all these years is very nice in one way," Mr. Thiem said. "To beat him in such an important match is hard in the other way… It has been a dream week.
"He didn't miss anything. I really have troubles to play against him, because it doesn't matter what I do. If I play fast or if I play slow, he always has an answer to everything."
SABALENKA WINS HER BIGGEST TITLE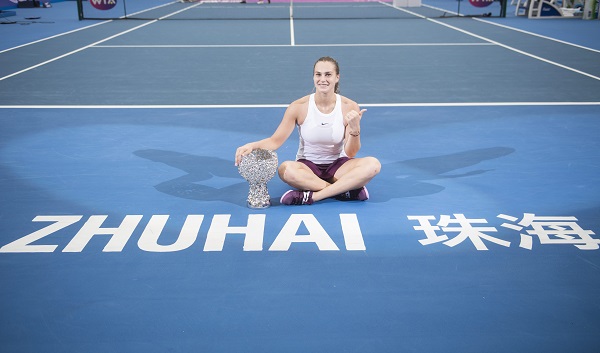 Ni Hao and xie xie! If Aryna Sabalenka can't say "hello" and "thank you" in Mandarin yet there is a problem, but you would have to figure she can, after all, all the titles she has won this year have been in China and now she has claimed the biggest of her career, the Elite Trophy in Zhuhai, the women's second tier season-ending event.
The Belarusian defeated Kiki Bertens 6-4, 6-2 in the final.
"Yeah, for the next season I would like to win somewhere else instead of China, but also I would like to keep winning in China," she said. "But I'm just really happy with this title and with the finish of my singles season, it's really impressive.
"I'm just happy and it's, I don't need to celebrate, I'm happy inside so that's more important. But maybe I'll eat something, something like sweets or pizza or burger, I don't know."