Andy Murray highlighted the power of self belief and determination in Antwerp while four young guns raise trophies in Moscow and Stockholm and Luxembourg.
How many times have we seen it before where a champion has been written off? Sent out to pasture before their time. Roger Federer would never win another major they said. Rafa Nadal was done because of all his injuries. Novak Djokovic doesn't have the right head space anymore. It was the same with Andy Murray, but he has proved people wrong.
What a performance he has produced to win his first title since February 2017. That is two years and nine months ago. The guy has been through hell and high water with his hip issues and to see him back playing and winning the title in Antwerp, the European Cup is sensational and the way he achieved it was quite remarkable.
During the Australian Open Mr Murray was in tears. He had lost an epic five setter to Roberto Bautista Ago and he said that he did not think he'd be able to play again as his quality of life was also suffering.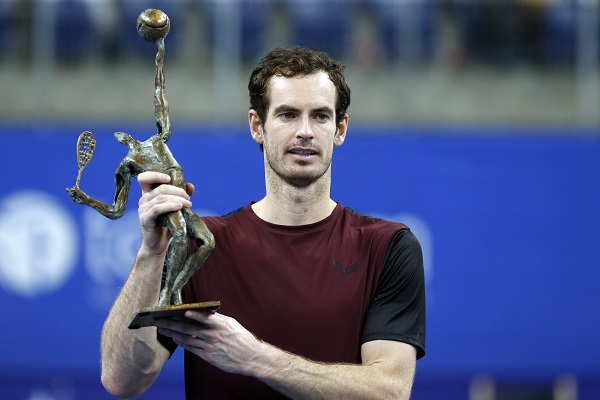 It is well documented that he underwent hip resurfacing surgery. It was similar to what doubles specialist Bob Bryan underwent and he was back playing five months later. But while not for a second underplaying Bob Bryan situation, doubles is also different to singles.
It has been an arduous road back so to see Mr. Murray come back form a set and a break down in the Antwerp final against Stan Wawrinka, who has had his own injury woes but has been playing a lot more than Andy, and to win 3-6, 6-4, 6-4 is quite the achievement.
It was a heavy work schedule for the Brit in Antwerp – he had to win four matches in four days and played three setters in each of his last three matches. One point being made was that he had not progressed past the quarters at any event since he started his return full time since Cincinnati. So what! This is not an easy return and it takes time.
"It means a lot," he said. "The past few years have been extremely difficult. Both me and Stan have had a lot of injury problems in the past couple of years. Amazing to be back playing against him in a final like that. I think it was a great match. I didn't expect to be in this position at all, so I'm very happy."
YOUNG GUNS SCORE WELL
Denis Shapovalov and Andrey Rublev are among the exciting prospects in world tennis. Both were incredible juniors who have made the transition into the open ranks of world tennis and for the Canadian and eh Russian this was a massive weekend of firsts.
The way tennis is going in their respective nations you want to know what is in the water.
At the Intrum Stockholm Open, Denis Shapovalov defeated Filip Krajinovic 6-4, 6-4 to win his first career title. He is the first Canadian to win the title and he is the 15th first time winner this year, which the ATP says is the most since 1999 when there were 16. Eight of those 15 first time winners are aged 23 and under which is pretty exciting for the sport.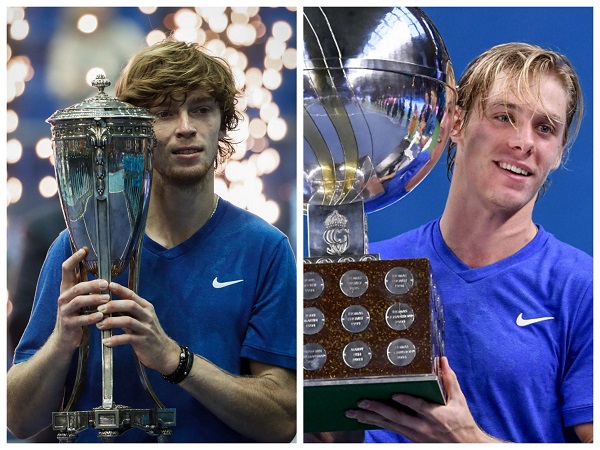 "I am definitely super happy and just really proud," Shapovalov said. "Me and my team have worked really hard to get into this position of lifting a title, so I am really proud of myself and proud of my team right now."
He added: "I told myself as long as I keep taking care of my serve, I will be okay. In the second set, it was a little bit tough. I had a lot of deuce games on his serve and I wasn't able to convert. I just kept fighting and stayed patient. Sooner or later I was able to get the break."
In Moscow at the VTB Kremlin Cup, young Rublev thrashed Adrian Mannarino 6-4, 6-0 and it was a 22nd birthday present he won't forget in a hurry. This year also marked the first time he had won a match in Moscow. It is his second career title and he is the ninth Russian to win the Kremlin Cup. Last year it was Karen Khachanov but before that there had not been a Russian winner since Mikhail Youzhny in 2009.
"I'm at a loss. I can't find the right words for what it means to me to win here," Rublev said. "I grew up with this tournament. I spent my whole childhood at the VTB Kremlin Cup. I will remember this tournament and this win for many years, and I'll hopefully be playing this tournament for many years down the road."
While there was celebration for Andrey Rublev, Russian tennis mourned the passing of Alexander Volkov who passed away at the age of 52. He was ranked as high as 14 in the world and won three career titles and played Davis Cup many times for his nation. R.I.P. Sascha.
BENCIC AND OSTAPENKO HOIST TROPHIES
Wild card Jelena Ostapenko who had somewhat of a fall from grace with her tennis over the last couple of years, appears to have turned the corner. She has engaged the services of Marion Bartoli as her coach and has reached a final (last week in Linz) and now won the BGL BNP Paribas Luxembourg Open beating Julia Goerges 6-4, 6-1. It is her third career title.
Belinda Bencic who recently secured a place in the WTA Championships has enjoyed a fantastic year, the best of her career. She defeated Anastasia Pavlyuchenkova 3-6, 6-1, 6-1 to win the VTB Kremlin Cup. In stunning fashion, she won twelve of the last 14 games for the title.