Aryna Sabalenka, Pablo Carreno Busta and Alex De Minaur have all enjoyed success as part of the Asian swing in tennis.
WUHAN OPEN
Ayrna Sabalenka obviously likes it in China. The Belarussian has become the first player to successfully defend the singles title at the Wuhan Open in the event's six year history. The ninth seed has defeated world No.1 Ash Barty in the semis and then accounted for American Alison Riske in the final 6-3, 3-6, 6-1.
It is her fourth career title and now three of those have been in China, the other being at the Shenzhen Open at the start of 2019. It takes her win-loss record in finals to 4-4. The 21-year-old has now won 29 of her 35 matches in China.
"I mean, I can't believe that I defend this title," Miss Sabalenka, who dropped only two sets for the week, said. "I couldn't even imagine that I will be able to do this. I'm just happy. I don't know. I can't believe it's happened. This means a lot. This year been really tough for everyone.
"I was really afraid that I will be not able to defend this title. I was already saving my points on the beginning of this year. This was my problem. That's why I couldn't work well, couldn't play well, couldn't fight actually.
"Finally, to defend this title, I couldn't even imagine it's going to happened. Right now it's so many thoughts going through my mind. I'm really thankful to my team because they keep staying with me. It was really tough year for them because I was really crazy. You couldn't even imagine how much."
The China syndrome also has an affect on Riske as this was her sixth final in China having won in Tianjin, was a finalist there on another occasion and was a finalist three times at the Shenzhen Open.
"She played a really solid first set and I knew going into the second, I was going to have to push back somehow," Miss Riske said. "I wasn't very forgiving of myself in the third. It kind of worked on my head a little bit. I really lost it. It was really tough.
"I'm really disappointed in my mentality in the third set. I think I could have brought more out of myself. Still, moving forward, I think that's something I have to work on, but obviously credit to Aryna. She's playing amazing tennis and made it very difficult for me.
"I honestly think it was all mental today, to be honest, because points were short. It wasn't a lot of physicality out there. I think mentally it was a lot. Credit to her. She just played -- she was better today."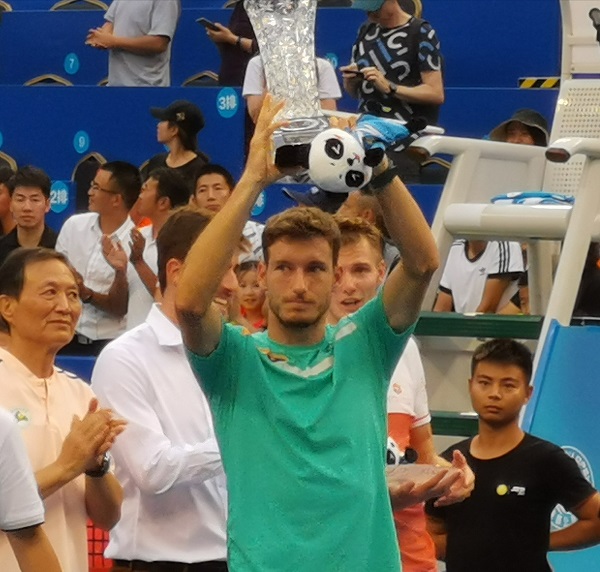 CHENGDU OPEN
Pablo Carreno Busta is known as a clay court player and yet surprisingly three of his four career titles have been on hardcourt, including the latest, the Chengdu Open which he won in a nail-biter against Alexander Bublik 6-7, 6-4, 7-6. It is the second year in a row the tournament has hosted a three-set final that has ended with a tiebreak.
Coming into the final the Spaniard was 3-3 win-loss in tour level finals and before his semi-final win over Denis Shapovalov, he had lost six straight semis since winning his third title in his sixth final at 2017 Estoril in 2017.
"It has been an incredible week here in Chengdu and it was a pleasure to be back; I felt very comfortable on court," Mr. Carreno Busta said. "The surface us fast but my serve worked and that was the key."
The serve definitely was the big factor in this final and when he was asked how he counteracted Alexander Bublik's serve and the 31 aces he hit (125 for the week), Mr. Carreno Busto had a smile: "That's a good question. I knew before the match Alex is serving very good first serves and a second serve, so I tried to focus on my serve and when it was him, I just tried to focus to the ball."
For the 21-year-old Kazakh it was his second career final and was no doubt disappointed.
"It's been a good week," he said. "I got to the final by breakers and went down in the final in a breaker. Pablo played an incredible match."
Mr. Carreno Busta said the beautiful crystal trophy will take pride f place in his new house. His other trophies are at the homes of his parents and sister.
ZHUHAI CHAMPIONSHIPS
Alex De Minaur only turned 20 this year and this year he has so far won his first three career titles, the third coming at the Zhuhai Championships where he defeated Adrian Mannarino, breaking the Frenchman in the final game to win 7-6, 6-4. The victory allows him to reclaim being No.1 Australian male player as he leap frogged Nick Kyrgios – he will be ranked 25 which is one shy of his career best.
His three titles have come on three different continents – Australia, North America and now Asia. He certainly shows that he is able to produce some of his best tennis anywhere he plays.
"I would like to think so," he said. "Sometimes it doesn't happen, but the most important thing is to keep fighting. That's what I got to try and do every time I step out on court; I need to make sure that I'm positive and I fight until the end. And then sometimes I'll have good days, sometimes I'll have bad days, but if I keep fighting until the end, I'll be able to win a lot of matches, even if they're not my best days.
"This was a real big goal of ours. After the U.S. Open, I had a very good week there, still felt like I could perform and had a little bit of chances and opportunities that flew away, but we made sure we came back, trained really hard to make sure to finish the year strong. That was one of my goals.
"I want to keep on pushing. I've got four more ATPs to go and I've got to push as hard as I can to keep putting myself in good positions. So, I'll do everything I can to recover and on we go to Tokyo."
And if you want to know how he celebrated, well it was a stop off at Burger King on the way back to the hotel from the site.