Team Europe has won the Laver Cup for the third straight year, this time in Geneva and it was a weekend of enthralling tennis.
At the start of the weekend not too many gave Team World a chance – it was understandable with Roger Federer, Rafa Nadal, Stefanos Tsitsipas, Alexander Zverev among team members. Team World's captain John McEnroe said his troupe with John Isner, Nick Kyrgios, Jack Sock and Milos Raonic among them, could cause a major surprise, and they very nearly did. But, for the third year in a row, this time in Geneva, Team Europe was victorious. This time the final score was a nail-biting 13-11.
"Seriously great team," Team Europe captain Bjorn Borg said. "I said this is the most important week of the year for me, as a captain. We are very close together, and the team understand what to do and not to do. So, I think that's one of the reasons why we were able to win for the third time.
"Players here, best players in the world, but still you need the kind of players to understand what to do and not to do. So, it is very important. I think we were a little bit fortunate team this year. So, what can I say? As a captain, I'm very happy. I was so nervous."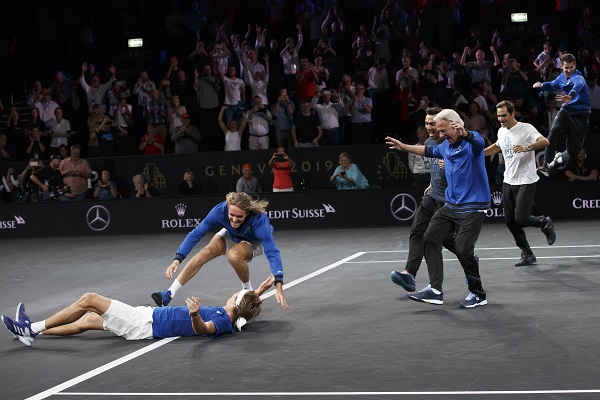 For the first two days Team Europe had the advantage, not by much but they were ahead. The atmosphere was stunning and loud and exciting. The pulse rate never dropped from high as the Palexpo hosted enthralling tennis with pretty much every match.
At the start of the third day Europe was leading 7-5. The first match was doubles and Rafa Nadal was to play with Roger Federer against John Isner and Jack Sock but Nadal withdrew with a hand injury and was replaced by Stefanos Tsitsipas – the American tandem won and with each win on day three worth three points, World went up 8-7. Nadal was then supposed to play Nick Kyrgios but the Australian also withdrew due to a shoulder issue; they were replaced by Dominic Thiem and Taylor Fritz with Fritz winning a great match and World stretched their lead to 11-7.
Roger Federer beat John Isner in another tight affair and soon Europe was one behind and everything was down to the last match. It was yet another thriller as Alexander Zverev defeated Milos Raonic 64 36 10-4. The excitement was overwhelming. Zverev was flat on his back and the rest of the team invaded the court.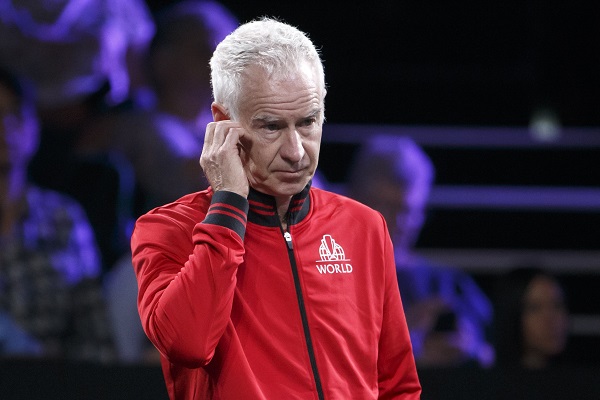 "This, to me, is going to sting for quite a while," McEnroe said. "This one really hurts. They all hurt. We had chances. The first year Nick had a chance to tie it up with a match point. Last year we had opportunities to win. We were so close.
"This time we actually had, you know, were a point away and we were a tiebreak away. It's just crazy. It's just unbelievable that we haven't won this. I know that if we don't win in Boston, I am toast. So, the pressure is on already. For me, at least."
The cheering and shouting has all died down and there are the expected celebrations but it is this event which has brought out the best in every single player. This unique format is what it is all about and the involvement and camaraderie amongst the players in the respective teams.
Federer and Nadal were barking instructions to their teammates as they played – Nadal even did it to Federer. Nick Kyrgios could not do enough for his side. Another side to the players was on show and it is a side that must be seen more in tennis. It probably won't because there is no other tournament quite like the Laver Cup. So many said this is the highlight of their year.
There are some in tennis, so-called know-alls, who have poked fun at the tournament and labelled it as nothing more than an exhibition. None of those critics have come close to attending the Laver Cup and not experienced what it is like. It is an event that pays homage to the past when there was a kinship between players, this has brought that aspect back at least for a few days. And it is now sanctioned by the ATP.
Both captains made it clear that the Laver Cup is the most innovative event tennis has seen for many a year.
Next year it will be in Boston 25 to 27 September.