In a sensational final Rafa Nadal has defeated Daniil Medvedev to win the US Open.
It is not often you see tears in the eyes of Rafa Nadal. He is very good at keeping those sorts of emotions in check and in private but on the Arthur Ashe Stadium after he had just won the championship in what was a rollercoaster ride those emotions were on show for all to see.
He and Daniil Medvedev played a final that was stunning, enthralling, thrilling and arguably the best men's match seen at the US Open for many, many a year. For four hours and 50 minutes the two of them never let up. It was an edge of your seats ride that you did not want to see end. But it had to end and it's just a shame that there cannot be two winners in a situation like this.
"The last three hours of the match have been very, very intense. Very tough mentally and physically too," Rafa Nadal said. "At the end with the video on the big screen, the crowd that have been as always amazing, all these facts tat make the moment super special. Unforgettable moment.
"At the same time Daniil created this moment too. The way that he fighted, the way that he played, is a champions way. Just well done to him. I really believe that he will have many more chances."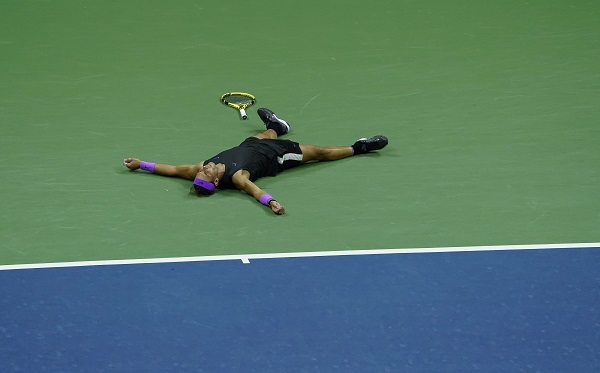 Mr. Nadal looked like he had the match in the bag when he led by two sets to love and a break. Mr. Medvedev admitted that he was starting of thing of his runner-up speech in his head but he heard the cheering from the fans and he didn't want to let them down. Mr. Nadal played a bad service game in the sixth game and allowed the Russian to break back. With the Spaniard serving to stay in the set, Mr. Medvedev broke again with a backhand drive winner.
He then got the advantage in the fourth and push the match to a fifth by striking a perfect backhand down the line for a winner. Mr. Medvedev has a break opportunity in the second game of the decided. Rafa Held on and got a double break. Daniil got one back and almost got the other, he had break point but Rafa saved it and on championship point three Mr. Medvedev sent a return long. Mr. Nadal dropped to the court, spreadeagled, like Bianca Andreescu the night before – 7-5, 6-3, 5-7, 4-6, 6-4.
"I will definitely remember this night," Daniil Medvedev said." I'm sure even talking about Rafa's 19 Grand Slams, I'm sure he remembers his first final, even though he won it and I lost it.
"It was an amazing match. It's as an amazing story. All this summer is amazing for me. I will remember every moment of it, I have a really good memory if we talk about tennis. I'll definitely remember it even when I'm like, 70 years old.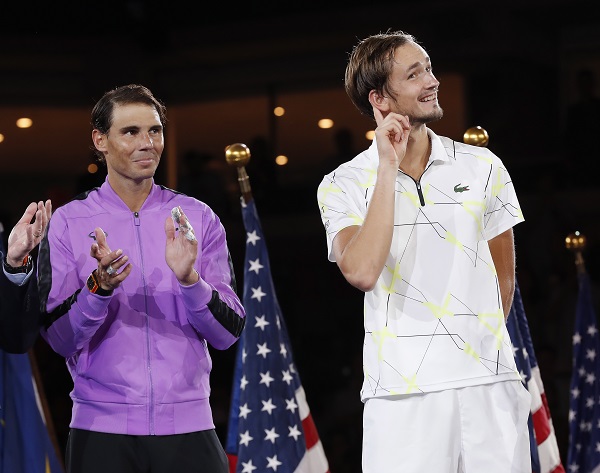 "Tonight, I am not happy to lose but I have to give myself credit for these two weeks. It's been amazing. Before the tournament my best result was fourth round of a slam. I had some physical problems. Sometimes I didn't play as good as I wanted, but I managed to be in the final. I managed to give huge fight to one of the best players in the history of our sport.
"Have to give myself credit. I hope I grew a lot doing these two things, but I need to continue and I need to be better."
At 33 Mr Nadal is the second oldest man in the open era to with this event, behind only Ken Rosewall from 1970. The win is Mr. Nadal's fourth US Open and 19th major which puts his just one behind Roger Federer's record.
"I don't look at it that way." he said. "I would love to be the one who wins more, but I am not thinking, and I not going to practice every day or not playing tennis for it. I am playing tennis because I love to play tennis. I can't just think about Grand Slams. I play to be happy. The victory of today makes me super happy.
"You can't be all day looking next to you about if one having more or one having little bit less because you will be frustrated. What gives you the happiness is the personal satisfaction that you gave your best. In that way I am very calm and pleased with myself."