Matteo Berrettini is the new pin-up boy for tennis.
Matteo Berrettini thought back to his earliest memories of Rafa Nadal and smiled. He remembered back to a match that was the final at the Foro Italico in Rome. Matteo would have been nine years old and Nada was playing Guillermo Coria of Argentina.
"I don't know how to say, they were like, giving the match on the TV but not the – for free; it was like a channel that was about cartoons," Berrettini explained in a shy manner. "I was young. These guys, I mean six hours. Come on I want to catch my cartoons. I remember that. It was unbelievable.
"Actually, I think also a lot of … I was going to school and a lot of my classmates, they actually, I think, from there they started to follow tennis more. To watch tennis more because the match was free, and they watched the match.
"They were, oh, you're playing this sport then. I was, like, yeah. I'm dreaming about playing these kind pf matches. And now I'm here. So, I'm happy."
Berrettini has had a dream run and win or lose when he plays Rafa Nadal in the semi-finals, this US Open is something he will remember for a very long time. His match with Gael Monfils in the quarters was probably the best men's match of the tournament with the final set being a rollercoaster ride. It took five match points before the Italian won the right to qualify for the semis – his first time in the semis of a major.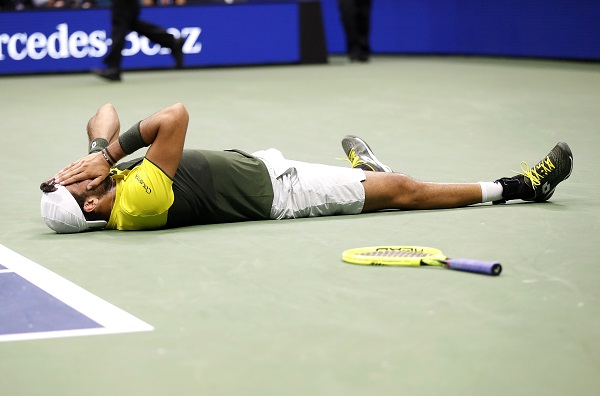 He is the first Italian man (in 2015 Flavia Pennetta defeated Roberta Vinci in the US Open final) to reach the semis and the first since Corrado Barrazutti. He was known as the "little soldier". In that vein Berrettini could be likened to a gladiator.
The 23-year-old is a charmer. He has it all. He has an explosive game dominated by a huge serve and forehand. He has an imposing physique, almost as physical as a rugby player, and the smile and looks that have melted a number of female hearts. Yet Matteo Berrettini is as low key and humble as they come.
We are staying at the same hotel in New York and I've watched him at breakfast as guests approach him for pictures and a chat and he has obliged every time. He as comfortable talking to the tennis elite and mature fans as he is talking to a ten-year-old.
"It's so nice when they are coming to you," he said. "After a warmup there was, like, a guy from the US. He was like, I think he was ten. He asked me how you get here, paying quarterfinals? I was like, I can talk for, I don't know, 20 minutes. But for sure you have to enjoy what you are doing.
"For me it's finding those kids, those kind of children. Maybe it's one of the most important things for me."
It was his younger brother who encouraged him to play more. They would go to the tennis club in Rome where their parents Luca and Claudia were members and Jacopo told him he would enjoy it if he played more so at the age of about seven or eight the younger brother's advice was heeded. The rest is history as Mat, as he is also known, began to dream.
"I have to be honest, I always said Wimbledon (is what I dreamed about). There you feel something different, its grass, (but) this stadium (Arthur Ashe Stadium) is unbelievable," he said. "The feelings I had … I was checking my heart beating during the match. Then I said, okay it's normal. This is a football stadium. It's not like a tennis stadium. I'm in the semis. Why not? I'm going to try and keep going and I'm dreaming as well, why not?"