It was a very hyped up match between Naomi Osaka and Coco Gauff and it was memorable not for the tennis but the post-match emotions.
Stefanos Tsitsipas Tweeted on the middle Saturday of the US Open that "sports do not build character, they reveal it". He was referring to the end of the match between top seed and defending champion Naomi Osaka and 15-year-old American Coco Gauff, a match which Miss Osaka won 6-3, 6-0.
It was not the match itself or the result that was memorable on Arthur Ashe Stadium, it was the moments after the match that transcended the sport. It was the humanity and the human side of prime athletes showing feelings and emotions.
Professional athletes are expected to be strong and almost invincible, like characters from a Marvel movie and we forget they are human beings as well. There is blood that flows through their veins. They eat, sleep and breathe like the next person so when there are tears and emotions on show it has a marked effect on all those watching.
We saw that in the Toronto final where Bianca (Bibi) Andreescu consoled a crying Serena Williams because Miss Williams was struck down by an upper back injury that forced her to retire from the match. And sport saw that moving and personal emotional side on the Ashe Stadium once more.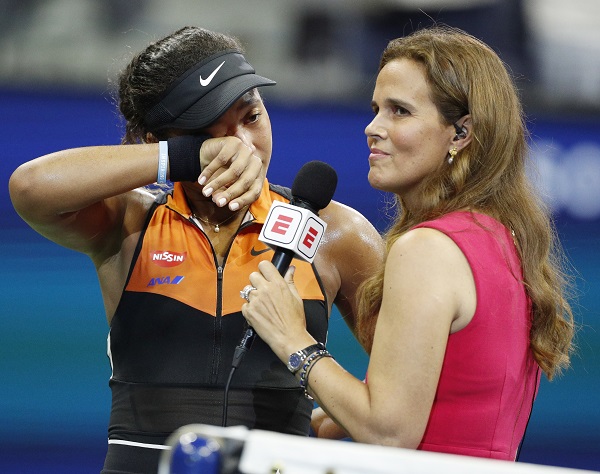 Let's not forget that Miss Gauff is still a "little" girl. She can't get a driver's licence. Others her age are starting a new year of school; she was playing a night match at the US Open where she got a wild card following her Wimbledon success when she came through qualifying.
At the end of the match the magnitude of the evening, and the attention of the week before, landed on Miss. Gauff in a way not dissimilar to hurricanes that lash the American east coast. Tears had started to roll down her cheeks as the crowd celebrated the two players and with due respect probably a bit more for their own player. What she's achieving at 15 is remarkable.
Miss Osaka went over to her and consoled her, gently talking to the distraught teen. Miss Gauff wanted to leave the court and Naomi told her it was no point her crying on her own in the locker-room and it was best she stayed on court.
"Thank you, Naomi. I don't want people to think I took this moment away from her; she deserves it, so thank you," Miss Gauff, her voice breaking, said on court as Miss Osaka stood alongside shaking her head, looking compassionately at her.
The packed crowd around Arthur Ashe Stadium, was beside itself. The cheers and noise were deafening.
When you think about it, Miss Osaka is not that much older, but she showed she is a class act, a caring person beneath the exterior that can be likened to Elle Wood in Legally Blonde, that is seen most often with her.
"I don't think I'm a mentor (to her) but I just want to say (to Coco's family), if you're still here, you guys raised an amazing player," Miss Osaka said. "I remember I would see you guys … I don't want to cry, I remember seeing you training in the same place as us and for me, like the fact that both of us made it, and we're both still working as hard as we can, I think it's incredible and I think you guys are amazing and I think Coco you're amazing."
Miss Gauff said that Miss Osaka did not give her the opportunity to make any inroads and she will learn much from the experience, and while that is very true, it will be the moments at the end that will live on. When it is time for Coco to be in that situation you feel sure she will handle it with dignity and heart.
"For me the definition of an athlete is someone who on the court treats you like your worst enemy but off the court can be your best friend. I think that's what she did tonight," Coco Gauff said.
Naomi Osaka and Coco Gauff created THE moment of the 2019 US Open.