Serena Williams and Andy Murray have got together to make what should be a formidable mixed doubles team for Wimbledon.
In the distant past of play at the majors mixed doubles was participated in by almost all the really big names of tennis Billie Jean King, Margaret Court Evonne Goolagong, Fred Stolle, Rod Laver, John McEnroe and so it went on but in more recent times mixed doubles has sort of fallen a bit by the wayside.
This Wimbledon that changed, at least for this one tournament. Andy Murray appears to have started to return, slowly. Playing some doubles at Queen's and Eastbourne and eventually Wimbledon. But when Andy declared that he was having trouble finding a mixed doubles partner, the call seemed to go out. Players had been turning him down and it became a rather amusing topic of discussion.
The British media all but took out a "Position Vacant" advertisement as if it was a job opening. Whoever they asked declined for one reason or another and this was not become amusing enough to almost be a reality show or a rather bad daytime soap opera. Can you not see it called something like "Net Cord"?
Then, at Wimbledon's pre-event media conferences Serena Williams came in. Q. There's a certain Scotsman that is looking for a mixed doubles partner. Are you available? How would you like to play with Andy Murray? Has he asked you? SERENA WILLIAMS: I'm available. I'm feeling better now, so I'm definitely available.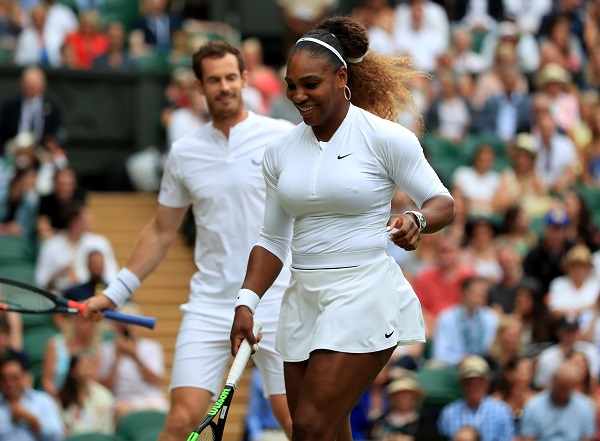 Two days later there was this:
Q. When do you think you could make that decision? Next three hours? In the morning?
SERENA WILLIAMS: This is crazy. I don't know. I'm still kind of in the singles mode, trying to figure that part out. We'll see. I could use extra matches, though, so... Could be something.
Q. Could you give us a rough percentage of how likely you think it is you would play with Andy? SERENA WILLIAMS: I don't know. If you guys really want it, then maybe I'll do it.
Q. We do really want it. SERENA WILLIAMS: Yeah? All right, done, just for you guys. Don't forget.
Q. That is a yes, you're going to do it? SERENA WILLIAMS: If you guys want it.
Q. I really do. SERENA WILLIAMS: Just for you then (laughter).
The job vacancy was now closed.
"I mean, good luck to everybody else," Vika Azarenka said smiling. "It's going to be a tough, tough, tough one to beat, you know. They both take it seriously. But I feel like it's going to be just a pleasure for people to watch. You know, it's going to be historic. So I'll be definitely watching."
Serena and Andy briefly met and actually had once practice session. Much of their conversations were to do with their children but for the entire tournament the mixed doubles became the hottest topic and with Serena and Andy playing it seemed to prompt others to join in and it caught the fun attention of the players.
"Great. Very happy. I was happy when I heard that. It's good for mixed doubles," Roger Federer said. "It's good for men's doubles, or doubles in general, that Andy is just playing doubles and mixed. Because in clubs, usually you play doubles. But the pros all play singles.
"So, I think it's good to highlight how important doubles and mixed is. I enjoy myself a lot at the Hopman Cup when I played mixed there, at the Laver Cup when I played doubles with Rafa and Novak the last few years. To have Andy play with Serena, I mean, that's going to be exciting, to say the least. I'll be watching, I know that."
There was a false start to their first match but when it was announced that they would be coming on court as an additional match to the Centre Court program the noise of cheering and applause from the crowd was stunning.
"That's an amazing partnership, isn't it?" Ash Barty, who was one who turned Andy down, said. "They're going to have a lot of fun. I don't think there's any team in the draw that wants to play them. I think they're certainly going to be a force to be reckoned with, that's for sure."
They went all out and got their campaign started by beating Andreas Mies (French Open doubles champion) and Alexa Guarachi 6-4, 6-1. It was fun personified and mixed doubles has been given a new lease of life.