What a week, a new No.1, two 37 year olds win titles and a hero starts his return.
In a week when two 37-year-olds won titles, Roger Federer his tenth title in Halle, Feli Lopez at The Queen's Club where Andy Murray pretty much dominated attention even though he was playing doubles, the focus of the biggest week of grass court tennis prior to Wimbledon was in Birmingham and it was all about a 23-year-old Aussie. Ashleigh Barty has now become the World No.1.
In what has been an incredible year and journey, Miss Barty is sitting on top of the world. She had to win the Birmingham title to claim the top spot in women's tennis, something she had not really considered at the start of the year. She beat Julia Goerges, one of her closest friends on the tour, 6-3, 7-5 and with that become only the third woman in the last ten years at Birmingham to win the title without losing a set.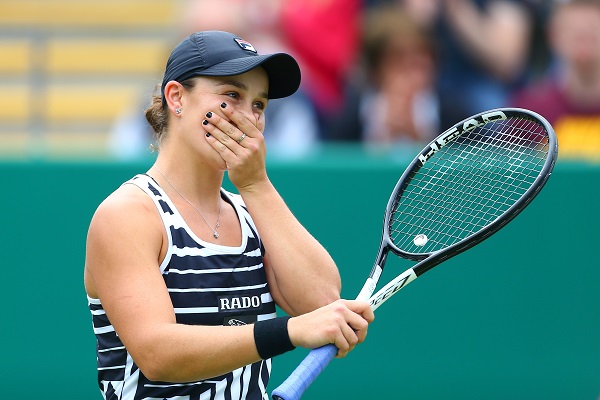 Miss Barty became just the second Australian woman and the first since legendary Evonne Goolagong to reach the summit of the computer rankings. The last time Miss Goolagong was No.1 it was 43 years one month and two weeks ago.
"You always dream of it as a kid but for it to become a reality is incredible," Miss Barty said. "It was jot something in my realm, we were aiming for top ten so to be where we are, is a testament to all the people I have around me. The most incredible team of people who've been with me in the last three years. We started from scratch three and a half years ago without a ranking to now be where we are, is a massive, massive achievement."
Ash is only the second different woman since 1985 to win a grass court title straight after winning Roland Garros, the other was Justine Henin in 2006 and 2007 and she is only the third woman, joining Serena Williams and Petra Kvitova, in recent years, to win titles on hard, clay and grass in a single season.
FEDERER FIRES WITH NO.10
In Halle, Federer scored a 7-6, 6-1 victory over David Goffin to join Rafa Nadal as the only men in the Open-era to win ten titles at a single event. This was Mr. Federer's third title this year, his 19th on grass at a tour level and the 102nd of his career now placing him just seven behind Jimmy Connors's record ... and he is the oldest tour level champion since Ken Rosewall in 1977.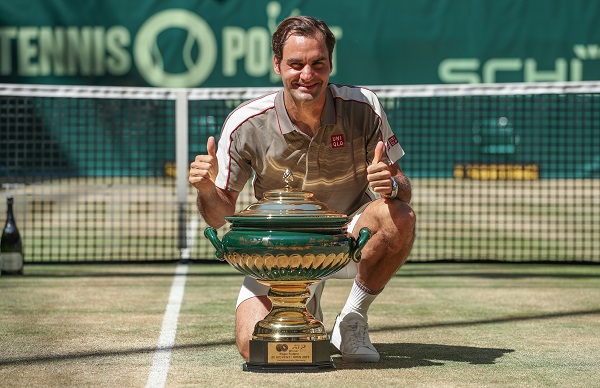 "It's amazing. For some reason I didn't think I was going to make it anymore," he said. "Didn't think of it much. I just thought match-for-match because the second round and quarters were so tough that I never really thought about how it would feel if I won and now it's reality. (It's the) first time ever I could win a title ten times in one place, so it's obviously a very special moment in my career."
KINGS AT QUEEN'S
And if Mr. Federer is the oldest since 1977 then Feli Lopez is the second oldest as he scored his 6-2, 6-7, 7-6 win over Gilles Simon at Queen's. Strangely he is the first active player who is a tournament director to win a title and he is just the third wild card in the last 30 years to be champion – in 1989 it was Ivan Lendl and in 1999 it was Pete Sampras. It was a big day for Lopez who also won the doubles title with Andy Murray who beat Rajeev Ram and Joe Salisbury 7-6, 5-7, 10-5.
"It's incredible. It's tough to believe, actually. I won this tournament in 2017," Lopez, who spent more than 15 hours on court, said. "That was the best win of my career. And then I did it again two years after, and then I won the doubles half an hour after. So it's tough to believe, honestly. It's something that might never happen again. I'm so happy, and I just don't believe everything that happened during the week. I don't know. I need more time to reflect on everything that happened this week."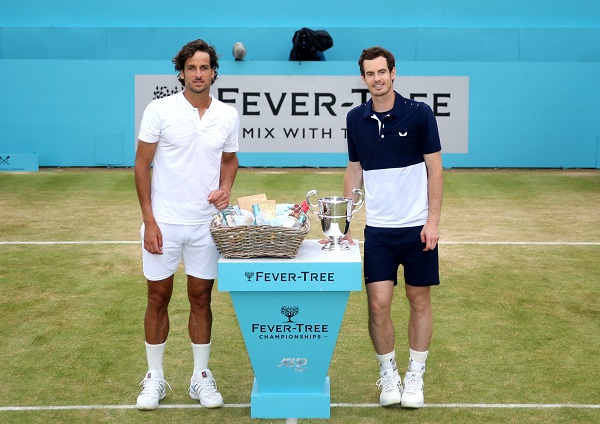 As for Andy, well he has a smile that broader than a Cheshire cat's. He said: "Look, this is very different for me, and it's more special than a lot of the singles tournaments that I have won for a lot of different reasons.
"Like, I just won the doubles here with Feli with a metal hip. It's mental, really. Yeah, that's a cool thing to be able to have done, and just because of probably where I was a few months ago. And at times, even as far as just two months ago, I just wasn't thinking about this. I was not driven to get back to, like, playing here and stuff. I was just really, really happy just to be pain-free and enjoying life, literally just doing normal things. So it's really special."