Rafa Nadal has continued his dominance at Roland Garros with title No.12
It is just so staggering to realise what Rafa Nadal has achieved and still has more to achieve. In the 15 years he has played he French Open he has not lost a final having now won twelve of them, he has lost just twice to Robin Soderling and Novak Djokovic and once he had to withdraw mid-tournament due to injury.
Mr. Nadal is the greatest clay court player the game has ever seen. He defeated Dominic Thiem 6-3, 5-7, 6-1 6-1 in three hours one minutes; that is the second consecutive year he has defeated Thiem for the championship.
Nadal now stands alone for the most titles at a single major. It was a record he had shared with Australian Margaret Court, she had won eleven at the Australian championships through the 1960's and early 70's. Now the Spaniard stands alone with twelve. A remarkable achievement that even surprises him.
Adding to it all this it's his 18th major, placing him two behind Roger Federer's men's record. He said it's a motivation to get there but nit an obsession, it is not a career goal he says and that his career has gone "further than I dreamt about".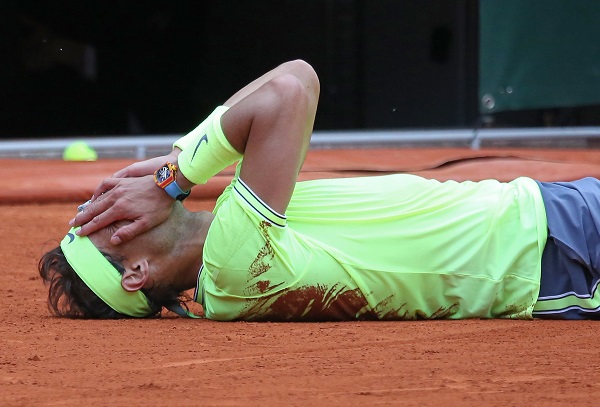 Mr. Nadal says he gave himself a reality check during the clay court season when experienced his poorest record on the surface. In Barcelona he gave himself a talking to either take a break to physically and mentally regroup or get out of the negative mindset he was in. He chose the latter.
"Thinking a lot, finally I think I was able to change and was able to fight back for every small improvement that I was able to make that happen," Mr. Nadal said. "And since that first match against Mayer in Barcelona, I think the things have been improving every single day since today.
"I played not bad in Barcelona the next three rounds. I played better in Madrid, and I played much better in Rome, and here I played a great event. So of course, these small things that I have been improving every single day and doing with the right attitude, doing with the right passion, that's the only way for me to be back where I am today.
"Of course, have this trophy with me means a lot. But personally, the personal satisfaction of change the dynamic is the thing that I am more satisfied."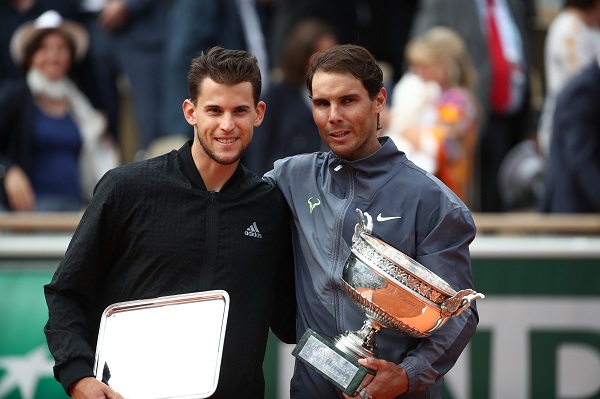 You had to feel for Thiem, he was playing so well, he'd beaten Nadal coming into the French and overcame Novak Djokovic in a rain interrupted semi-final and for the second year in a row he loses to the Spaniard. The first two sets provided a tremendous level of tennis but things changed at the start of the third and it was essentially one way traffic.
"Yeah, he played outstanding, because especially in the first two sets I played very good tennis," Mr. Thiem said. "What he was performing I think is unbelievable, really. There has to be a reason why he's that successful. I mean, he won 18 Grand Slams, which is a big number, which is only two less than Roger. So definitely he's one of the greatest of all time. I saw why.
"I played very good the first two sets, and then I had a little drop, which is against most of the players not that bad, but he took the chance and stepped right on me. That's it. I can only congrats him on how amazing he performed".