Dutch player Kiki Bertens and world number one Novak Djokovic claimed the respective singles titles in Madrid
For Kiki Bertens the Mutua Madrid Open was the biggest title of her young career, it was her ninth career championship from eleven finals, while for Novak Djokovic it was his 74th career title, his third in Madrid, first since 2016, and his 33rd ATP Masters 1000 title which equals Rafa Nadal.
Bertens and Djokovic swept through their respective singles draws without losing a single set with the end result allowing Bertens, who beat four major winners during the week, to move to a new career high ranking of four. That makes her the highest-ranking Dutch women's player ever, passing legendary Betty Stove who reached a career high ranking of five. The Serb maintains his position as world number one but has extended his lead at the top of men's tennis.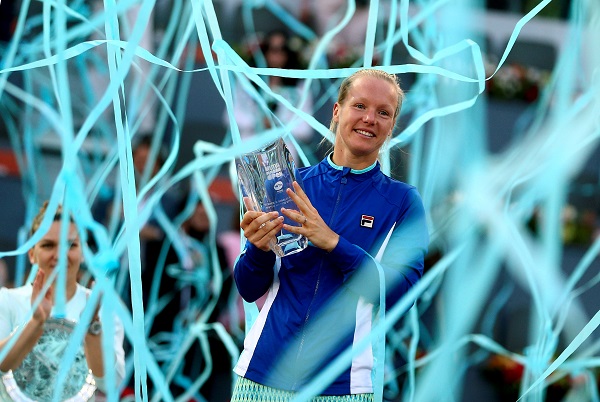 Bertens defeated Simona Halep 6-4, 6-4 in the final and said it took a while for it to sink in. Djokovic beat Stefanos Tsitsipas 6-3, 6-4 for his second title of the year and first will since the Australian Open.
"I'm just really happy," Bertens said. "I think after every title you feel something, of course. Sometimes it's a lot of emotions. Sometimes it is really happiness. Sometimes it's just like not believing. But right now, I don't know yet how I feel. I just feel really happy. I am really proud of this week. I played some good tennis. No. 4 in the world on Monday, it is just all amazing things."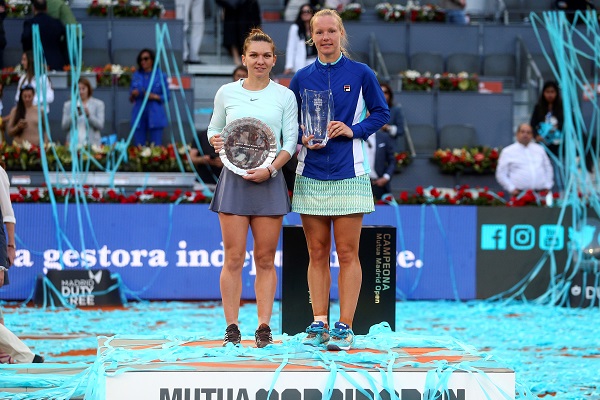 She added that she learnt a lot from last year's final which she lost to Petra Kvitova who she beat in the semifinals this time around. Miss Bertens said she felt confident on court during the final and just played her own game feeling no stress in the final; she just felt ready to win.
Halep acknowledged that her opponent played better tennis and deserved the match win and while she feels upset with the loss, she is not going to dwell on it.
"I'm just thinking for the next one, when I will play against her, to change some things," Miss Halep said. "I played like stupid today, everything that she liked. But it's happening sometimes and I can take all the positives from this week."
Djokovic is obviously happy to get out of a little bit of performance slump since winning the Australian Open and said "this tournament win was very important for my level of confidence". He said he couldn't quite find the right game and consistency at Indian Wells, Miami and Monte-Carlo.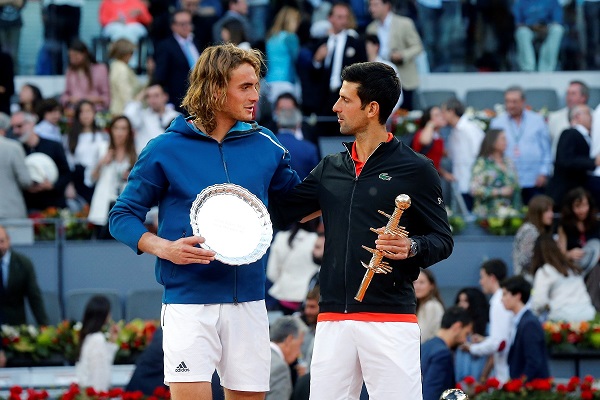 "I felt like I was close and needed a little bit of a push, so to say", Djokovic said, suggesting that his win in the semis over Dominic Thiem was very important. (Against) Stefanos, who had amazing match last night and win against Rafa, probably affected him a little bit. He did not, I think, move as well as he did (against Nadal) and he was probably a bit tired.
"I haven't dropped a set and, for sure, it's a great honour to have this trophy and to win in one of the biggest tournaments in the world. It's a the very important time for me in the year, in the season, because this gives me a lot of confidence prior to Rome and, of course, Roland Garros where I definitely want to play my best."
Tsitsipas played a truly stunning match to beat Nadal in the semis, it was his first win over the Spaniard and to do it on play was quite an effort. He said Djokovic in the final "deserved the victory, he played unbelievable".
He added: "I couldn't do much. Really like I think his performance this week -- I didn't play with all the guys, but pretty sure was the best. So physically I was not there. My legs were not coping with my mind. Completely I could feel the fatigue and this soreness, not just in my legs, but everywhere in my body."