Belinda Bencic appears to be back in the right direction with her tennis.
Belinda Bencic won a reasonably good-sized tournament in Dubai the other day. If you were in the same situation what would you do to celebrate? If it were me, I know what I would not do which is what she went ahead and did.
Miss. Bencic went skydiving over the Emirate. She was certainly flying high when she defeated Petra Kvitova (she had never won a set against the Czech before) in the final but to be literally flying high … nah count me out.
She suggested that helped the win sink in for her because it has been quite a while since she won a title, any title. The last was a small event in Hua Hin, Thailand in 2017 but before that a title of a similar size to Dubai last came to her in 2015.
It has been suggested Miss Bencic has under achieved in her career. A lot more was expected of her sooner because she earned a name of herself when she was extremely young but when one considers some of the physical issues and then the lack of confidence she experienced, it seems a bit strong.
She has been playing on tour or about seven years, and she has scored wins over Serena Williams, Caroline Wozniacki, Angie Kerber, etc etc, but let's not forget she is still only 21. She is a kid and she should be cut some slack.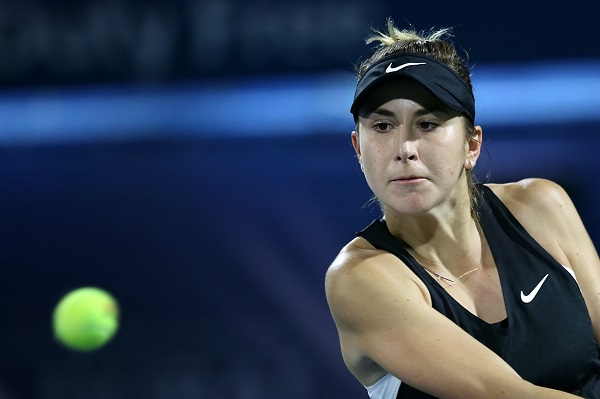 Miss. Bencic has had her fair share of injuries. Just when she was really kicking into first gear having reached the world's top ten and was being touted as the successor to Martina Hingis for Swiss tennis, she became plagued with injuries. Time spent off court, difficulty in training, struggling with the mental side was all starting to take its toll. Back injuries, arm problems, there was never the clear skies like she would have seen while sky diving.
The problems all seemed to begin from 2016 and included surgery and with all the time off, months on occasions, her ranking nose-dived to the 300's. Less attention was being paid to her and a lack of confidence developed. At this level of tennis, the mental side is so crucial. When you start losing matches, even if you are coming back after a legitimate reason like serious injury, you still, in yourself, expect to perform.
Players are so competitive that they just can't seem to allow themselves time. There is an element of impatience. They want it all and they want it now. Nothing wrong with that sort of an attitude but you also must give oneself a bit of a chance. Remember the point of cutting some slack, well they should allow that of themselves as well. Consistency needs to build up.
For Miss. Bencic things began to turn at the end of the 2017 and she closed out that season winning 28 of 31 matches and with Roger Federer won the Hopman Cup at the start of 2018. She was getting back in the swing. There were positive signs throughout last year and with that the Swiss was back into the top 50.
The consistency in her game has greatly improved. She cannot be expected to win week in and week out but getting positive back-to-back results at important events obviously makes a difference. A player is almost always concerned about their ranking and you can understand that, it's a pressure point but Ivan Lendl once said to me "get the results and the ranking takes care of itself".
Being fit and healthy is now allowing Miss. Bencic to do that and after Dubai she was knocking on the door of the top 20 all over again. Now it is a case of building on these recent results – being consistent helps with wins which leads to confidence which provides belief that anything is possible.