Novak Djokovic has produced a scintillating effort to beat Rafa Nadal and win a record setting Australian Open.
If anyone wanted to see tennis perfection on display, they did not have to look any further than the Australian Open men's final because Novak Djokovic handed one of the all time great a tennis lesson. His was a performance of epic proportions as he dismantled, dissected and disposed Rafa Nadal in two hours four minutes 6-3, 6-2, 6-3.
This was a spectacle. It was an extraordinary exhibition and one that left many shaking their heads. Such a one-side match was never considered especially after the last time they played at the Australian Open – the 2012 final which went five sets and five hours 53 minutes, or even their last match which was the Wimbledon semis that extended to 10-8 in the fifth set.
"It ranks right at the top," Mr. Djokovic said. "Under the circumstances, playing against Nadal, such an important match, yeah, I mean, it's amazing. Obviously back-to-back semifinals and finals, I think I made 15 unforced errors in total in two matches, it's quite pleasantly surprising to myself, as well, even though I always believe I can play this way, visualize myself playing this way. At this level, as I said, under the circumstances, it was truly a perfect match."
Mr. Nadal was left shell-shocked with the barrage of shots that came at him. He was helpless and hapless in this match. Nothing he did found inroads in the Serb's game. Novak sent back with interest whatever Mr. Nadal hit and the frustration was showing on his face.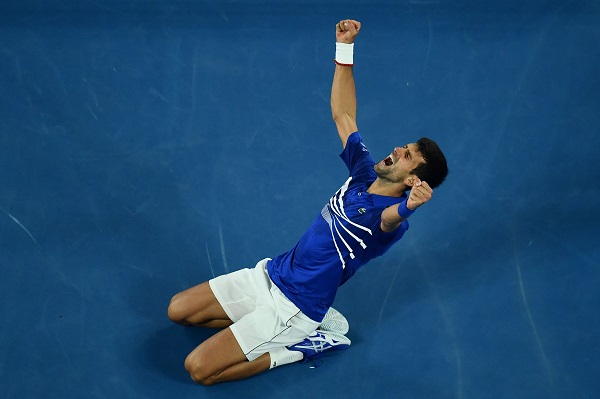 The world No.1 went on the attack from the first point and he was directing his returns to Rafa's forehand and was putting him under constant pressure. The frown or concerned look Rafa normally has on his face during matches was even more pronounced this time around.
"I think, of course, he played I think fantastic," Mr. Nada said. "At the same time is true that when he's playing that way, I think I needed something else. I was not able to have that extra thing tonight, being honest, no? Yeah, was unbelievable the way that he played, no doubt about that.
"Five months without competing, having that big challenge in front of me, I needed something else. That something else probably today, I don't have it yet. That's my feeling, to compete at this super high level.
"I think I was playing great during both weeks in offensive positions. To play against a player like him, playing the way he played tonight, I needed that defensive game to finally have the chance to be offensive, no? When he was hitting, is true that maybe was difficult to beat him even if I was at my 100%. But probably will be a little bit more fight."
The full to capacity Rod Laver Arena tried to provide the Spaniard with some extra support in an effort to lift his spirits but nothing was going to work with Mr. Djokovic in the frame of mind that he was in. He faced just one break point and that was saved. Mr. Nadal had more than three times the number of unforced errors than Mr. Djokovic.
The world No.1 maintained his perfect record in Australian Open finals, that was his seventh and he has never lost one. This was a record setting title because he has broken the tie he shared with legendary Roy Emerson and Roger Federer. It is his third consecutive major and his 15th carer major. Again, he has separated himself from the person he was tied with, that being Pete Sampras.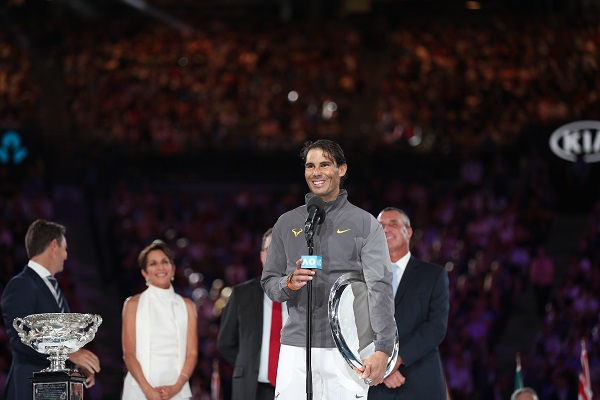 "I've said it before, but he was someone that I look up to," said Novak. "When I was starting to play tennis actually, one of the first images of tennis in general was him playing Wimbledon, winning I think his first title back in '92, I think. I was a small boy in Kopaonik, this mountain resort in the south of Serbia.
"Nobody has ever touched the tennis racquet before me. I did not have a tennis tradition in my family. I did have sports tradition. So, it was definitely a sign of destiny to start playing tennis, to aspire to be as good as Pete. To surpass him with Grand Slam titles, I'm speechless. I haven't had too much time to contemplate on everything that has happened, but I'm planning to do that."
If he wins the French Open, he will be holding all four majors at the one time for the second time in his career. He now is the only man in a position to win the Grand Slam – winning all four majors in a calendar year. You get the impression that he feels he can do it and it's in his mind.
"We'll see. Obviously, it's just the beginning of the season," he said. "I know there's a lot of tournaments to play before the Roland Garros, so I have plenty of time to build my form slowly, obviously staying on a hard court first with big tournaments, Indian Wells and Miami, then starting the clay.
"Obviously I have to work on my game, my clay court game, a bit more, more specifically than I have in the last season. I need to play better than I have last season. I am already playing better. But, I mean, clay specifically in order to have a chance and shot at the title. The ultimate challenge there is to win against Nadal.
"You have a lot of great players that on clay can challenge me or anybody else. Yeah, there is still a lot of time. I'm obviously first going to enjoy this victory and share it with my family and friends, then take it from there."