History and courage were the underlying aspects of the Australian Open women's final won by Naomi Osaka.
History and courage. That's what it was when the Australian Open women's championship came to an end as Naomi Osaka hoisted the Daphne Akhurst Memorial Cup. She had defeated Petra Kvitova, in a wonderful final, in two hours 27 minutes 7-6, 5-7, 6-4. Miss Osaka had become the first Japanese player, man or woman to win a major and in doing so became the first Asian player, man to woman to be ranked No.1 in the world.
The 21-year-old only just managed to hold back the emotions, but it was almost as if she had been left stunned by the achievement.
She had also become the first woman since Jennifer Capriati in 2001 to win her second major in a row after winning her first. 18 years ago, Miss Capriati did it at the Australian and the French. Miss. Osaka has done it with the US Open and Australian. And this time there was none of the controversaries and histrionics that followed her victory in New York.
"In New York, most of the crowd was for Serena," Miss Osaka said. "Here it felt like they were split a little bit. Yeah, I mean, honestly when I was playing her, and I heard the crowd was for both of us, I was very happy. At the same time, I was just trying to focus on playing the match.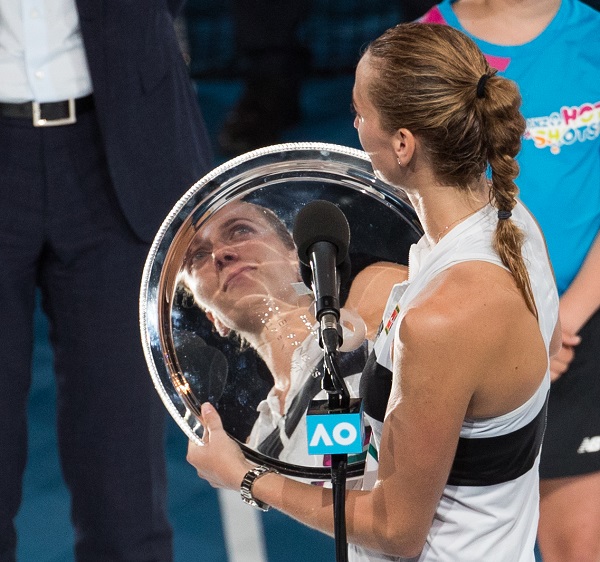 "I mean, now I'm just so tired. I don't know how anyone is awake right now. Maybe the next day I'll think about it more. But for me, I don't know, like I still feel very shocked. Like, I felt like the match wasn't completely done, but it was done, you know? It's one of those moments where you're fighting so hard. When it's finally over, you're still in the state of, like, competitiveness."
This was a dramatic battle and it was on an edge throughout with the turns and twists being worthy of a Daniel Silva thriller.
History is one big "IF" and you wonder what may have happened to the course of the final had Miss. Kvitova broken serve in the seventh game of the first set when she had Miss. Osaka at 0/40. Even the Czech highlighted that very game.
There was mental strength from both players because Miss. Kvitova faced three championship points on her serve in the ninth game of the second set and when Miss Osaka failed to capitalise and then lost serve in the next game, her frustrations came to the fore. Miss. Kvitova pressed on and secured the second set, as the crowd, wanting more of this high level of tennis cheered on Petra.
The Japanese player left the court for a bathroom break at one set all, tears rolling down her cheeks. She composed herself on returning and in the third game, just when many thought Miss. Kvitova might start to assert her authority, Miss Osaka broke serve. That advantage was maintained and as hard as the Czech tried, the 21-year-old stayed ahead and clinched the title with a service winner.
For Miss Kvitova, there were emotions at the presentation ceremony as she remembered the journey she has been on after the tragic home invasion she experienced in December 2016. Too many thought she would never be in this position.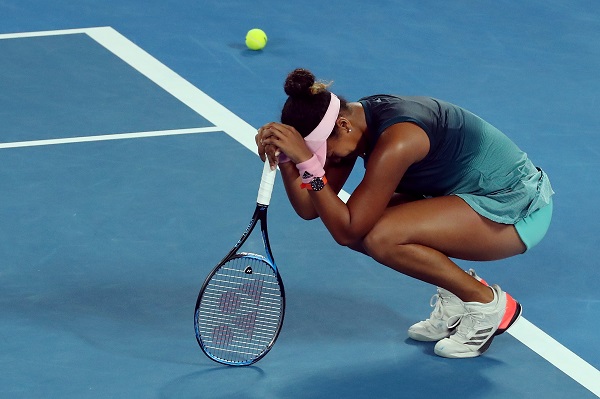 "Yeah, it's painful, for sure," she said. "I don't know how long will take me to get over it. When I look back, I did have my chances in the first set when I had 40-Love on her serve.Did have few breakpoints. I don't think I played something really badly, but I just think I should maybe go a little bit more aggressive one or two rallies.
"I really fight back in the second set. I'm proud of myself in that case. And, yeah, the third set was just one break. That's how the tennis is. It's the final. I think you just will get few chances. When you don't make it and you make it and you lose. And I think that also was the case today."
She said, as a throwaway line, that she was not proud at that moment but then those ice blue eyes began to smile and of course she was proud of her return.
"It will be very bad if I'm not (proud)," Miss Kvitova added. "So, yeah, as I said, it's hurting a lot today. I wanted to win and have the trophy. But I think I already won two years ago. So for me, it's amazing. I think I still don't really realise that I played the final. I've been through many, many things, not really great ones. As I said on the court, I didn't know if I going to hold the racquet again. I'm holding it, so that's good."
There were two champions standing on the Rod Laver Arena. One had redemption for the bittersweet experience of the US Open final five months before, the other showed what courage is all about and not to let adversity stand in the way but to follow dreams and passions.
The sport of tennis came out the winner.