Stefanos Tsitsipas has enjoyed a break-out year in tennis and winning the Next Gen Finals only adds to the attention on him.
There is no question that Stefanos Tsitsipas is one of the most exciting players in the world. The sport has seen him grow incredibly this year, sure there have been a couple of temperamental outbursts but that can possibly be excused as frustration and immaturity to some degree. He is 20 years old and he has shown he mixes it with the best.
He won the biggest title of his career, the Next Gen Finals in Milan and defeated another one of the most exciting prospects this sport has, Alex de Minaur. The 19-year-old Australian is like lightening on court and has the heart of a lion. No matter what the scoreline is he can never be overlooked and Tsitsipas certainly saw that with the 2-4, 4-1, 4-3, 4-3 result.
"I've learned a lot," Tsitsipas said. "I've learned that I'm a fighter. That I have a big heart. Especially in tough moments like (this final), I kept my … let's say my attitude was right. You know, I didn't crack under pressure despite losing those two match points that I had on his serve. I stayed in the match. I fought. And, yeah, I won the tie-breaks in the three.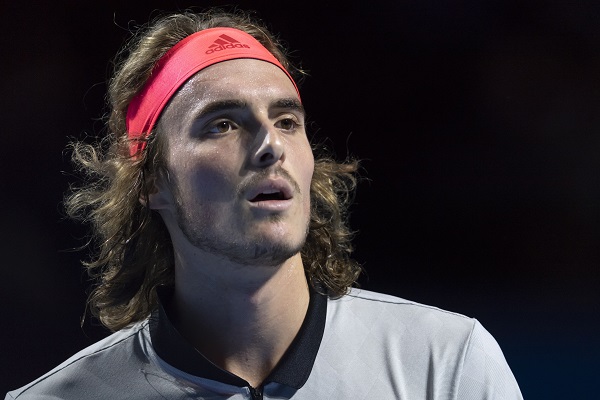 "So one thing that I learned this week is that, yeah, I am a big fighter. I can play really good under pressure, play my best game under pressure, and it's a great week.
"Hopefully I can serve like this next year in every single tournament. Really high serve percentages. And, I mean, really mature the way I treated my breakpoints, let's say, on my serve. I think I lost two or three of them on deciding points. So, yeah, I'm very experienced on that.
"I think I have a great game under pressure, and I can be very aggressive and very scary sometimes with the tennis I play. I can just take the ball so early and make my opponents confused and make them, you know, make a step back, which is rare, I guess."
The Greek player is good-looking which is good for tennis because that adds to the game's appeal and there is definitely a flamboyance him. He is also a bit of a thinker and a reader citing the classic "To Kill A Mockingbird" as his "best book". At the same time, he is not unnerved to be alone, especially now that the season, which has seen him rise to top 15 status, starts drawing to a close.
"I'm looking forward to my vacation in Cyprus. Laying on the beach, thinking about nothing. Forget social media, forget my phone. Throw it in the trash can. Just me, myself, and I," he said smiling.
No doubt there will be time to reflect on what he has achieved this year and the wonderful pay cheque that was banked from Milan but certainly finishing on a high like winning the Next Gen Finals will be a confidence booster for 2019 despite the Next Gen format being somewhat different with abridged sets being played and new season still being a little way off.
"It's a different game, it's a different like it's a new scoring system," Tsitsipas said. "Obviously winning this title means a lot to me and for sure gives me some confidence playing those guys, the Next Gen guys, in the future, but it's not everything. It's not going to make me, let's say, if I could say more complete player, because I'm not going to play with those rules next year. So, it's just a temporary thing. I have bigger targets, bigger goals to focus on for next year.
"I'll have to focus on keeping my first-serve percentages high, not getting broken, and managing trying to break as much as I can my opponent's serve. Obviously the sets will be longer, but for sure it gives me a little bit of confidence and knowing that, let's say, I was the best Next Gen player."
The fact is that this is the next step for him and now the focus must be on going deep at the bigger events and especially at the majors which carry he bulk of ranking points
"I'm going to be seeded, I guess, in most of them, so I'm going to have to treat it right and take advantage of my ranking, take advantage of my situation," he said. "My focus will be on Masters and Grand Slams. I'm going to try to pull out my best game there. Obviously, it's going to be tough. Other players want the same thing.
But, again, I want to have a good preseason this year. Load myself with fitness, with lots of mental sessions with my mental coach, which I believe helps me a lot. Refresh and come to enter into 2019 stronger and better, just a better Stefanos than 2018."