Karen Khachanov won the biggest title of his career when he beat Novak Djokovic in the Rolex Paris Masters final and that has sent out an even bigger signal that the Russian has arrived.
Karen Khachanov has now arrived. His win at a big tournament like the Rolex Paris Masters has given him a major step to being one of the best players in the world.
I remember two years ago at the Chengdu Open when the Russian of Armenian heritage won his first career title from out of the blue. Sure, there had been some talk about him in tennis circles with much of that talk centring around how big he is physically and the fact that he had the talent to do well but it was still all talk.
I remember interviewing him on video for wearetennis.com and jokingly I asked him why he had a girl's name … Karen. In a deep voice he replied: "Is not girl's name. It's Armenian name." It amusingly reminded me of that old Johnny Cash song "A Boy Named Sue". Here we have a tennis player named Karen.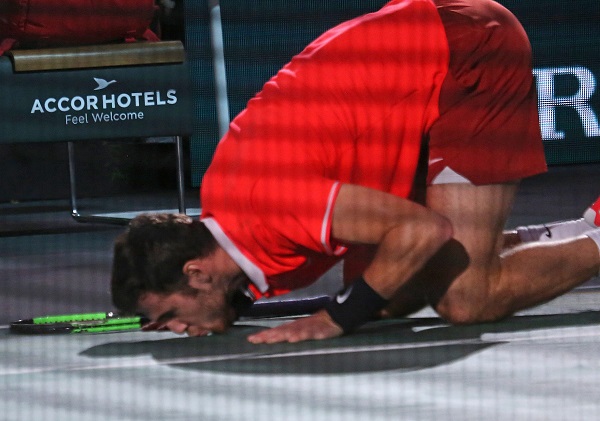 Chengdu saw his ranking start to move and he ended the 2016 season at 53, 99 places higher than the year before. In 2017 he finished the season at 45 and in 2018 things have really serrated to fall into place. He won Marseille and then became the first Russian in a decade to win the Moscow title and by winning Paris, he is the first Russian since Nikolay Davydenko to win there since 2006 and becomes the first Russian also since Mr. Davydenko to win a Masters 1000 since 2009 at the Rolex Shanghai Masters.
His victory over Novak Djokovic at Bercy took his world ranking up to eleven and made him the second alternate at the season-ending championship in London. During the week he accounted for four top ten players – John Isner, Alexander Zverev (who he punished) and Dominic Thiem before stopping Novak.
Mr. Khachanov, who has been married for two years, is just 22 and shows plenty of maturity on and off the court. There is a strong focus in whatever he does. This is no party dude and more than likely for someone like his that grounding he has from married life is what has led to 2018 being his break-through season.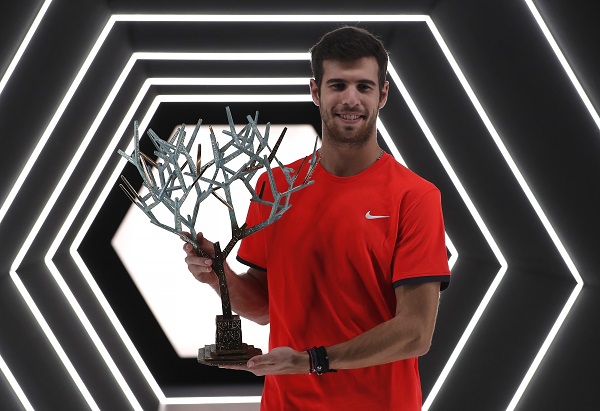 "It's not normal, of course," he said. "It's one of my biggest titles so far, biggest achievement. And in general, it's a breakthrough season. And this title, it's a good year-end, like this I would say. And maybe I'm not crying, but still I'm really happy.
"I'm happy with the way I'm playing," he said. "After some tough loses against top guys like Rafa, you know, in New York, I think they push me to the limit and, like, even to work more harder. And I saw that my level is there. I could play and compete on this level. So it was a matter of just a few points.
"And if I continue to do the same things what I was doing and the way I was playing with the guys like Rafa, okay, before, I mean, Novak also, against top guys, it would bring me at one point and it will turn around on my side. So, I was really believing in this, and actually that's what I've got."
Karen Khachanov could be termed a "reserved giant". His progress has been steady without being flashy like say Alexander Zverev but to see the Russian making a move, along with another exciting young player in Stefanos Tsitsipas can only be good for the progression of the game.
"I want to talk about how well he played all week and, you know, absolutely deserved to win the match," Novak Djokovic said respectfully of Mr. Khachanov in defeat despite the fact that he had not quite recovered enough form the mentally and physically draining matches he played against Roger Federer in the semis.
"So all the credit to him. He deserves it. He's a young player up and coming. But already established player, top player. And he showed great quality and he showed why we're going to see a lot of him in the future."
Of course, there is still a long way to go in Karen Khachanov's career. There is so much for him to do and while there are bound to be those down days when the results are not happening as people expect, it will be important to take a step back but at the same time appreciate his ability and potential.