Elina Svitolina has ended what could be regarded as a bit of a roller-coaster year on a major high.
She was one of the last to qualify for the season-ending BNP Paribas WTA Finals being played in Singapore for the last time, and now she has won the biggest title and prize of her career. Elina Svitolina is the one celebrating after her come from behind victory over Sloane Stephens 3-6, 6-2 6-2 to capture the season-ending title. It is her fifth title of the year.
The first of the season was a good one of the Ukrainian but then the last few months have been frustrating, and it almost meant that she would not qualify for Singapore but instead would be playing the lower level year-end event in Zhuhai that follows Singapore, something that could never be rationalised, as to why tat event was never played before one of the crown jewels of women's tennis … but that's a by the by.
"This is a very special moment for me in my career and it will give me plenty of confidence for the season coming ahead," Miss. Svitolina said.
"For me it was very tough match, but in the end I found a way here and there, one, two points that made the difference in the second, and then we were in third set already, and then the fight began. That's tennis. That's what happens. You know, a few points here or there can decide."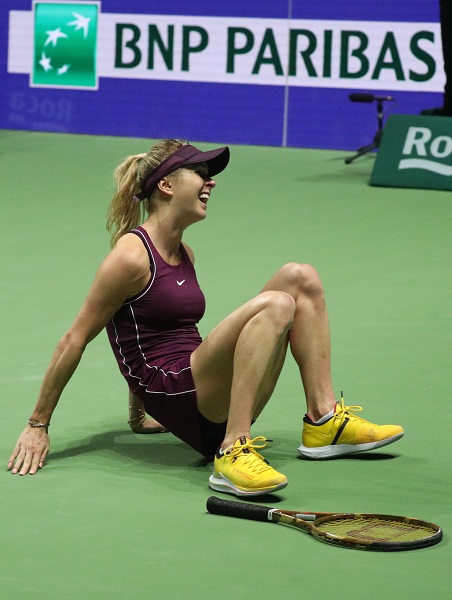 It came down to a nail-biter finish in the round robin competition before Miss. Stephens knew about her qualification into the elimination semis in what has been a solid yeat for the American who backed up her 2017 US Open title by winning the Miami Open and reaching the French Open final and the Montreal final.
"I thought she played well," Miss Stephens said of the Ukrainian." Obviously, it was a tough match from the very beginning. Not even knowing if I was going to qualify here and everything that happened towards the end, I was just really excited to be here and excited to compete with everybody. I thought I did really well this whole week, a lot to be proud of."
Last year the title was won by Caroline Wozniacki who, during the BNP Paribas WTA Finals revealed that she is a victim of RA – rheumatoid arthritis which she was diagnosed with between Wimbledon and the US Open and which can be a debilitating condition but she believes that it can be managed on a daily basis but can leave sufferers in a lot of pain and discomfort.
For Wozniacki winning Singapore was her biggest title at the time but then two months later eclipsed that by winning the first major, the Australian Open. While this is certainly not a comparison, it will curious to see if Miss. Svitolina can get the monkey of her back and do the same; use Singapore as a launching pad.
"I think I have nothing to prove anymore to anyone," the Ukrainian said. "It's definitely a good statement for myself and good boost of - I can't say confidence, because I try to always have confidence in myself, to have it is my personality. I think for me it's just that the third set really showed that I was mentally tough. That's what made the difference."
Well not quite and not so fast.
To now, her performances at the majors have been disappointing to say the least and while there are a lot of tournaments throughout the year, and many very big and important ones which she has commendably won or reached the finals off, rightly or wrongly a player is judged on how they perform at the four majors. The mental side of her game has let her down in the longer two-week tournaments.
In that domain she has a lot to prove and hopefully the great achievement she had in Singapore will spur her on because at her young age and, in the great scheme of things young career, there is plenty ahead to strive for and prove further what she is capable of.
Right now, Elina Svitolina can certainly bask in a job well done for this week.