Comparing the present generation of women's tennis to that from the nineties.
In recent years we have been hearing often about the depth and consistency of women's tennis and of course there has been some element of that. The consistency of Serena Williams had been supreme before she left for maternity leave and there was Maria Sharapova until she left for the reasons that she did. They are just two, the main two, examples.
There were stretches in the women's game when others might have had a purple patch but there was nothing that rivalled Miss. Williams.
There was definitely more consistency in women's tennis and more recognisable names in the nineties when the likes of Monica Seles, Steffi Graf, Jennifer Capriati, Lindsay Davenport, Martina Hingis and also the emergence of Venus and Serena Williams captured attention at almost every turn and twist.
Women's tennis genuinely rivalled men's tennis for attention. But it is not quite the same at the moment and it was interesting to hear the comments of Miss. Davenport, Miss Seles, Miss. Clijsters and Miss Capriati during the BNP Paribas WTA Finals in Singapore when they were asked to compare that period of women's tennis, the time they went through, to now.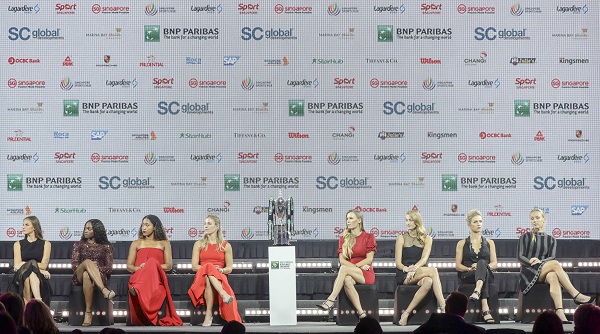 "I feel the consistency was there more for the top players," Miss. Davenport said. "Let's say you take a top five player or top six player, you might get one or two tournaments where they lost first round. It wasn't, like, out of 16 or 18 tournaments, it wasn't like eight times or seven times they didn't get past the second round. You see that more often now.
"There is a lot of arguments, oh, there is more depth or the players, you know, have big success and then they don't have another good tournament for a while.
"So I don't really know the reasons for that. But it always seemed if I wanted to do well at a major, I had to go through one of the Williamses and Jennifer and Monica, and then (Kim) came along with Justine. It was, like, there was going to be, from the round of 16 on - it was really, really tough.
"I'm not saying it's not tough now. You don't necessarily face the names or the players with maybe that have 25 Grand Slam quarterfinals or semis or whatever on a consistent basis but doesn't mean the level is different. It just seemed like it was tough to go through and win a major."
Miss Capriati tended to agree and made the point that at times watching the current generation can be a "little frustrating". She explained that some of the present-day women play so well at certain tournaments but then the follow up is a letdown or they don't continue with the success. The talent is definitely there but maybe not enough toughness.
"It wasn't so random," Miss. Capriati said, "(but) it's so diverse, but at the same time, too, you never know who's kind of gonna show up or not."
Kim Clijsters suggested that her generation escaped, thankfully, the social media generation. Social media had started it raise its head toward the end of her career and not having to play with "all that stuff" and as a result "focus was very much on tennis and just on tennis" was he best thing.
Monica Seles questioned whether there is a little bit less pressure now.
Miss Seles suggested that the losses are easier to take these days. She said: "The expectations are you don't have to enter every tournament that you enter to win. And just from the little that I'm around the tour, when the players lose, they're not as depressed, but they don't take the losses as hard as our generation, which I think is much healthier in the long run.
"I think they seem to have a better balance in general in life with tennis and media sponsors than I think we did. For us there was a lot more one-dimensional, much more towards tennis-tennis.
"I don't know in our generation how many of us wore heels during the two-week Grand Slam tournament. So little things like that which hopefully will keep the current stars in the game longer because they have that balance."
That life balance may be there and some players last longer but is it helping the sport if fans struggle to relate to the players the way they used to? You tell us what you think.