Novak Djokovic has done a remarkable job to turn his year around and is now in striking range of the No.1 ranking.
It has not happened before in the history of the world, where it has been ranked in the top 20 at one time of the year. No.1 ranking. Novak Djokovic is on the threshold of doing that.
Mr. Djokovic won a record setting fourth Rolex Shanghai Masters defeating title Borna Coric 6-3, 6-4. It is his fourth title of the year to go along with Wimbledon, the US Open and Cincinnati which gives the Golden Masters in August. He has won 32 Masters 1000's just one behind Rafa Nadal. He has now won 18 matches in a row and 27 of his last 28 matches.
By reaching the final Novak displaced Roger Federer at No.2 in the rankings and now he is knocking on the door of No.1 ... and he's made no bones about the fact that he is chasing that spot.
"It's important, and I'm grateful that I have this achievement," Mr. Djokovic said. "I'm proud of it , obviously, I work hard for it, and my ultimate goal is to get to No. 1 by the end of the year .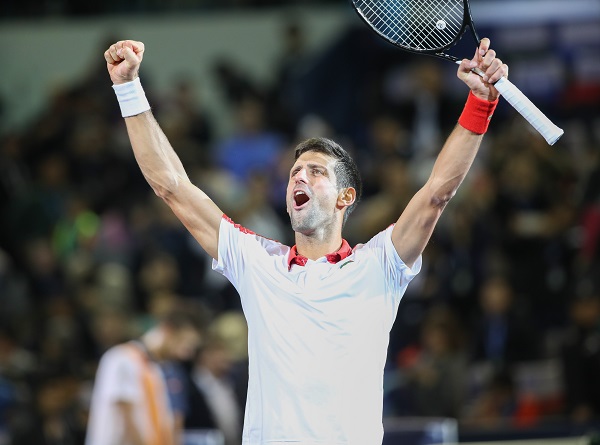 "Aim, you know, being No. 2 after this tournament is also a great achievement, considering, you know, the first four, five months of the year and considering I had the surgery, and where was I am today is quite an extreme opposite. I'm just looking for success and every moment on the court. "
He said he was considering playing a 500 level event before Paris-Bercy because he is so close to No.1 in an effort to jump to No.1 sooner, because he is so close, he feels there is not the pressure to do That's a lot more than a gap between himself and Mr. Nadal.
The week in Shanghai was certainly remarkable for the Serb. He played 47 service game and won all 47. In the end he faced a couple of break points and he was in a similar situation against Kevin Anderson earlier in the tournament before.
"I'm sure it did not happen too many times if it did," he said. "So, this was definitely one of the best service I had in my career.
"Serve was never my No. 1 weapon in the game. It was never as big as you, Zverev's or Anderson or Isner or Karlovic, these guys that they depend on a lot on the service. But to be used always, so to say, a hidden weapon, the shot in the game that is obviously very important, the most important. But I always try to use it with an accuracy and efficiency rather than speed and power.
"So obviously, you know, bring me a lot of joy."
On top of all that he also played his part in the week, he was in the throes against Alexander Zverev and he won that easily, the German put up very little resistance.
So what tennis is right now is the Novak Djokovic of about two or two years ago but its coach Marian Vajda says it is a "new Novak". He was asked how he would describe the "new Novak".
"I think you're new to Novak ." That's all I can say, "Mr. Djokovic said.
"We have had a look at the last six months of my whole journey, psychologically mostly what I was going through.
"I found it and I'm just trying to hold on as long as I can."