Bernie Tomic won his first tournament in three years and the 25 year old Australian may just be turning his life around.
Bernie Tomic has been through a lot over the last 18 months and he was hurting emotionally and mentally. He has been on a rollercoaster that saw his place in the top 20 totally evaporate and balloon out to around 250 just this past May. The Australian had been missing in action and the choices he made did not help his cause. But, it was those choices that have helped him turn things around.
I have known Bernie since he was 12. That was the first time I ever spoke to him and I remember him clearly telling me that his dream was to emulate Boris Becker and win Wimbledon at 17. The years have certainly come and gone and there have been many times (maybe that is an understatement) when he has been ridiculed and hammered by the media … mainly in Australia.
His relationship with the Australian public, in particular, soured greatly and he was vilified. As I said I have known Bernie a long time and I like him. He is actually a good person but his choices have not been right.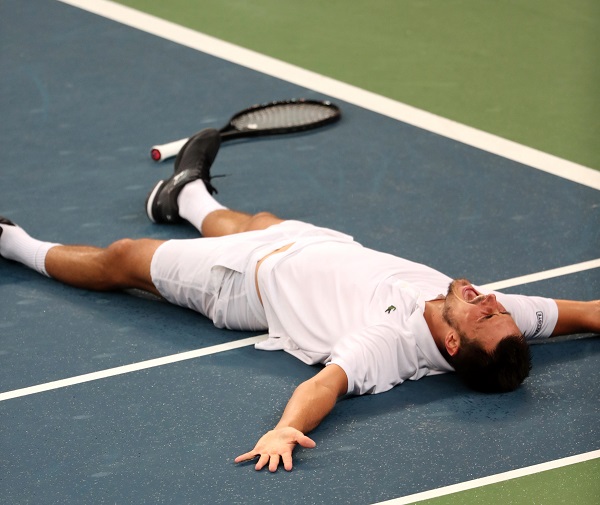 At the Chengdu Open this past weekend, Bernie Tomic showed all over again what he is capable of. He went through the qualifying rounds, saving match points along the way and made the main draw and then again proceeded to save further match points. He should have lost five times in Chengdu but in fact he won seven matches in a row, that is the same number of matches it takes to win a major.
In the final against Fabio Fognini he saved four more match points (one was saved with the most hysterical net cord) and ended up winning his first title for three years in brilliant fashion 6-1, 3-6, 7-6.
He dropped to the court on his back, gathered himself up then fell to his knees, arms raised, reaching for the dark sky that had started to drop rain. He then kissed the court. Tomic has never showed so much emotion. This was a sense of relief and he was grateful. His determination and spirit were a sheer joy to witness and he has not looked so excited and happy on a tennis court for a long time.
"Oh absolutely, it was very special; I haven't won a title since 2015 and it was a big moment. This is one of the biggest 250's in the world in prize money pool so to win here is huge and I am so happy to be back," he said. "I'm now in the 70's and it all came down to the last month. I trained at Rafa Nadal's academy which is fabulous, I played a lot of matches, I won a Challenger and I just played a lot."
It has been a "long process", a journey and he admitted so much of what he went through was "sort of my own fault".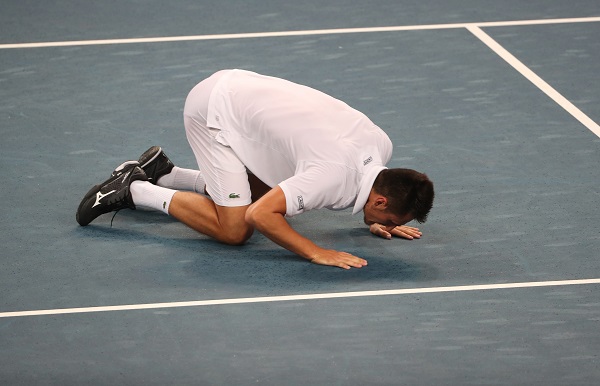 "It wasn't the fault of an injury or being hurt, it was the fault of me not competing, last year not playing tournaments and being mentally tapped out," Tomic said. "I was tired of travelling, I was tired of tennis. It just hit me, and I just couldn't do it. I didn't play and of course you then lose points.
"At the start of the year it was another wrong move and I didn't play at all and I went on the TV show in the African jungle (I'm a Celebrity Get Me Out of Here). No offence, it was a good experience, but it was the wrong move and I lost four, five months. It was bad scheduling.
"I didn't have my phone or anything, just my thoughts and I started thinking after a day or two that I shouldn't be here. It was then I realised I had to go back and start competing and training.
"The last year was a rollercoaster, but I did it to myself to get away from tennis to really try and understand things. I'm not a machine, I'm human and I get really tired. I don't like to travel and it all hit me."
Getting out of that show was the reality check, the "wake up call" he needed, and as he said it was the call for him to get back. Slowly he did and started to play well, but then he got sick during much of the North American summer circuit but still he kept at it. He "knew it would come and consistency pays off" and with that the rhythm in his game returned.
By winning the Chengdu Open, Bernie Tomic has shown his critics that there is most definitely fight in him and that he can do it. He kept repeating how happy he is. He is proud of how things can change, and that consistency is what he needs.
"A lot of people didn't believe in me which is disappointing, but I still believed in myself and that's the most important thing I kept in the back of my head," he said. "I believed in myself when no one wanted to believe in me and believing in yourself is the most important thing.
"It all came together. People can write what their want about me in Australia but end of the day they have their thoughts but it's amazing how one person, yourself, can change and prove people wrong.
"All these people didn't want to believe, they want to see you down but if you believe in yourself, it's amazing how you can prove a lot of people wrong. Just one person, myself, can show hundreds and thousands of people who don't believe in you."