The Laver Cup is further cementing itself as an innovative event that has the players captivated.
Last year was the inaugural Laver Cup, played in Prague and it created a buzz and was wonderful. The players really got into it and the atmosphere was electric. This year it was Chicago's turn and the Laver Cup has been taken to another level. The atmosphere inside the 17,000 seat arena was beyond spectacular.
Other than the Davis Cup by BNP Paribas final in Lille, I cannot remember anything coming close to the noise levels that echoed through in Chicago. This was mesmerising. The noise level would have drowned out Concord on take-off had it still been flying.
And the players one and all embraced it this event. The returning players Roger Federer and Alexander Zverev for Team Europe and Nick Kyrgios and Jack Sock for Team World knew what to expect but they embraced things with an even greater dimension. The debutantes were blown away and that goes for the likes of Novak Djokovic and David Goffin who are so used to big events. The Laver Cup just gave them a different perspective and the thrill of being part of a team, something so rare in tennis.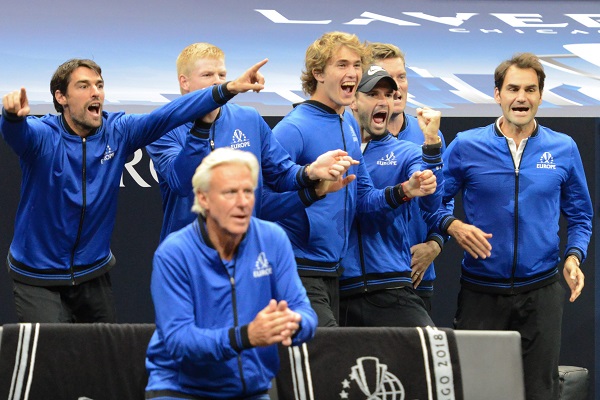 "You cannot imagine how it is," David Goffin said as a smile broke across his face. "You have Björn Borg on your bench, and you have Roger telling you some advices. It's like a dream.
"And then you have Novak. You have, like, the team, Grigor, so many good players. I cannot describe that moment. I just try to enjoy. I just try to give everything for them, for the team. I love to play for a team and when there is that team spirit and when you are not playing for yourself and you're playing for somebody else. Here, to play for Björn Borg, to play for Roger, it's a dream, really."
In his first match the Belgian played a thriller against Diego Schwartzman and came back from two match points down to win 11-9 in a match tiebreak. The sold-out crowd was electric. Mr. Goffin said it was not easy to think as the crowd went wild, but he wouldn't have had it any other way.
That sort of atmosphere is not something he had experienced much before.
"Never. Is the first time for me," he said. "Maybe in Davis Cup final in Lille, in France last year, was also like 25,000. But at the end of that kind of match, it was just amazing, yeah.
"Yeah, I have never felt an atmosphere like that. It was just amazing, amazing match, amazing shots, amazing. I just enjoyed every moment."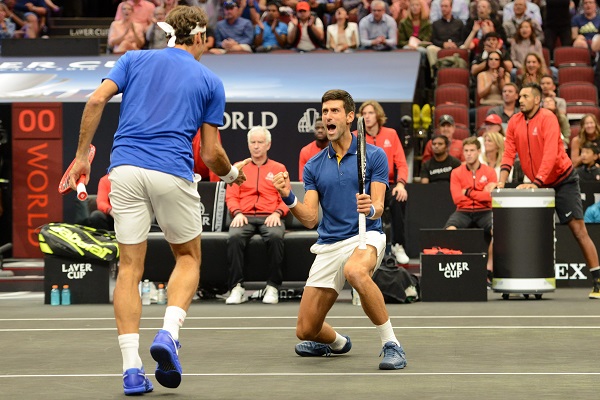 It is often very difficult to impress the playing legends of the game like Roger and Novak and Rafa Nadal, like Andy Murray but last year Mr. Nadal was blown away with the event and this year Mr. Djokovic has had the same emotion ... and playing doubles with Mr. Federer will remain one of the highlights of the Laver Cup's second edition.
"It was a lot of fun. I want to thank Roger in this way, as well, for playing with me. It was a great experience. I loved it. I was looking forward to it. Obviously, I wanted to win as much as Roger did," Mr. Djokovic said.
Mr. Federer added: "Novak has such an amazing and wonderful career, so to team up with somebody of his calibre is just a treat. You learn a lot from these kind of matches, and it was a big-time match for us. Like Novak said, I really also enjoyed myself even though the result wasn't what we hoped for."
Mr. Djokovic stressed the respect they have for one another and the weekend in Chicago has certainly strengthened that. They "got to know each other" and this was a unique opportunity for that. Over the last decade as their career have intertwined they have not had chances to spend a lot of quality time together "chatting about different things in life and just getting to know each other".
"That kind of quality time is something that it can only strengthen the relationship. The respect was there, is there, and will be there forever," Novak said.
Mr. Federer then added with amusement: "And if I may add, most people worry about the rivalry after this, because they think you're going to go on vacation together. I think the rivalry will remain strong, as well, you know. I want to beat Novak next time I play him and I think vice versa, too. You want to beat the best, and that's why I think we are both still on tour."