Novak Djokovic won his 14th major and third US Open, defeating Juan Martin Del Potro
Last year Novak Djokovic skipped the US Open because of injury, it was the first time he had skipped a major. By comparison since 2010 Juan Martin del Potro has missed 14 majors. To see them in full physical health contesting the US Open final was impressive considering what they had been through.
Djokovic defeated Del Potro for the 15th time in 19 matches to win his third US Open and 14th career major 6-3, 7-6, 6-3 in three hours 16 minutes. The result allowed him to be tied in third place with his hero Pete Sampras for the most majors won. Roger Federer and Rafa Nadal are ahead of them.
The victory also allowed Djokovic to return to the top three and it marks the first time since 5th April 2015 that the top three in the rankings are Nadal, Federer and Djokovic.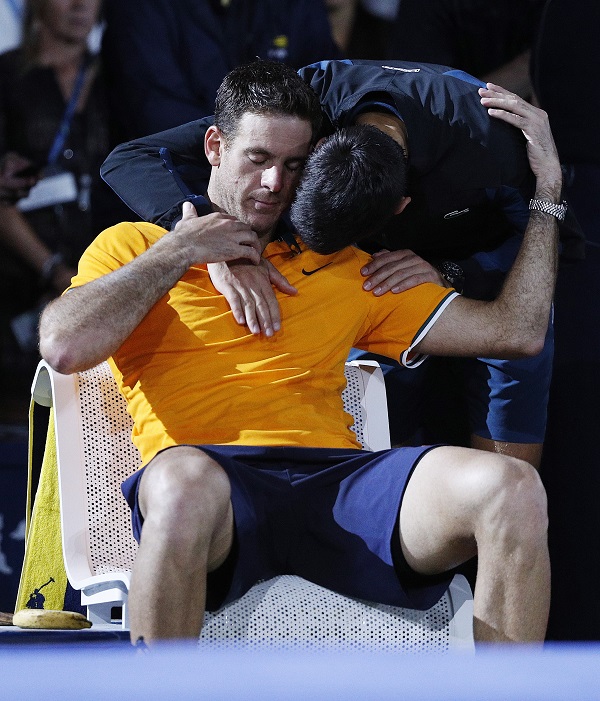 "If you told me in February this year when I got the surgery that I'll win Wimbledon, US Open, and Cincinnati, would be hard to believe," Djokovic said. "But at the same time there was always part of me that imagined and believed and hoped that I can get back on the desired level of tennis very soon.
"I expected, to be honest, quite frank, after surgery that I'll be back on a high level quite fast. But, you know, it took me actually three, four months really. In that process, I learned a lot about myself, learned to be patient, which was never really a stronger side of me.
"But at the same time, you know, life showed me that it takes time for good things, it takes time to really build them, for things to fall into place, so you can centre yourself, balance yourself and thrive. The last two months have been terrific."
And because he had been through the time off the tour because of injury and surgery he empathised with Delpo and his emotions after losing. Sure he was disappoint and sad at losing but the reality that struck the Argentine is that he was back playing at the highest level feeling fully fit when not that long ago he was considering leaving the sport because the injuries to his wrist would not let him play.
"To be honest, I was crying till now," Del Potro said. "I'm very sad for being a loser today. But Novak deserved to take the trophy. He played a great match, very smart game. I had my opportunities during second and third set. But I was playing almost at the limit all the time, looking for winners with my forehands, backhands, and I couldn't make it because Novak were there every time. He's a great champion. So, I'm glad for him.
"(But) enjoyed everything. The worst part to me is the chances that I couldn't make it of the game. But then when you see a friend holding the trophy, it's good, too. I'm glad that Novak is the champion. He deserve to be. I will come back next year trying to take my trophy in my favourite tournament once again."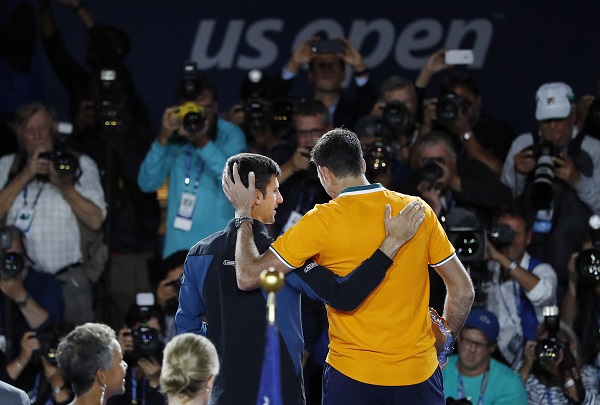 He stressed how sad he was to lose the final because he had "too much passion playing the final" but expressed his happiness for Novak because "when you see a friend holding the trophy, its good, too".
This final was such a welcome contrast to what had gone the day before with the women's final.
Not only has Djokovic come far since February but he has metaphorically moved mountains since the French Open when he lost to Marco Cecchinato and was as tempestuous as they come. He and his wife took tome off and went hiking in France and got away from it all. It cleared his head and helped his perspectives.
"I remember one moment particularly when we climbed that mountain (Mt Victoire). It was pretty high. We reached the top after three hours. Credit to my wife. Amazing. She's so fit. I can't believe she managed to get all the way up," Djokovic said.
"We sat down, and we just looked at the world from that perspective, just kind of breathed in the new inspiration, new motivation.
"I thought of tennis, thought of the emotion that tennis provokes in me in a way. It was all positives. I just felt like I had a new breath for this sport. The rest is history in terms of results, in terms of how I felt. I just felt like a whole wave of energy that I was kind of thriving on from that moment onwards."