Serena Williams was involved in a controversial US Open final which saw history made with Naomi Osaka's win.
History was made at the US Open but sadly it was all overshadowed. Naomi Osaka should have been basking in the fact that she is he first Japanese player to win a major but instead all the talk about the behaviour of Serena Williams in the second set of the match which gave Osaka glory 6-2, 6-4 in 79 minutes.
Miss Osaka had been playing a very smart and strong match and she had Miss Williams in a bit of bother. The American wanted this title so badly, it was going to be historical on three fronts, in particular, for her – break her own record ad become the oldest woman to win a major, make it a record seventh title separating her from Chris Evert who she is tied with an it would be her 24th major, equalling the record held by Margaret Court.
It was a struggle. Miss Williams was not being able to penetrate the Japanese player's defences and there were traces of emotion during end changes. But then in the second set she did get the break and went up 3-1 but there was no consolidation and at that point the racquet in her hand was of no further use other than for kindling on a bonfire. It was destroyed. She got a warning.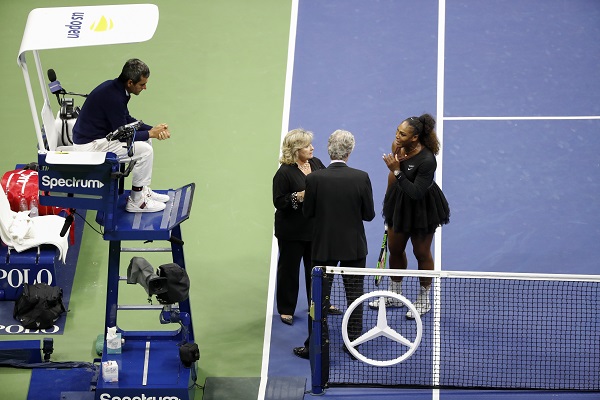 But then the situation turned very ugly. She was warned for coaching. She appealed that she didn't receive coaching. We can give her the benefit that she didn't see what her coach, Patrick Mouratoglou, was doing but the fact is he admitted to the coaching and whether the player takes the "illegal" advice or not, there was coaching and it incurs a warning and in this case a point penalty as it was the second warning.
Serena, with fury said to Carlos Ramos: "You are attacking my character and you owe me an apology. You are a liar, you will never umpire on a court of mine as long as you live. Give me an apology. You stole a point form me and you're a thief." She was then penalised a third time and that lost her a game. It was at this point that she was fortunate not to be defaulted because there were grounds for it.
The crowd were incensed and booing the umpire. He had done his job. Carlos Ramos is one of the strictest umpires in the game. He even gave Nick Kyrgios a warning for how he asked the ballkid for his towel at the French Open.
"He alleged that I was cheating, and I wasn't cheating," she said. "Then I had a good conversation with him. I said, Listen, you know my character. You know me really well. Like you know that I don't even call for on-court coach. I don't even do that. He's like, You know what? I understand. I don't know if he said, You're right. But he understood. He's, like, Yeah, I get what you're saying.
"Then when I sat down, I said it again. I was, like, Just to be clear, I can understand what you saw because it may have looked -- just because I look at my box, it may have looked like I was getting coaching, but I'm telling you, that's not what I do. I said, I'd rather lose than have to cheat to win. I don't need to cheat to win. I've won enough. That's never been something I've ever done, you know. And he was cool. He was like, Oh, I get it. We had this great exchange. We were on the same page. We understood each other, and I felt that that was -- yeah."
She was shocked to hear that her coach had admitted to the coaching and was using the ridiculous excuse that others are coaching all the title. He knows it is not allowed so his reasoning is just stupid. Because one person does the wrong thing, it doesn't make it excusable for you to also do the right. If John Brown jumped off a bridge, would Mouratoglou, follow?
The stupidity of the fans in the stadium began booing and carried that through to the presentation ceremony. They had no clue to the actual reasons etc for the decisions made, the warnings and penalties, but felt they knew it all.
What made the situation even more unsavoury was the fact that the scene was made into a sexist matter when it never was. That was totally wrong and the rules need to be read and understood.
"You definitely can't go back in time," Miss Williams said. "I can't sit here and say I wouldn't say he's a thief, because I thought he took a game from me. But I've seen other men call other umpires several things. I'm here fighting for women's rights and for women's equality and for all kinds of stuff. For me to say 'thief' and for him to take a game, it made me feel like it was a sexist remark. He's never taken a game from a man because they said 'thief'.
"For me it blows my mind. But I'm going to continue to fight for women and to fight for us to have equal – like (Alize) Cornet should be able to take off her shirt without getting a fine. This is outrageous (she was never fined and the matter was dropped).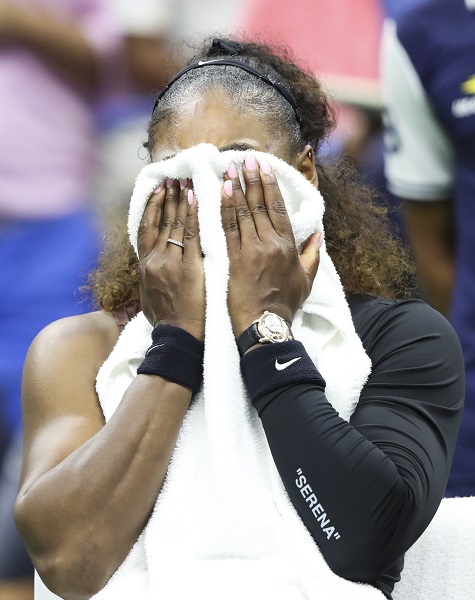 "I just feel like the fact that I have to go through this is just an example for the next person that has emotions, and that want to express themselves, and want to be a strong woman. They're going to be allowed to do that because of today. Maybe it didn't work out for me, but it's going to work out for the next person."
But to finish on a positive note and give Miss Osaka, who apologised for the result but who was also sort of oblivious to what was going on on court said: "It doesn't really feel that real right now. I think in a few days I will realise what I have done. Right now it just feels, like… I don't know."
"The thing is, like, I don't know what happened on the court. So for me, I'm always going to remember the Serena that I love. It doesn't change anything for me. She was really nice to me, like, at the net and on the podium. I Okay, because I know that, like, she really wanted to have the 24th Grand Slam, right? Everyone knows this. It's on the commercials, it's everywhere.
"Like, when I step onto the court, I feel like a different person, right? I'm not a Serena fan. I'm just a tennis player playing another tennis player. But then when I hugged her at the net. Anyway, when I hugged her at the net, I felt like a little kid again."
Isn't that what this final should have been all about?