Chair umpire Mohamed Lahyani has got himself into hot water over a decision he took during Nick Kyrgios' second round match at the US Open.
The heat has been a big talking point at the US Open. Serena Williams' outfit at the French Open came under discussion at the US Open, not because she wore the cat-suit in New York but because the French Tennis Federation Bernard Giudicelli announced it needs to be banned, and there were a couple of other lesser off court stories, like Alize Cornet changing her top.
However, the situation with chair umpire Mohamed Lahyani stepping down from the chair to talk with Nick Kyrgios during the Australian's match with Pierre Hugues Herbert has probably generated the most talk in a very short amount of time.
Let me say at the outset, I know Mr. Lahyani and he is a very affable and likeable person. He is popular with his colleagues and the players, but he severely overstepped a boundary. What he did is not part of the job description.
Mr. Lahyani's discussion came across as a "pep-talk" with the Australian. Some even suggested it was akin to coaching, which is possibly stretching things. The chat happened when Mr. Kyrgios was down a set and 0-3. He then went on to win the match.
This is the video replay:
In the 30+ years I have been covering this sport, I have never seen a chair umpire step down from his chair to have a discussion with a player in such a manner … or in any way. Any discussion with a player has always been while the umpire has been perched in his high chair. He is expected to be the controller of the match and not to show any sort of bias.
The original statement from the US Open said: After the third game of the second set in the Kyrgios-Herbert match on Court 17, with Kyrgios down 0-3, Chair Umpire Mohamed Lahyani, left his chair to check on the condition of Nick Kyrgios. He came out of the chair because of the noise level in the Stadium during the changeover to make sure he could communicate effectively with Kyrgios.

Lahyani was concerned that Kyrgios might need medical attention. Lahyani told Kyrgios that if he was feeling ill, that the tournament could provide medical help. He also informed Kyrgios that if his seeming lack of interest in the match continued, that as the chair umpire, he would need to take action. He again suggested to Kyrgios that he could receive medical attention.

At the next changeover, Kyrgios down 1-4, received treatment from the physio.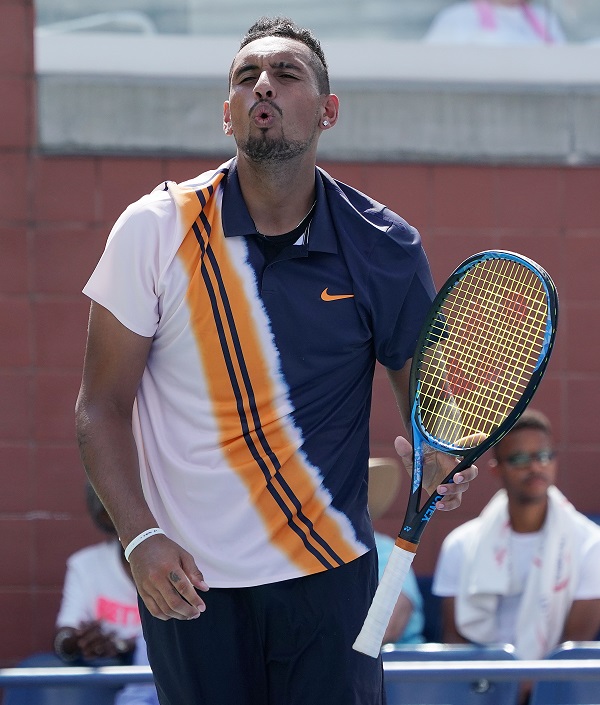 Roger Federer made it clear that such a situation should not have occurred: "It's not the umpire's role to go down from the chair. But I get what he was trying to do. He behaves the way he behaves. You as an umpire take a decision on the chair, do you like it or don't you like it. But you don't go and speak like that, in my opinion.
"I don't know what he said. I don't care what he said. It was not just about How are you feeling? Oh, I'm not feeling so well. Go back up to the chair. He was there for too long. It's a conversation. Conversations can change your mindset. It can be a physio, a doctor, an umpire for that matter. That's why it won't happen again. I think everybody knows that."
The US Open conducted a further review of the situation and released this statement: After a comprehensive review conducted by US Open officials, including US Open Tournament Director David Brewer, Tournament Referee Brian Earley and others, the US Open determined that chair umpire Mohamed Lahyani's conduct during Thursday's second-round match involving Nick Kyrgios and Pierre-Hugues Herbert went beyond protocol. Lahyani was advised to adhere to proper protocols in all matches that he officiates moving forward.

Lahyani will continue to officiate during the 2018 US Open. His performance will continue to be evaluated, as will that of all chair umpires throughout the course of the US Open.
Everyone makes mistakes. Mr. Lahyani made a big one and compromised his position as a respected neutral official. It is great that he cared but he needs to place such views to one side and administer the match. It garnered him plenty of attention, this time unnecessary attention. Calls for him to resign his position as an umpire are drastic but what should happen is that he be suspended for the rest of the US Open. That would send the right message out.