The year's last major is starting. What are the players saying heading into the US Open?
ROGER FEDERER
Q. I know you're not one to look ahead too far, but what would it mean for you to get back and raise the trophy here again after 10 years?
Well, I mean, it would mean the world to me. It would mean a lot to me, of course. It's even a bigger priority this year, the US Open, than it has been last year. Not that it wasn't last year, but Wimbledon was key for me last year. That was where -- you know, I wasn't well the year before that, so last year we wanted to be ready for Wimbledon. Even skipped the French for that.
And then obviously not feeling 100% last year was hard. I knew from the get-go it was not going to be possible for me to win. Everything would have had to fall into place. Guys would have had to retire against me or played the worst match of their life against me, and and maybe then I would have had a chance, but later stages of a tournament is not feasible anymore.
So also because that fact, because the last two years especially, two years ago when I couldn't play at all, have just been difficult. I'm really excited and happy to be back here healthy again and feeling good and, you know, take it one match at a time and see what happens.
SLOANE STEPHENS
Q. New experience for you. Talk a little bit about what happened when you first showed up here again, emotions and everything about being defending champion. Do you feel a lot of pressure?
Well, I've been back about four or five times now. For me being here is super cool obviously again. But as defending champion, obviously a lot of stress, a lot of pressure. I'm just going to go out and handle it as best I can, just try to play my best. Obviously it's a completely new tournament this year. Just got to go out and do your absolute best and see what happens.
Q. It has been a busy year for you, Miami, French Open, this summer as well. Coming into this tournament, what are your expectations?
I think at this point I'm just trying to get better and better, trying to improve my ranking, win more tournaments, win more titles. Just because I'm defending here, still have six more tournaments after this. The season continues to go on.
I think that I would love to do well here. Obviously as an American, any American wants to do well here. Having good results in previous tournaments has definitely helped. I'm waiting on all these points to drop off, I'll have a little bit of a cushion. Just trying to make the most of it, like I said, win as many matches as possible, to improve my ranking. Obviously there's only two places to go from 3. I'm just trying to do my best, making sure that I'm just staying as consistent as possible, having good results.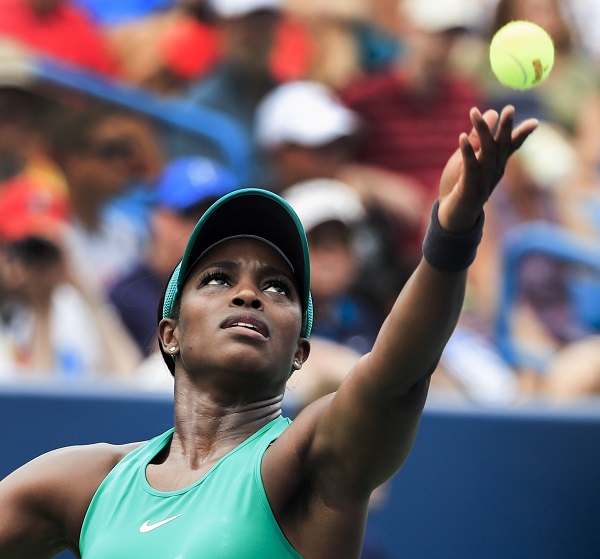 CAROLINE WOZNIACKI
Q. How does it feel to be back at the US Open?
It feels good to be back. Quite a few changes now since last year. This court, it's pretty cool. It's the first time I see it. So it's fun to be back. I enjoy it here. I love New York, so it's great.
Q. You're coming to the US Open, you have a major under your belt. Is there a lot less pressure now?
Yeah, I mean, you know, it's something that definitely I wanted to achieve before, you know, I ended my career at some point. So it's amazing to have that under my belt. And to say I have won a Grand Slam, it definitely feels great. I started off the year on a high note.
Q. On that note, you come into Grand Slams now having won a championship. Can you derive confidence from that championship, knowing you can take it all the way?
Yeah, I mean, I always thought I can make it all the way because I have won so many tournaments and beaten basically everyone on tour, but, you know, the competition is so strong, and it's so hard that, you know, you never know if you're actually going to do it in a Grand Slam. You know, I just kind of put my head down and kept grinding and kept fighting, and it was my time.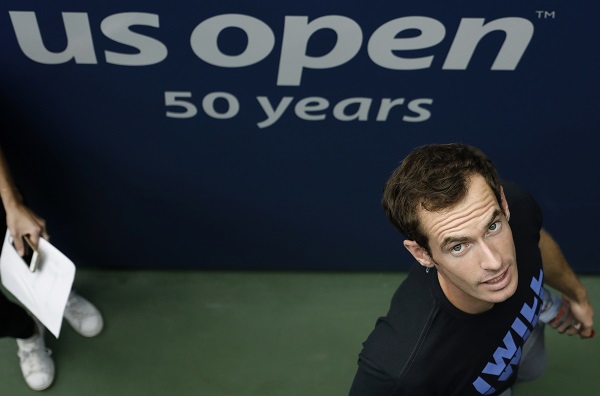 ANDY MURRAY
Q. Best-of-five set matches, do you feel you're ready for that, your body is okay for that?
Well, I need to see. I haven't played one, so you don't know until you actually get out there and do it. That's the thing. I played some long matches in Washington. They were all over two-and-a-half hours, and a three-hour match. Three of them in four days. The benefit of the slams is having that day off to recover in between, which will help me.
Q. What kind of expectations, goals do you have here?
My expectation is to give my best effort in the matches. Hopefully if I do that, my tennis will get better. Take each match at a time. It's kind of difficult to predict how you're going to do and say how far you're going to go in the event. My tennis is getting better all the time. Just need to be on the court more consistently through till the end of the year.
JUAN MARTIN DEL POTRO
Q. Just hoping you might talk a little bit about how you're feeling coming in. Obviously this is a strong start to the year for you. Indian Wells you get your first Masters, feeling healthy. Talk a little bit about how you're doing coming into New York.
Well, I'm feeling good. I'm in good shape. As everybody knows, this is my favorite tournament on tour, which I have big expectations playing in New York. I'm very exciting to start of the tournament, and on Monday will be against a qualifier player, but I will try to enjoy as always I did in this tournament and then see if I can go far.
Q. What are your memories of that comeback from two sets down last year against Thiem?
Well, it was a great battle. I had a few good memories playing this tournament. One is that match. Then when I obviously won the title in 2009. But every year is different. I have friends coming to watch me here, so will be a little bit special this tournament for me, and what I said, I will try to enjoy the atmosphere that the people create in New York and then play my best tennis.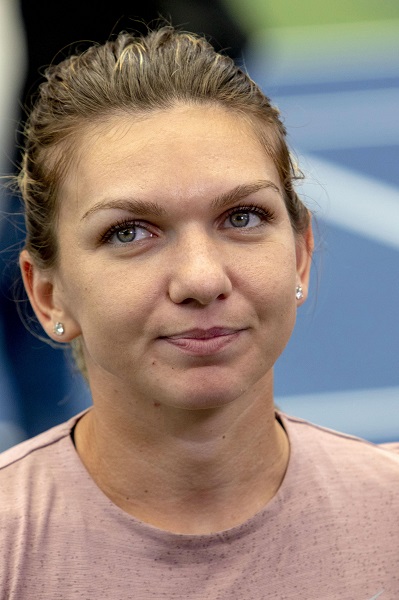 SIMONA HALEP
Q. What really changed about you as a person after winning a Grand Slam?
Well, definitely my dream came true. Inside myself something changed. I'm more relaxed. I feel thankful for everything I achieved. Also these two were my dreams, to be No. 1 in the world and to win a Grand Slam. Always I say No. 1 in the world without a Grand Slam, you are not a real No. 1. I said that before.
After French Open, I really started to believe that I'm a real No. 1. So I think made me more confident, made me more relaxed. I have different desire now when I'm on court. I enjoy more the time.
Q. You're obviously a favorite. Do you feel the pressure?
After French Open, I didn't feel the pressure any more because I like to be in this position. It's the best thing to be there. I can say I have a big chance for this tournament, but it's tough to say that I'm the favorite one, even if I'm No. 1. You can see now the level, it's very tough. Everyone is playing at maybe the highest level. Every match, every round is difficult. I'm just looking forward to play my first one. If I will win it, I will focus on the next one just like that.
Q. In terms of the motivation, pressure going into this tournament, the No. 1 ranking is secured, not up for grabs, you qualified for Singapore, does any of that change the amount of pressure?
I don't feel the pressure. Honestly, I don't feel it. I feel it's a big chance to get some points. It's a big chance to put dream that I'm able to win one more big tournament. It doesn't mean it's going to happen. I'm just taking this tournament important and relaxed.
Q. What is the difference emotionally when you step on the court as the No. 1 player in the world and being a Grand Slam champion?
For sure it's special when I hear. The gentleman, when he's announcing the players, it's very special and very nice. The crowd is always very happy when they announce. I take it like maybe the biggest thing in my career, the biggest feeling that I ever had. But when you start the match, you forget that you are No. 1, you have all the titles. You just have the battle ahead in front of you. You have just to fight for it, so I'm doing that.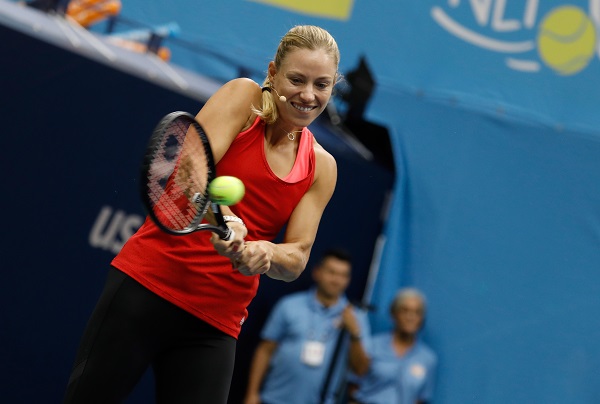 ANGIE KERBER
Q. Germany had so many great champions: Becker, Steffi. Now you are winning more and there is more responsibilities. So how do you see yourself? Do you see yourself as a role model? How does it feel?
It feels good. And I think it is a process to get through to also to winning the big titles. But also I can remember when I was starting and that I had my idols. Now it's change a little bit. So it feels good, because I'm trying to giving also a little bit back to all the other young players and to talk to them, to give them all the experience I'm through. So, yeah, it feels good. And I'm looking forward to do it even more.
Q. You won two majors two years ago, have a major this year at Wimbledon. How do you compare the way you're playing this year to a couple years ago when you won two majors?
You know, I think it's a little bit different. I mean, I tried to improve my tennis in the last two years, and of course now I have much more experience than two years ago. For me now it's more to going out there, focusing on this what I try to practice and, yeah, going out there, winning matches, but also on one way enjoying my tennis, enjoying the way I'm playing, enjoying the fans they are watching me, and enjoying my time off court. So there are, like, few things that I change in the last years, and this is what helps me also playing better and I think winning Wimbledon.
RAFA NADAL
Q. Talk about the level of confidence you have.
Have been I think a very positive season. In general terms, is true that of the first three months of the season have been very, very tough for me in terms of the injury that I had in Australia. Yeah, but after that I think I lost two matches and I had to retire from Australia, no? Been a great season.
During Wimbledon, fantastic clay court season, then a very positive start in Toronto of the hard court season playing good event there. That's important for the feelings, for the confidence. That's give me a chance to rest the week after in Cincinnati, and I am here just trying to improve every day the level of practices I think I'm doing. Just remain, yeah, two more days of practice before Monday I start. I hope to be ready for it.
Q. What does last year's US Open title mean to you?
Have been a very important title. Last year have been a very special year after a couple of years. 2015 was not a positive year in terms of level of tennis. 2016 I was playing good tennis, but I got injured. Have the chance to get back in 2017. Of course, win on clay, but then win on hard again is something that, yeah, means a lot to me, especially here in New York. Being honest, I always had a great connection with the crowd here. The crowd bring me to another level of energy. That's something that I enjoy.
Q. Do you try to remember that as you come back or wipe it out of your mind because it's a new year?
I really don't like much to compare, no? When you played well in a couple of places, is good to be back. For example, when I am back in Monte-Carlo or Roland Garros, I know that I play well a lot of times there, so is a little bit more confident overall to know that you can do it again.
So here is a little bit the same, no? I played here very well for sort of lot of times. When you are back here, you know that you are familiar with the court, you are familiar with the event. You know the conditions. Normally, you are a little bit more confident that you can play well. Then win or lose, it's just part of the business. It's about being competitive.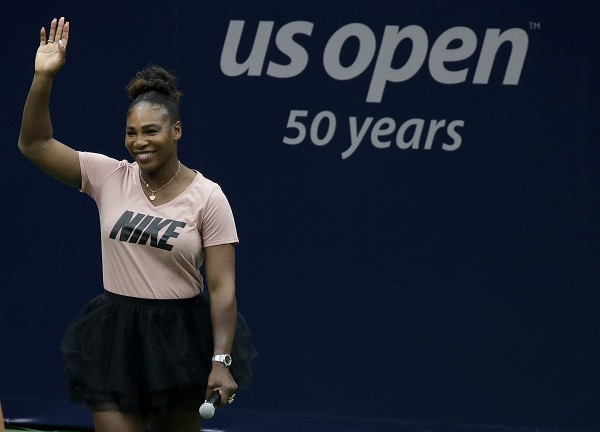 SERENA WILLIAMS
Q. What does having your daughter in your life do to change everything about your approach to playing a tournament, even the US Open?
If anything, I have more fire in my belly. It's very hard to describe. It's very difficult to describe. I thought after having a child I would be more relaxed. I think I've said this before, but I'm not. I work just as hard if not harder actually. I just feel like I take it just as serious if not more. That's been really surprising for me.
Q. This is a lengthy comeback, you're taking your time. At the same time you're such a competitor, you always want to win. Where is the tipping point where you say to yourself, This is the time, I got to do it?
I've been saying that to myself every week. It hasn't quite happened. It's been just really a few months into me playing after having a baby, so... I feel like I have to be nice to myself. I feel like I have to just be happy, you know, continue to work hard. I've been working incredibly hard. I feel like it will for sure pay off eventually.
Q. Many feel you are the favourite.
I don't know. That I would be the favourite at this point, almost a year after having a baby, is quite interesting. I don't know my draw, but I feel like I'm going to have to play - if I want to be the best, I'm going to have to start beating these people anyway. It doesn't matter to me. If anything, I can just continue to strive. That's the message I've been preaching to women and people, that we face obstacles. You have to face those obstacles. Whether you get through them or not, there's always another chance to get through them. You have to continue to work hard and believe in yourself. Things don't always go your way, but continue to climb that mountain.